Looking for Whitby hotels with a sea view? Here are 6 established hotels in Whitby with sea views
According to several of the main hotel booking websites the Yorkshire town of Whitby boasts more than 140 hotels and guest houses. What's more, over 40 of these hotels in Whitby offer sea views from at least some of their bedrooms. Obviously we can't mention all 40+ hotels here so we have chosen 6 of the best (using the review scores left by past guests) that offer a range of amenities and views.
The Riviera Guest House in Whitby with sea views
Although not technically a hotel, the Riviera Guest House is a 15 bedroom, family run establishment located in a prime position on Whitby's West Cliff; one of the area's finest sea fronts. It offers excellent views out across the North Sea to the East Cliff where Whitby Abbey, the churchyard of St Mary's and the beautiful Tate Hill Sands can clearly be seen. You can also see the hustle and bustle of Whitby harbour and the surround bay.
The guesthouse is within easy walking distance of Whitby town centre with its good selection of shops, restaurants and tourist attractions. It's also close to the harbour area where, on a nice day, you can enjoy a relaxing boat trip and really make the most of Whitby's coastal position.
A few things to be aware of with regards to the Riviera Guest House include the on-road parking i.e. no private parking facilities, and the fact that not all bedrooms offer sea views. Other than these small considerations the guest house is a friendly, beautifully presented establishment that goes further than offering just bed, breakfast and evening meal.
Booking Information
Address: 4 Crescent Terrace, Whitby, YO21 3EL
For more information about Riviera Guest House, please click here
The Royal Hotel in Whitby with sea views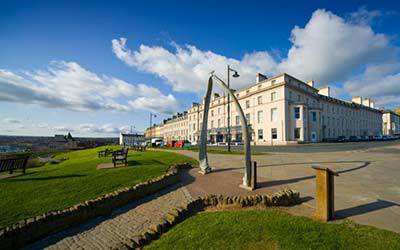 Again, occupying a prime position on West Cliff, the Royal Hotel is easily the largest of our hotels in Whitby with sea views. Overlooking the harbour, the hotel (or more precisely the pavement in front of the hotel) marks the spot on which Bram Stoker is reputed to have stood when he first looked out over the bay and formed the initial ideas for his classic novel Dracula.
The hotel itself offers up some of the best sea views in Whitby, with the iconic Whalebone Arch and Whitby Abbey being amongst the visible sights. The vast majority of the 100 bedrooms have sea views although there are a few that don't so do specify when booking. The breakfast room, restaurant and bar also overlook the ocean, as does the outdoor terrace, making evenings at the hotel a lovely experience.
The bedrooms are, as you would expect, spacious and fully equipped with all the normal amenities. It should be noted however that the details for the hotel say that they can't accommodate children. This may simply mean that they don't have the facilities to add extra beds to rooms but it is worth checking out.
With private parking nearby, elevators and evening entertainment, the Royal Hotel really does offer everything you'd want from a Whitby hotel. Close to the town centre while being quiet and relaxing, this hotel is an all-round winner.
Check availability & book online
Address: Bay Royal Whitby Hotel, West Cliff, Whitby, YO21 3HA
For more information please visit – www.bayhotels.co.uk
The Seacliffe Hotel in Whitby with sea views
This third hotel is located just north of West Cliff on North Promenade and offers some of the most beautiful views of the North Sea and harbour that you'll find in the area. This said, it's important to note that while the bedrooms at the front of the hotel do have sea views, the bedrooms at the back overlook the pretty garden and patio area (still very pleasant views).
All 17 of the rooms at the Seacliffe Hotel are well equipped and very comfortable. Arranged over 3 floors, they range from standard doubles to sea view premier rooms with a bay window. It is worth mentioning that this hotel is very family friendly and has a family suite available as well as rooms that can accommodate additional beds and travel cots.
With regards to Whitby town centre the Seacliffe Hotel is around 15 minutes' walk away. This puts it in the enviable position of being far enough away from the hustle and bustle to enjoy a quiet, relaxing stay but still being close enough for a walk in to town should the desire arise.
Check availability & book online
Address: 12 North Promenade, Whitby, YO21 3JX
For more information please visit – www.seacliffehotel.com
The White House Inn
The White House Inn is the smallest of the featured Whitby hotels with sea views with only 10 rooms but it's also less than 5 minutes away from beautiful beaches and it has possible the nicest sea views available. Again, situated on the West Cliff, this family run hotel offers a quiet, intimate atmosphere, excellent food made with local produce and freshly caught seafood and a guest discount for the adjoining Whitby golf course (perfect if you're looking for a golfing getaway).
Being a 15 minute walk from Whitby town centre, the White house Inn is surrounded by lovely gardens, a terrace and a beer garden. It also has free onsite parking, free wifi and family-friendly rooms i.e. it has a family room for 2 adults and 1 child and a separate annexe with a double and twin room.
It may not be as big or as grand as some of the hotels in Whitby but the White House Inn offers everything you'll need on a family holiday, not least of which is the stunning sea view from both the hotel and the beer garden.
Check availability & book online
Address: Upgang Lane, Whitby, YO21 3JJ
For more information please visit – www.whitehouse-whitby.com
Sea Breeze Whitby B&B with sea views
Not technically a hotel, but well worth a mention in this article. Sea Breeze is a stones throw to the nearest beach, with some rooms offering stunning sea views. Situated on the West Cliff, Sea breeze offers accommodation with free WiFi and a host of other amenities. Just seconds from Whitby Pavillion, Sea Breeze is a great choice if your after a little sea air.
All units in the bed and breakfast are equipped with a kettle. Each room includes a flat-screen TV, and some units at Sea Breeze have a sea view. The rooms feature a wardrobe.
Check availability & book online
Address: 3 Crescent Terrace, Whitby, YO21 3EL
The Cliffemount Hotel near Whitby with sea views
This last of our hotels in Whitby with sea views is located in Runswick Bay, approximately 9 miles from the centre of Whitby. It may be a bit further out than you'd like but its fantastic location really makes up for the distance to the town. Set on a cliff top, the hotel offers spectacular sea views that can be enjoyed from most of the bedrooms as well as the breakfast/dining rooms. Be aware though that the standard double rooms have garden views so you will need to book a superior, deluxe or executive room to guarantee a sea view (most have balconies and some even have telescopes to make the experience perfect).
Parking and wifi is free, breakfast is always included in the quoted price and pets are welcome in most circumstances. There are plenty of activities to enjoy within a 3 mile radius including tennis, sailing, surfing, horse riding, golf, shooting and archery, and there are hiking trails all around the hotel. In fact, if you prefer an outdoor holiday more than a tourist attraction holiday then the Cliffemount Hotel is the perfect place for you.
Check availability & book online
Address: Bank Top Lane, Saltburn-by-the-Sea, TS13 5JF
For more information please visit – www.cliffemounthotel.co.uk
To Finish
As mentioned at the start of this article there are more than 40 sea front hotels and guest houses to choose from in and around Whitby. We have featured these five hotels above because of the amenities they offer and because they are representative of the wide range of holiday establishments available.
Have a recommendation?
Have you stayed in a Whitby hotel with a sea view? Please add your suggestion the comments below and we will add them to this article.
Article last updated: 30/01/2018