When you head to Whitby for your holiday, you have a number of options available in terms of accommodation. There are various choices to suit a range of budgets from basic bed & breakfasts to boutique guesthouses and luxury accommodation. If you are planning to treat yourself to a luxury stay in this charming and fascinating destination, you will find plenty of wonderful 4 and 5-star accommodation options available. When you choose one of these luxury accommodations, you can look forward to a wonderful stay and all of the amenities you need for the perfect holiday.
Whitby offers a great selection of hotels, guesthouses, and even holiday cottages that are rated 4 or 5 stars. This means that you should have no problem finding the ideal accommodation for your needs. Whether you are heading here on a romantic trip for two, with friends and family, or even on your own, you can enjoy the opportunity to relax in luxury when you are not exploring the many attractions of the town.
Free Whitby Mini Guide
"Get the best from your stay in Whitby"
We have compiled everything you need to know about Whitby into a
free mini-guide!
Download Now
5 Star Whitby Accommodation
The Langley
This wonderful 5 star Whitby bed and breakfast has plenty to offer. You can enjoy a memorable and relaxing stay in the heart of the town when you choose The Langley. Situated on the West Cliff, it puts you within easy reach of all of the town's amenities and attractions. You also get to enjoy incredible views over the North Sea when you stay here. You will benefit from a range of amenities and facilities at this B&B, which makes it the perfect place for your luxury stay.
The rooms at The Langley are all well-appointed and tastefully decorated. You can enjoy plenty of space, en-suite facilities, luxury toiletries, free wifi, flat-screen TV, a mini-fridge, and much more. There are a number of room options, including the stunning four poster rooms for those special, romantic occasions. In the morning, you can look forward to a wonderful breakfast from a varied menu, giving you a great start to the day.
Address: Royal Crescent, Whitby, North Yorkshire, YO21 3EJ
Check Availability
Dillons; 5 star bed and breakfast Whitby
Enjoy a relaxing stay at Whitby's only 5 star accredited, Michelin recommended B&B, only a stone's throw from Whitby town centre and with parking for the majority of guests.
Luxury is at the heart of this boutique bed and breakfast. Enormous care and attention has been paid to every detail of the experience at this characterful Victorian property. Owners Mathew and Craig have gone the extra mile to make their home the premier bed and breakfast in Whitby for those seeking a little extra when it comes to comfort, service and style. Original artwork, playful colour schemes, subtle lighting options and an open fire help to create a welcoming and restful ambience. Perfectly situated opposite Pannett Park and in easy walking distance of Whitby's Bus & Train Stations, Dillons of Whitby benefits from a fantastic location, with views across the park from many of its rooms.
Address: 14 Chubb Hill Rd, Whitby, YO21 1JU
Check Availability
4 Star Accommodation in Whitby
You will also find a good number of 4 star accommodation options when you stay in Whitby. These are great for those that want an affordable but luxurious stay. Some of the 4 star options available include…
The Leeway; Four Star Guest House Whitby
The Leeway is a 4 Star, Gold Award Guesthouse, (chosen for Trip Advisor's Traveller's Choice Bed & Breakfast 2010 & 2012 Awards, and voted as one of their top B&B's in Whitby and indeed, UK and Europe, with a certificate of Excellence for 7 consecutive years).
Karen and Garry have just completed a full refurb on the Hudson suite. This superb attic double room has been decorated in a trendy geometric design wallpaper of soft pink, mink and copper, with bed throw and cushions to tone with it. The bedside and overhead lighting is copper to match. There's a new seating area with a coffee table to relax and read the free magazines. The en-suite is fully tiled with 'planks of wood' effect tiling and a large spacious shower cubicle. This fantastic new room is available from March 2018. Book now to avoid disappointment!
Address: 1 Havelock Pl, Whitby, YO21 3ER
Check Availability
The Raithwaite Estate
Another great option in Whitby is the stunning Raithwaite Estate, which spans around 100 acres. Here, you will find a range of luxury accommodation options including The Keep Hotel, The Hall, the luxury Lake House, and the cottages at The Fold. You will be able to enjoy being in your own private haven when you stay on this estate but you will still be within easy reach of the attractions and sights of the town. There is also a luxury spa on-site, so you can enjoy some pampering after a day of exploration in the town.
The Keep is a luxury hotel with 28 bedrooms while the Hall offers 45 bedrooms. If you prefer to stay in a luxury private house, The Lake House could be ideal and boasts six bedrooms. The Fold comprises a range of cottages made from stone, making them perfect for those that are looking for privacy.
Address: Raithwaite Estate, Sandsend Road, Whitby, North Yorkshire, YO21 3ST
Check Availability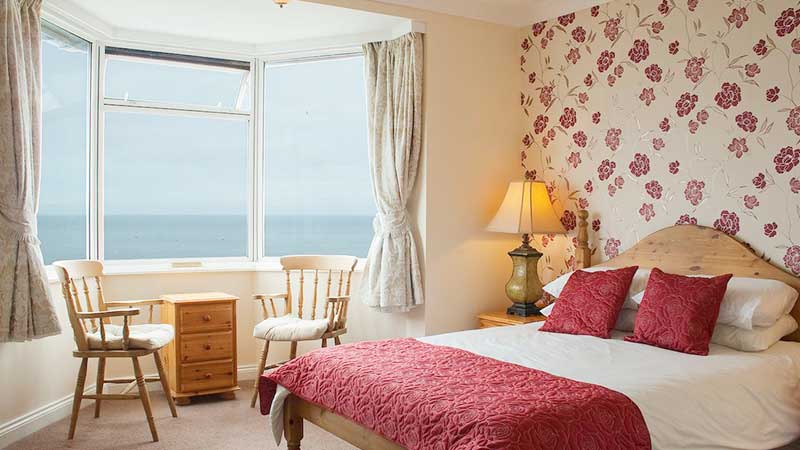 The Seacliffe Hotel
If you want to enjoy fantastic views of the sea, this hotel is a perfect choice. You will benefit from a range of amenities and facilities. This includes free WiFi, free parking, the beachfront location, and breakfast included. You can select from a variety of beautifully decorated rooms including premiere and standard rooms. For larger groups, there is also the family suite, which offers plenty of space and high levels of comfort.
This hotel is situated on the North Promenade, which means that you are within easy reach of the main attractions and sights of the town. At the same time, you get to enjoy the peaceful surroundings and position of the hotel, making it the perfect haven to return to.
Address: The Seacliffe Hotel, 12 North Promenade, Whitby, North Yorkshire, YO21 3JX
Check Availability
The Wheeldale Hotel
The 4-star Wheeldale Hotel in Whitby offers a warm welcome and a comfortable place to stay during your time in the town. Located on the popular West Cliff, this hotel offers great views, plenty of amenities, and the chance to relax in luxury and comfort. The guestrooms here are stylishly decorated and well-appointed with a choice of room options. This includes sea view rooms, cricket views, and even rooms with balconies.
When you stay here, you can start your day with a delicious breakfast that comes with a good variety of options. You can then simply step out of the hotel and find yourself in the thick of the action with many places of interest within a stone's throw of the hotel. You can also benefit from free parking, internet access in the guest lounge, and a range of additional amenities. It is worth noting that this hotel only caters for guests over the age of eighteen.
Address: The Wheeldale, 11 North Promenade, Whitby, North Yorkshire, YO21 3JX
Check Availability
The Stables at Cross Butts
This is a fabulous restaurant that also offers luxury accommodation, so you get to enjoy the best of both worlds. You can benefit from award-winning food and accommodation when you stay at this 4-star property. The en-suite rooms are all beautifully decorated and situated in the attractive courtyard. The property is close to a wide range of amenities and attractions, so you can get around with ease when you stay here.
All rooms have many luxury additions, including handmade mattresses, hospitality trays, flat screen TVs and free internet access. They offer tasteful décor, comfort, and convenience. If you want to splash out on a luxury stay there is even the Stag Lodge onsite, which offers a hot tub and sauna pod, making it perfect for a romantic break. In the morning, you can enjoy the delicious breakfast that has won awards and with the restaurant right on the doorstep, you can also sample the evening menu.
Address: Guisborough Road, Whitby, North Yorkshire, YO21 1TL
Check Availability
Rosslyn House
You can look forward to a warm welcome and a fantastic bed & breakfast experience when you stay at this 4-star property in Whitby. This is a Victorian property with many of its original features still present. However, it has also been refurbished and kitted out with a wide range of modern amenities to ensure you have a comfortable and convenient stay. You will find this property located on the popular West Cliff, from where you can easily access the sights and attractions of the town.
You can enjoy a choice of en-suite rooms when you stay at this bed & breakfast, including single, double, and family rooms. All rooms come with a range of amenities and personal touches including hospitality trays, mini fridges, and flat screen TVs. You can also look forward to a varied breakfast menu with something to suit all tastes. From continental breakfast options through to a traditional Yorkshire or full English breakfast, there is something for everyone to enjoy.
Address: 11 Abbey Terrace, Whitby, North Yorkshire, YO21 3HQ
Check Availability
Summary
This is just a sample of the many wonderful 4 star and 5 star accommodation options available in Whitby. You can look forward to a combination of luxury and value when you stay at these hotels and guesthouses, making it the perfect way to make the most of your time in this fascinating town.