The TV Series Heartbeat was filmed in Goathland, a village nestled in the North York Moors. This quaint moorland village is an excellent hub for hikers, history enthusiasts and Heartbeat fans seeking a holiday spot.
Goathland is a moorland village located on the eastern edge of the North York Moors National Park. As you stroll through the village, with sheep leisurely grazing in the background, it's easy to feel transported back to the 1960s. The area is famously known as Heartbeat Country! Goathland is situated approximately 20 minutes from Whitby (approx 9 miles).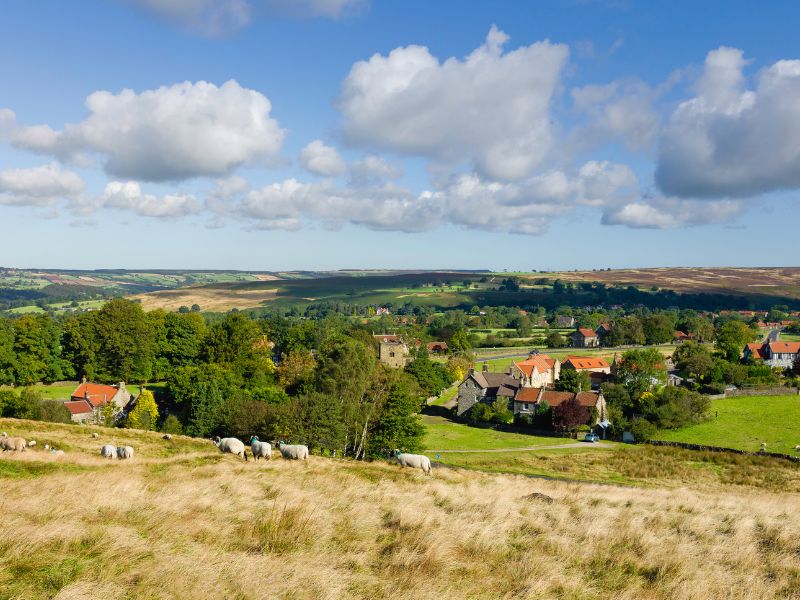 ---
What was Heartbeat?
In the 90s, Heartbeat was a big deal in British television. It was based on Nicholas Rhea's "Constable" novels. Heartbeat was first aired on Friday, 10th April 1992 and continued for 18 series, with over 350 hour-long episodes that concluded on Sunday, 12th September 2010. The show was an instant success, with early series regularly attracting more than 10 million viewers and reaching a peak audience of 13.82 million in 2001, as well as 12.8 million viewers in 2003.
FREE Whitby Mini-Guide
"Get the best from your stay in Whitby."
Everything you need to know about Whitby into a free mini-guide!
It aired on Sundays and was the perfect kind of show for families to enjoy together every week. The show was set in the 1960s in the fictional town of Ashfordly and the village of Aidensfield. The show's focus was on the police officers who worked in the area, as well as the villagers, who were all unique characters.
Many of Heartbeat's key characters came straight out of the books by Nicholas Rhea, while other characters were adapted and new ones introduced. The show's main characters were PC Rowan, portrayed by Nick Berry (known for his role as 'Wicksy' in Eastenders), and his wife, Dr Kate Rowan, played by Niamh Cusack. In later series, new characters were introduced, such as PC Walker, played by Jonathan Kerrigan, and PC Mason, played by Joe McFadden.
Heartbeat was filmed in the village of Goathland
The filming location for Heartbeat was mainly in the village of Goathland. The moody Yorkshire countryside was a constant backdrop to the show, with the winding roads through the moors. Occasionally, they would include nearby locations like Whitby, and the spin-off series, The Royal, was set in Scarborough.
---
Heartbeat Filming locations
The Goathland Hotel (The Aidensfield Arms)
Most British TV shows have a pub that serves as the central meeting place for the characters, and Heartbeat is no exception. The Aidensfield Arms was a popular spot for the main characters to unwind after a long day's work. Interestingly, the Aidensfield Arms is the Goathland Hotel in real life. During the earlier seasons of Heartbeat, the interior shots were filmed within the hotel. However, as the show's popularity grew, a television studio created a replica to facilitate more filming without inconveniencing the hotel's guests. The exterior shots, however, remained the same throughout the show's entire run. Today, you can visit the pub to enjoy a meal or a drink and even stay overnight at the hotel. The Goathland Hotel remains a beloved location for fans of Heartbeat.
Scripps (Aidensfield Garage)
You may spot the Aidensfield Garage near the Aidensfield Arms just across the way. This vintage-looking garage has made many appearances on the show and was taken over by Bernie Scripps in season 5, earning it a new name. It was a popular hangout spot for Greengrass and his schemes. Nowadays, you can still visit the garage, but it's been transformed into a gift shop that also serves up small refreshments. The outside of the garage is adorned with vintage signs, pumps, and old cars. It is a prime spot for some memorable photo opportunities. If you're a fan of Heartbeat, this is worth a visit, as the gift shop has a ton of memorabilia and souvenirs to choose from.
Aidensfield Stores
Be sure to take a little detour to the nearby shops and tearoom. One of the shops, Aidensfield Stores, has been featured on TV and is famous for the classic cars often parked outside. You might even spot some tourists snapping photos! It's a great spot to grab some souvenirs or snacks if you need them.
Goathland Railway Station
The Railway Station located in Goathland is an absolute gem, and it's worth taking a short walk downhill from the village to get there. It gained popularity due to its appearance in the Harry Potter films as Hogsmeade Station, but it has also been featured in the Heartbeat show. In one episode, it was the site of a dramatic train accident involving PC Walker, but thankfully he survived! If you're lucky, a train might arrive while you're there. You can even take a steam train to other destinations in North Yorkshire, like Whitby or Pickering.
---
How to get to Goathland
Goathland is situated in the North Yorkshire Moors, making it reasonably remote. Click here to get directions.
Driving:
The village is approximately 40 miles (1 hour) from York, 10 miles (20 mins) from Whitby, and 25 miles (40 mins) from Scarborough. You can park your car in the large car park in the village. In case it is full, another one is right next to it. Although parking is available at the train station, it is small and mainly intended for train users. Therefore, it is highly recommended that you use the village car parks instead.
Public Transport:
If you plan on taking the bus to Goathland, catch the 840 Coastliner that runs between York and Whitby. Remember to check the frequency of the service and the last bus departure time to avoid any inconvenience.
Organised Tours:
If you're looking to explore the area, one popular option is to take an organised bus tour of the village. Get your guide offer a Heartbeat TV Locations Tour – from York.
Steam Train:
To explore Goathland by steam train, hop on the North Yorkshire Moors Railway and get off at Goathland Station. Find further information here.
---
Whether or not you are a Heartbeat fan, visiting Goathland is worth it. It's a great place to visit and enjoy a day out. Comment below and let us know if you are a Heartbeat fan and have ever visited Goathland. We love to hear about your experiences.
Header image credit – © Copyright Pauline E and licensed for reuse under this Creative Commons Licence.