Looking for Whitby hotels with a sea view? How about a cosy bed and breakfast that overlooks the ocean? We have put together this list of B&B's and hotels in Whitby with sea views.
Whitby's location on the North Yorkshire Coast offers visitors picturesque views across the North Sea. At these hotels and bed and breakfasts, you will be able to soak up the sea views from the comfort of your accommodation.
---
Hotels in Whitby with sea views
The Royal Hotel
Occupying a prime position on West Cliff, the Royal Hotel is easily the largest of our hotels in Whitby with sea views. Overlooking the harbour, the hotel (or more precisely the pavement in front of the hotel) marks the spot on which Bram Stoker is reputed to have stood when he first looked out over the bay and formed the initial ideas for his classic novel Dracula.
FREE Whitby Mini-Guide
"Get the best from your stay in Whitby."
Everything you need to know about Whitby into a free mini-guide!
The hotel itself offers up some of the best sea views in Whitby, with the iconic Whalebone Arch and Whitby Abbey being amongst the visible sights. The vast majority of the 100 bedrooms have sea views although there are a few that don't so do specify when booking. The breakfast room, restaurant and bar also overlook the ocean, as does the outdoor terrace, making evenings at the hotel a lovely experience.
The bedrooms are, as you would expect, spacious and fully equipped with all the normal amenities. It should be noted however that the details for the hotel say that they can't accommodate children. This may simply mean that they don't have the facilities to add extra beds to rooms but it is worth checking out.
With private parking nearby, elevators and evening entertainment, the Royal Hotel really does offer everything you'd want from a Whitby hotel.
Address: Bay Royal Whitby Hotel, West Cliff, Whitby, YO21 3HA
---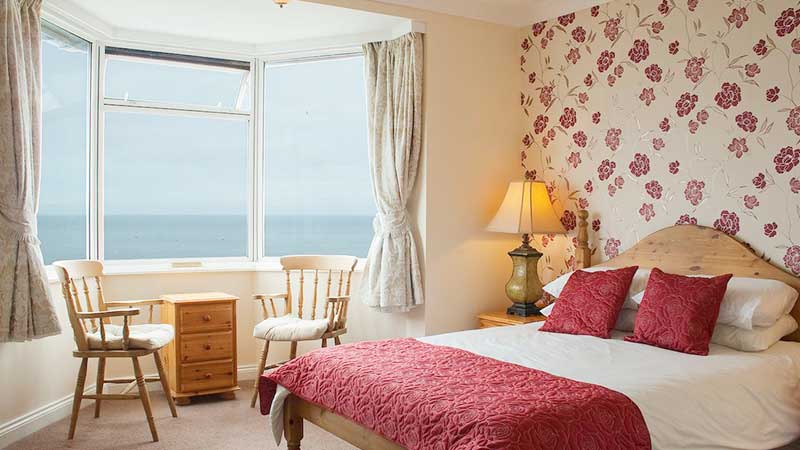 The Seacliffe Hotel
This excellent Whitby hotel is located just north of West Cliff on North Promenade and offers some of the most beautiful views of the North Sea and harbour that you'll find in the area. It's important to note that while the bedrooms at the front of the hotel do have sea views, the bedrooms at the back overlook the pretty garden and patio area.
All 17 of the rooms at the Seacliffe Hotel are well equipped and very comfortable. Arranged over 3 floors, they range from standard doubles to sea view premier rooms with a bay window. It is worth mentioning that this hotel is very family-friendly and has a family suite available as well as rooms that can accommodate additional beds and travel cots.
With regards to Whitby town centre, the Seacliffe Hotel is around 15 minutes' walk away. This puts it in the enviable position of being far enough away from the hustle and bustle to enjoy a quiet, relaxing stay but still being close enough for a walk into town should the desire arise.
Address: 12 North Promenade, Whitby, YO21 3JX
---
The White House Hotel
The White House Hotel is the smallest of the featured Whitby hotels with sea views with only 10 rooms but it's also less than 5 minutes away from beautiful beaches and it has possible the nicest sea views available. Again, situated on the West Cliff, this family-run hotel offers a quiet, intimate atmosphere, excellent food made with local produce and freshly caught seafood and a guest discount for the adjoining Whitby golf course (perfect if you're looking for a golfing getaway).
Being a 15-minute walk from Whitby town centre, the White House Inn is surrounded by lovely gardens, a terrace and a beer garden. It also has free onsite parking, free wifi and family-friendly rooms i.e. it has a family room for 2 adults and 1 child and a separate annexe with a double and twin room.
It may not be as big or as grand as some of the hotels in Whitby but the White House Inn offers everything you'll need on a family holiday, not least of which is the stunning sea view from both the hotel and the beer garden.
Address: Upgang Lane, Whitby, YO21 3JJ
---
The Wheeldale Hotel
Guests at The Wheeldale Hotel in Whitby are sure of a warm welcome and a very relaxing stay in one of the super comfortable bedrooms. Peter and the team are on hand to ensure that your stay is everything that you would expect from a family-run establishment.
You'll find The Wheeldale occupying a prime position on the North Promenade on the West Cliff. This superb location on the seafront means that you're just a short walk to Whitby beach, Whitby Pavilion and The Met Bar and Ballroom, where during the summer you'll be supping a pint of fine ale or a chilled glass of your favourite wine sat in the extensive beer garden overlooking the North Sea.
Relax in a double en-suite room with Sky Sports, super fast BT broadband and an expansive view across the North Promenade, West Cliff Beach and the North Sea. There's ample off-street secure parking for guests at The Wheeldale and the home-cooked breakfast prepared with locally sourced ingredients is the stuff of legend. The perfect start to your day exploring this fantastic coastal town.
Address: 11, North Promenade, Whitby, North Yorkshire, YO21 3JX
---
Morningside Hotel
This family-run home in Whitby is situated in a peaceful location along North Promenade next door to The Wheeldale Hotel. Morningside Hotel benefits from superb sea views and these can be enjoyed by guests from the tastefully decorated lounge while relaxing with friends or from the restaurant while you enjoy your filling full English breakfast.
Owners, Paul and Sandra, pride themselves on high standards of cleanliness and service. Supported by a roster of friendly staff your stay will be a comfortable and pleasant one as the proprietors of this Whitby hotel with sea views strive for excellence throughout your visit.
Morningside Hotel is a non-smoking hotel for the enjoyment of and well being of all guests. There is ample off-road secure parking for all guests at the front of the hotel. Paul and Sandra work a short season; starting around Easter and extending through to late October just after the Goth Weekend. Book your stay doing the peak summer months to be sure of a stay at one of Whitby best hotels with a sea view.
Address: 10 North Promenade, Whitby, YO21 3JX
---
La Rosa Whitby
Rated by Conde Nast as one of the Top 15 Hotels in the UK, this stunning Victorian-themed hotel has it all; impressively decorated rooms, quirky hamper breakfast and a superb sea view. Once frequented by a certain Lewis Carroll, author of the delightful and infamous 'Alice In Wonderland' novel, you can relive the fantasy and romance with a stay at La Rosa.
Stepping into La Rosa is like falling through the rabbit hole directly into the Mad Hatters Tea Party. The decadently furnished rooms are fun and opulent and offer a touch of joy as you drift into a fantastic dreamscape of white rabbits, talking clocks and mind-bending riddles.
Conveniently located for Whitby Pavilion, West Cliff Beach and the Whale Bone Arch. A short stroll down Khyber Pass puts you right in the heart of the Harbourside attractions, pubs and restaurants. If you're looking for a hotel in Whitby with a sea view then La Rosa really is the pick of the bunch.
Address: 5 East Terrace, Whitby, YO21 3HB
---
The Dolphin Hotel
The Dolphin Hotel features sea views, a bar, terrace and free WiFi. The Dolphin Hotel is located just 1.3 miles from Whitby Abbey and 200 yards from Captain Cook Memorial Museum. The property is around 450 yards from Whitby Lighthouse, 0.7 miles from Whitby Museum and 1.4 miles from Whitby Pavillion. Guest rooms at the Dolphin are equipped with a seating area and a TV. All rooms include a wardrobe. Guests at The Dolphin Hotel can enjoy a Full English/Irish breakfast.
Address: Bridge St, Whitby YO22 4BG
---
Harry's Bar/Lounge
Harry's Bar has 4 luxurious rooms available providing stunning panoramic harbour views of historic Whitby. This property is a short walk from the beach, piers and bandstand.
Situated beside the harbour opposite the Whitby Fish Market, Harrys Lounge features a contemporary bar, serving a variety of freshly prepared cocktails. It is less than a mile from Whitby Rail Station and has free Wi-Fi throughout. All rooms feature sea views and are decorated with accent walls and modern furnishings. They are equipped with a sitting and dining area, as well as a flat-screen TV and an en suite bathroom. They also feature Indian cotton bed linen.
Address: 10 – 11 Pier Rd, Whitby YO21 3PU
---
Bed and breakfasts in Whitby with sea views
Whitby boasts several B&Bs that offer stunning sea-views. We love a traditional guest house that still offers that classic seaside charm. These bed and breakfasts offer sea views from many of their rooms and you're guaranteed a warm welcome from attentive hosts.
No7 Guesthouse
No7 is rated 5 stars on Tripadvisor and offers modern, comfortable accommodation on Whitby's scenic West Cliff. With guest house rooms facing the sea, just perfect for watching the sunrise and a fantastic family-friendly cottage at the rear they offer something for everybody.
The Guest House has nine bedrooms and is centrally situated in possibly one of the best positions on Whitby's West Cliff, enjoying superb sea and Abbey views. No7 is only a few minutes walk from the Whalebone Arch, Beaches, The Pavilion, old town via the swing bridge and all the shopping facilities on Flowergate, Baxtergate and Skinner Street – not forgetting the famous Magpie Café on Pier Road.
Address: 7 E Crescent, Whitby YO21 3HD
---
Lavinia House
Lavinia House in Whitby is an ideal base for discovering the coast, the North York Moors, and the narrow streets of this delightful historic town. They offer room only accommodation, allowing guests the opportunity to have a lie-in and experience the vast array of cafe's and restaurants within the town, at their own leisure.
Lavinia house was built in the 1850s, and although retaining its character and features of the original dwelling it offers the comfort and standards expected in a well-modernised guest house. The house is ideally situated at the top of the Khyber Pass and enjoys views of the sea, is close to all local amenities and offers friendly, relaxed hospitality to all guests.
Address: 3 E Crescent, Whitby YO21 3HD
---
Riviera Guest House
Offering breathtaking panoramic views from Whitby to Sandsend this award-winning bed and breakfast really is the height of luxury with its uniquely styled bedrooms. Options include Chinese themed decor, contemporary monochromes, and traditional opulence.
As an added bonus four of their rooms also have four-poster beds. Breakfast is served in their dining room which also benefits from a sea view and includes food options such as cereals, fruits, yoghurts, toast and the traditional full English. Vegetarian options are also available.
Address: 4 Crescent Terrace, Whitby, North Yorkshire, YO21 3EL
---
The Pier Inn
This bed and breakfast is probably not a conventional choice due to it being housed in a pub rather than a private building. It is, however, incredibly worthy of being mentioned for its fabulous seafront location overlooking the harbour alone.
Additional to its views this B&B has a cosy seven rooms including doubles, twins and family rooms all decorated in a bright, airy and clean fashion. All rooms are ensuite with a shower. Breakfast is served as you would expect in the pub's dining area where you can also enjoy your lunch and evening meal should you choose to.
Address: 4-6 Pier Rd, Whitby, YO21 3PU
---