Read our review of Kam Thai restaurant in Whitby. A delicious Asian feast waiting for your arrival at Whitby train station.
Tucked away inside Whitby train station on the platform concourse is an exotic treat for weary rail travellers, holiday makers and local aficionados. Specialising in express lunches and dinner feasts, Kam Thai is a taste of South East Asia in the heart of Whitby.
We visited Kam Thai early on a Tuesday evening armed with a heavy camera and a hearty appetite for in readiness to sample the delicate flavours of the East. I love Thai food and was really looking forward to tasting the delicious combinations of dishes on offer at Whitby's only Thai restaurant.
Free Whitby Mini Guide
"Get the best from your stay in Whitby"
We have compiled everything you need to know about Whitby into a
free mini-guide!
Download Now
Kam Thai not only serves up excellent food in a convenient location, this Whitby restaurant is also contemporary in style, has professional and attentive staff and offers real value for money, making this an top choice for any occasion. Dining at Kam Thai is an all round sensory pleasure.
"Hot food at a train station doesn't get better than this"
To start we ordered the Kam Thai Platter for two; a selection of goodies including the best prawn toast we've ever tasted, satay chicken skewers with a delicious peanut sauce, king prawns wrapped in filo party dipped in sweet chilli sauce, fresh Thai fish cakes, and vegetable spring rolls.
These delightful fried treats were served up piping hot, presented beautifully and accompanied with a selection of authentic dips. Personally, this is my favourite point of any meal and this combination of flavours, tastes and textures really hits the spot. Like an Oriental Tapas.
"A little bit of everything all at once…"
We made light work of these tasty morsels and so having taken some beautiful photographs, we ordered the main courses with our lovely waitress, Natalie. For our next round of dishes we ordered; tofu massaman, goong pad prik Thai dum, and a national classic – king prawn Pad Thai.
The massaman is a sweet dish with big flavours of peanuts and chilli spice, prepared with tofu, the texture complemented nicely with the potatoes which are staple to this dish. Massaman is a moreishly filling dish that deserves a hungry diners attention.
For our next plate we ate the excitingly named 'Goong Pad Prik Thai Dum', a dish of jumbo prawns stir fried with onions, peppers and spring onions in a black bean sauce. This contrasted well with the massaman and offered a juicy bite of flesh in the prawns. A very pretty plate of food when it is served.
"Be ready to get your hands on those prawns!"
Pad Thai is a national tradition in Thailand, available on every street corner in every town all over Thailand. This sweet and savoury dish has a lot going for it and Kam Thai delivered the authentic experience here. Wrapped in a fried egg basket, this fantastic meal was good to look at and a joy to eat. Highly recommend.
The meals we'd tasted had been enjoyed to the last dreamy mouthful. But, since we were on official Whitby Guide business, we couldn't neglect our duty to you, O' faithful reader! No, we couldn't leave without sampling a cheeky dessert.
"By now we were really quite full up"
The mango sorbet is a magnificent fruity feast of epic proportions… This half mango was big enough to sail away in. Easily a contender for a Cook expedition down under.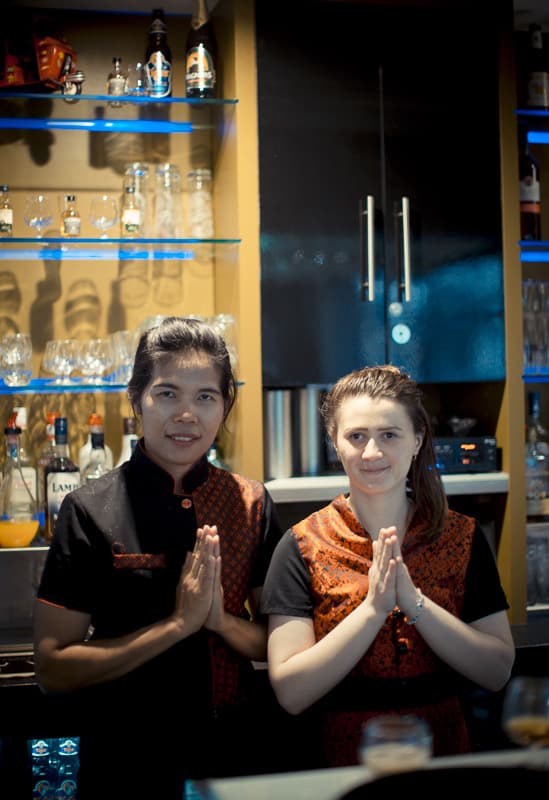 How To Book
Please mention The Whitby Guide when making a booking.
Address: Unit 6, Whitby Rail Station, Station Square, Whitby YO21 1DX
Phone: +44 1947 601 693