This week our intrepid local food writer, Sara Harland, visited The Blitz Café & Tapas Restaurant on Church Street to review the wonderful food and drinks on offer at this unique venue.
Along the cobbles of Church Street between the Jet shops and age-old Whitby architecture you will find a 40's themed café called the Blitz.
The Blitz invites its patrons with its glass frontage covered in sticky tape stuck in diamond patterns over the windows. This is just the start of the World War Two theme.
Free Whitby Mini Guide
"Get the best from your stay in Whitby"
We have compiled everything you need to know about Whitby into a
free mini-guide!
Download Now
Stepping through the door you are transported into a time of air raids with vintage china cups- you feel like you are in the 1990's British comedy 'Goodnight Sweetheart'.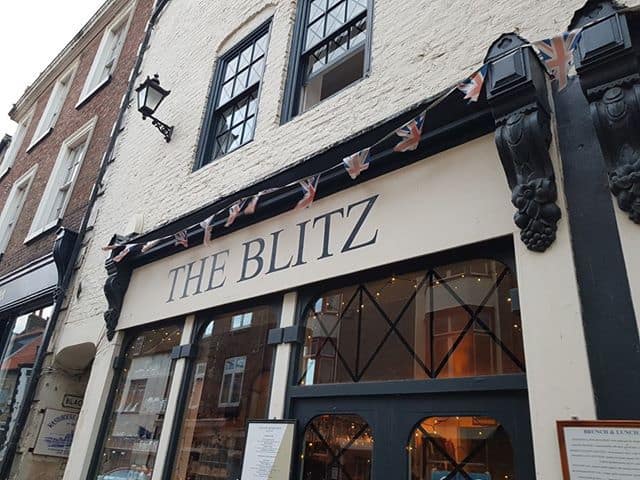 During the day you can sample a daily rations menu, a Blitz breakfast and sandwiches with a proper cup of tea served with tea leaves. The whole look and theme of this place is very detailed from the furniture to the numerous lamp shades that cover the celling.
This feature is the ultimate definition of a Yorkshire person asking to put the "big light on" in the living room!! There is a feature wall of London being bombarded during the war, a reminder of the harsh history of the Blitz.
A modern twist that happens to The Blitz after 6pm is that this café becomes a tapas restaurant with a full A La Carte menu plus a gin bar. I left my husband and kids at home for this review as this place is ideal to share food with friends.
On arrival we were shown to our table in the back area of the café where the wallpaper has a blue budgerigar design, how could you not enjoy looking at some budgies on wallpaper – just fabulous.
Our waitress for the night advised us on how many tapas dishes to order and she recommended between five and six dishes. So, while we both made a very important joint decision on what dishes to order, we choose our liquid refreshments.
My friend chose from the fluffy clouds' cocktail from the cocktail menu that starts at 3pm until 7pm you can buy two of the same for £14.00.
This drink is served in a vintage highball glass topped with candy floss. The trick is to drink the cocktail which is vodka, gin, passion fruit syrup, lemon juice and custard syrup through the candy floss.
I picked the classic G & tea with a Blitz twist to it. It was gin, chamomile tea and elderflower cordial served in a tea pot with of course a china teacup complete with a saucer.
The setting of the place is charming with age old decorative pieces of furniture filling every corner with contemporary influences.
The music added to the ambience with a swing version of modern songs such as 'Crazy in Love' playing in the background.
We had decided on our tapas dishes which were- 'Gambas Al Chef' (£7.95) tiger prawns in a tomato, garlic and white wine sauce, 'Aceitunas' (£3.45) marinated mixed olives, 'Patatas Bravas' (£4.95) deep fried potatoes in chilli and garlic, 'Halloumi Fritas' (£5.95) halloumi fries with mango and chilli sauce, 'Chorizo Al Vino' (£6.95) slow cooked Spanish sausage in red wine and 'Jerez Glaseado Castillas' (£5.95) pork ribs in a sherry glaze.
We had some mixed bread with oils to start whilst were waiting for our dishes.
The tapas dishes came presented on boards with generous portions of garnish. I do love a good garnish, it is like unexpected food, a nice surprise!
Each dish was delicious, you could tell the chorizo had been slow cooked- it melted in your mouth. The potatoes and the halloumi fries were outstanding, and the flavours just hit the palate.
The pork ribs just fell apart and the tiger prawns were covered in a rich tomato sauce.
Tapas is great social food and the place was filling up with more and more customers. We then went onto our second course of cocktails as it would have been rude not to.
My friend ordered a 'Ramble' this is a double gin with lemon juice and raspberries served in a rock glass, crushed ice with a fresh raspberry to finish.
I picked my favourite cocktail, 'Pornstar Martini' which is vodka, Passoa, passion fruit juice and vanilla syrup. It also came with a little jam jar filled with Prosecco on the side. The finishing touches make this place so unique.
If nature is calling you to use the lavatory whilst in The Blitz, you will have to enter the bunker to access the toilets. You will have to take the steps down to the toilet with sandbags on the walls and there is war time graffiti in the toilets.
The whole style of the place is just right with great food and atmosphere. From cocktails to gin in tea pots and tapas dishes that just melt in your mouth.
You will experience a great evening with welcoming staff. The place has personality and you can tell a lot of love goes into the place from the collection of antiques that adorn the establishment.
In the style of Vera Lynn- 'We'll Meet Again'' this will definitely be happening as it was all just amazing!
How to visit The Blitz
Phone: +44 1947 606 935
Address: The Blitz Whitby, 97-98 Church Street, Whitby, YO22 4DE
Website: www.theblitzwhitby.co.uk
40's Cafe Open daily throughout the week (seasonal) – 9am to 4pm
Tapas (closed Monday) from 4pm till late
A La Carte menu from 6pm till late
Great wines, beers, gins and cocktails from 10am till late