Whitby is not the only beautiful seaside town in North Yorkshire. There are plenty more seaside towns along this stretch of coast to discover. Here are 7 North Yorkshire seaside towns you must visit.
There is something for everyone along the North Yorkshire Coast. This is because there are so many seaside towns in North Yorkshire to explore, from fun-filled family holidays to romantic coastal getaways, which are all dog friendly. Here are 7 North Yorkshire seaside towns you must visit.
1. Scarborough | 30-minute drive from Whitby
Just a 36-minute drive from Whitby, Scarborough is a very popular and famous seaside town. As the largest holiday resort on the North Yorkshire Coast, it's a place many people have fond memories of. Here you can enjoy that classic seaside fun we all crave, beautiful beaches, local shops, restaurants, a harbour and gorgeous gardens.
FREE Whitby Mini-Guide
"Get the best from your stay in Whitby."
Everything you need to know about Whitby into a free mini-guide!
There are plenty of things to do in Scarborough for all ages; an activity that we find entertains the entire family is a visit to Scarborough Sea Life Sanctuary. The highlight for us is always the seal hospital with its very cute patients receiving treatment on-site.
If you enjoy learning about history, visit Scarborough Castle, a 12th-century castle overlooking the town. This medieval structure survived five sieges but was left in ruins during the English Civil War. After exploring the castle. Afterwards, make your way to St Mary's Church nearby and its small graveyard, where Anne Brontë is buried. The youngest of the famous sisters.
Fancy getting spooked? Then visit to take part in the ghost evening tour of Scarborough Castle, available on specific dates, including Halloween. Scarborough is not far from Dalby Forest and The North York Moors National Park, which are great to explore too.
One of our favourite places to eat in Scarborough has to be Clark's in the historic old town. Staff are so friendly and attentive and the food is always exceptional quality. The sticky toffee pudding is on of our favourite desserts and it is incredible here.
2. Filey | 1 hour drive from Whitby
Fancy some peace? Whitby and Scarborough can get a bit crowded, especially during summer. Filey is a lot quieter, even during the height of summer. Filey was formerly a fishing village and is perfect if you love relaxing by the coast, it's one of our favourite North Yorkshire seaside towns for good reason. The sandy shore here is idyllic, and the beach is very long, making it popular with families.
Filey Brigg is great for walking and birdwatching. It is a short peninsula to the north of the town centre. Cliffs here reach 20 metres high and are a popular spot for fossil hunters and fishing. There is a complete circular walk around Filey Brigg, around two kilometres.
Flamborough Head Lighthouse is worth visiting while you are there. The Promenade has attractions to enjoy too. We enjoy visiting Filey Bird Garden and Animal Park. It is a lovely place to go with the little ones. St Oswald's, the local parish church, used to be attended by Charlotte Bronte. The church has been operating since the 12th century and shows off beautiful stained glass and stonework.
One of our favourite places to eat in Filey is The Boat Shed for the perfect pizza. The venue is relaxed and fun, and you can pop in for just drinks or tapas and pizza.
3. Saltburn by the Sea | 40-minute drive from Whitby
Saltburn by the Sea is a pretty North Yorkshire seaside town that has kept its unique charm throughout the centuries. It has been a popular resort since the Victorian era and is a beautiful location for kids to enjoy the day playing in the sand or finding fossils and treasures.
There are so many things here to do for kids meaning the area attracts many families. Saltburn by the Sea has also been gaining popularity among surfers. The town is now known to be one of the best surfing spots in the UK! You can take part too, visit Saltburn Surf School for more information about the services they offer. They are located on the lower prom and they offer lessons for all abilities, a wide range of hire and they also sell a range of new and second hand surf equipment.
Not into water sports? You can still appreciate the long beach here, restored Victorian treasures, gardens and food scene. There are many things to do whilst visiting Saltburn by the Sea for adults as well as children. You can enjoy a walk through the Italian Gardens and a lovely forest walk nearby. Saltburn is also on the 110-mile-long hiking trail, the Cleveland Way. In addition, the town has a miniature railway and an interesting Smugglers' Museum on the seashore.
The Seaview Restaurant is one of our favourite places to eat in Saltburn. They offer luxury indoor and balcony seating areas. Wherever possible, they buy fresh fish from local inshore day boats certified by the Responsible Fishing Scheme.
4. Robin Hood's Bay | 14-minute drive from Whitby
One of our favourite places to visit on the North Yorkshire coast is the magical Robin Hood's Bay. This small fishing village is an ideal base for walking, cycling, and exploring history.
It has plenty of accommodation to stay at, things to do, restaurants to enjoy and pubs. Here, you can read our guide to spending 7 days in Robin Hood's Bay. Robin Hood's Bay is just 13 minutes from Whitby.
We love to walk to Boggle Hole from Robin Hood's Bay. Boggle hole is a site of particular scientific interest (SSSI). There are a vast array of fossils to be found there. The name Boggle Hole originates from a local myth about a very mischievous hobgoblin that was thought to have lived in the caves at the site where smugglers used to land their contraband. Always check for tide times before exploring the caves or fossil hunting here.
One of our favourite places to eat in Robin Hood's Bay is The Fish Box. You can enjoy fish and chips on the clifftop with beautiful views across the bay. So warm up here with the most delicious classic fish and chips.
5. Staithes | 22-minute drive from Whitby
Staithes is a magical fishing village on the North Yorkshire Coast. It was once a busy fishing port and is the perfect place to relax by the sea. Just 10 miles from Whitby, it boasts a proud history as it was once the home of famous Royal Navy captain and explorer Captain James Cook.
You can learn more about Captain Cook at the Captain Cook and Staithes Heritage Centre, a recreation of the shop where James Cook worked during his residency. The museum holds an array of books, letters, medals, and so much more.
There is so much to do in Staithes if you are a fan of art; stroll through the narrow cobbled streets until you reach Staithes Art Gallery. They often hold events which are great to visit.
Rock pooling is one of our favourite things to do in Staithes, the area between Staithes and Port Mulgrave is teaming with life amongst the rocks. You are sure to find many fossils here, and if you're lucky, the odd seal.
Our favourite place to eat in Staithes is always The Cod and Lobster. We love a spot here by the fire on a cold day. They serve amazing fish dishes and traditional pub food prepared with local produce. It's in a fantastic location over looking the harbour.
6. Runswick Bay | 18-minute drive from Whitby
Runswick Bay is beautiful, with its iconic red-roofed fishing cottages glistening against the surrounding cliffs. This is a special place for so many people.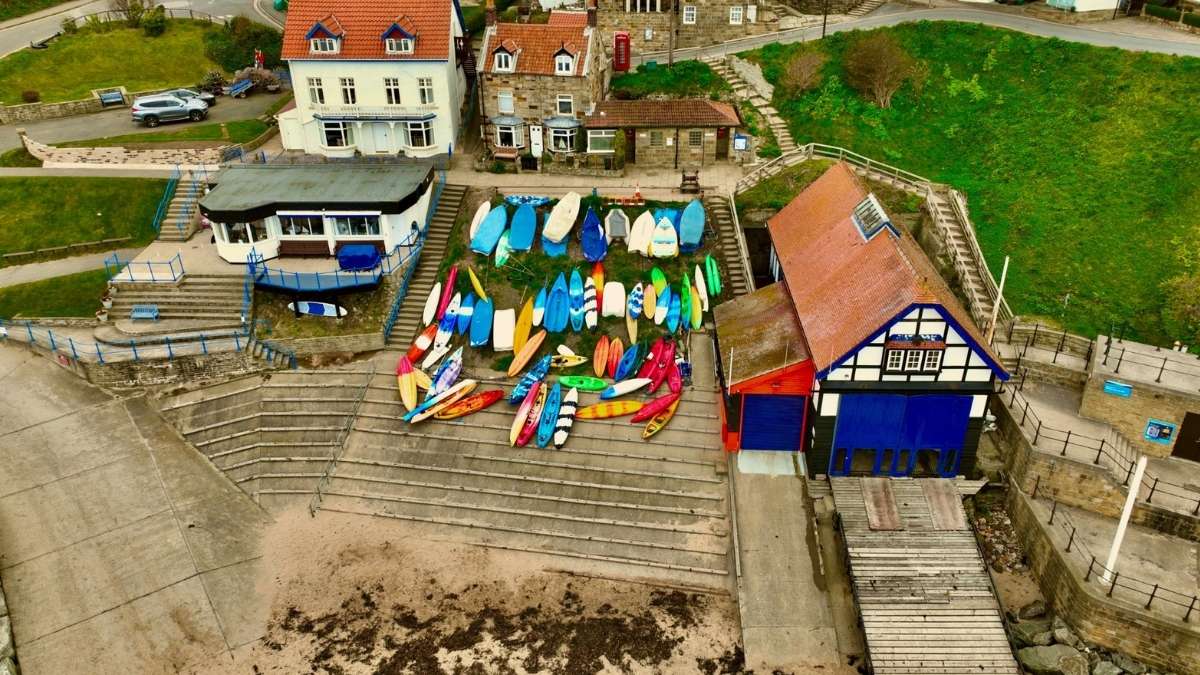 One of our favourite things at Runswick Bay is simply enjoying the beach here. It is a long sandy beach with plenty of space for children to have a good run. In addition, swimming, fishing, boating, kayaking, canoeing, water skiing and sailing are popular in the bay. Here, you can view our beach-by-beach guide for Whitby and the surrounding areas, including Runswick Bay.
If it's a walking route you are after, the Cleveland Way runs through Runswick Bay with cliff walks and stunning sea views. It guides you north to Staithes and south to Sandsend and Whitby. You can find more information on the National Trails website.
Whilst there, grab a bite to eat at the Runswick Bay Hotel, we have never had a bad meal here, and their proper homemade chips have us returning! They serve pub classics along with excellent seafood dishes and attentive service.
7. Sandsend | 8-minute drive from Whitby
You can see Sandsend from Whitby; we love to make a day of visiting Sandsend by walking there from Whitby. You can find detailed information about the Whitby to Sandsend walk here. It has a beautiful and historic village as well as a vast beach.
We visit here with children to rockpool and fossil hunt; we always end up with a bag full of treasures. Fossils are found regularly at Sandsend beach; the area attracts archaeologists and palaeontologists from all over the world. One of our favourite things to do here is to take a picnic or fish and chips and watch the sunset in the sea during the summer months. It's a sight we will never forget.
The Sandsend Trail and Mulgrave Estate
The Sandsend Trail is fun to follow and enjoy as part of a day out. Not far from Sandsend is Mulgrave woods and Castle. The woods are part of an estate and are perfect for a family stroll or a longer circular walk. The Mulgrave Estate owns and manages the woods; they have created several trails throughout the area.
The woods are open to the public only on Wednesdays, Saturdays and Sundays and they are closed during May. Also located here are the ruins of Mulgrave Castle. The Castle was built by the Normans after William the Conqueror's invasion. The easiest way to get to Mulgrave woods is via the Sandsend to Mulgrave circular walk, which we have an entire article and more information about here.
Between Whitby and Sandsend, The White House Inn is an excellent spot for delicious food and incredible sea views. The beer garden is beautiful, and there is lots of room for children to let off steam.
We have stayed in Whitby so many times and enjoyed everything it offers; we love returning again and again at different times of the year. For us, though, we just adore how much more this coastline has to offer, from the smuggling haunts of Robin Hood's Bay to the peace and tranquillity of Filey. The North Yorkshire coast has many beautiful seaside towns to enjoy; you are spoilt for choice.
Let us know in the comments if you have a favourite seaside town in North Yorkshire; we love to hear about your experiences.