What's On In Whitby In March
March; the month where spring is sprung, daffodils bloom, and those who are Pisces and Aries celebrate their birthdays with gifts of aquamarine. The third month, second of seven to have thirty-one days, and named after the Roman god Mars.
Whilst all the above is fascinating, I'm sure, there are far more important facets of March that we should be discussing. Like, the amazing and exciting range of activities that this month brings to Whitby, the Yorkshire Coast, and North York Moors!
Exploring The Rievaulx Valley
The Rievaulx Valley is home to the ruins of what was once one of England's most powerful Cistercian monasteries. It is also an area of extraordinary beauty that deserves and needs to be explored. This, you and your family can do on Friday the 8th of March.
The 'Exploring the Rievaulx Valley' event is being hosted by Tony Powell who is not only a lecturer on English social history but also an expert on the Rievaulx Area. He will be your guide to a glimpse into this once working Abbey complex and its surrounding area. From fish ponds to stone quarries, freshwater springs, and the original course of the River Rye, you will get to see and hear about it all. You will also take a peek at the Abbey and its history too.
The tour lasts for three hours, includes a light lunch and gives you time to explore the on-site museum. Please be aware there is lots of walking involved in this event so you will need to be fairly physically fit.
Check out the regions other famous abbey – Whitby Abbey
World War Two Living History Weekend
Eden Camp is a family owned and run award winning attraction located in Malton. It is housed in the grounds and building of an original World War 2 prisoner of war camp and offers a unique look at history during this time. Exhibits are both entertaining and educational and consist of immersive displays both military and social.
On the 2nd and 3rd of March, Eden Camp will be host to the Axis-Allied Living History Group for a special historic weekend. The group will enhance the 1940 theme of Eden Camp by allowing visitors to get up close to uniforms, clothing, and kit from the time.
Forest Night Vision At Keldy
Hosted by Forest Holidays the 'Forest Night Vision At Keldy' event is your chance to explore the forest by night. You will venture out into the forest accompanied by a ranger and take a walk searching to catch sight or sound of wildlife. Even better if you do find some forest critters you will be able to see them. This is because you will be wearing night vision equipment.
Patience and stealth will be key to your success on this event, and it is advised that you wrap up warm against the chilly night air. You will also be required to wear sturdy footwear. This event will take place on Saturday the 2nd of March.
Looking for somewhere awesome to camp? Check out these cool campsites
Jason And His Amazing Midlife Crisis
From Neighbours, to chart success, to Joseph, and an appearance on I'm A Celebrity, Get Me Out Of Here, who could forget the charms of teen heartthrob Jason Donovan? Not me, that's for sure, I'm a real child of the 80s!
If you too remember Jason, then do we have a treat for you. An evening of music, musings, and mischief with the man himself in his 'in conversation' style show. You will hear all about his rollercoaster lifestyle, the ups and the downs, and have another chance to hear some of his greatest hits.
This event is not to be missed and a fabulous chance to mend some of 'too many broken hearts' during 'another night' with Jason being 'happy together' that is 'especially for you', and might just be 'sealed with a kiss!' See what I did there?
Check out more information here
Night Walk At Chop Gate
Located in the heart of the North York Moors Chop Gate has the exact kind of scenery that the area is famous for. Open moors develop into deep valleys, sheltered woods into scattered villages making it the perfect place to take a walk.
Most people, of course, take a walk through the woods, valleys, and moorland through the day. However, the 'Night Walk At Chop Gate' is a chance to experience it all at night. During this time the area feels a whole lot different, magical, and oh so quiet. To avoid you getting lost you will have an outdoor guide.
This event takes places on the 1st of March and takes place near the highest point of the North York Moors, Urra Moor.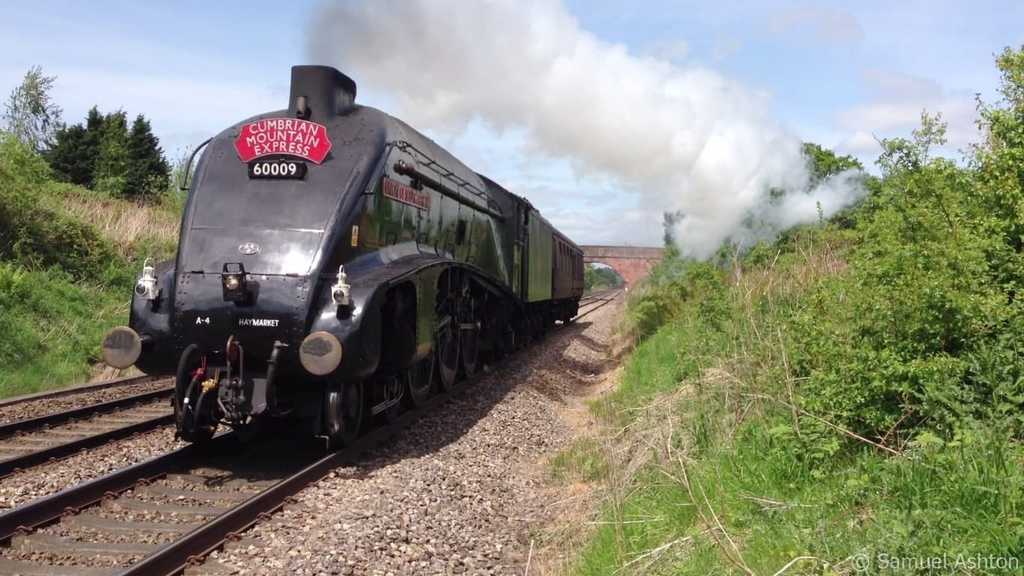 LNER A4 Union of South Africa
The North York Moors National Railway runs along twenty-four miles of outstanding countryside that is nothing short of wonderful to see. It is traveled on by thousands of visitors every year who adore the wonderful steam and heritage diesel trains that run on their lines. It is a pretty special experience.
Every now and again, however, that experience is made even more extraordinary and magical by the visitation of extra special trains. March the 30th is one of those times when they will be hosting the Union of South Africa for some of its final journeys. This gorgeous steam locomotive will retire for good in April after over seventy years of service.
The Union of South Africa was built in 1937 in Doncaster and is one of only six surviving Gresley A4's. It will depart from Grosmont Station for just a few days starting on the 30th March, so don't miss it.
Astronomy, Stars And Supper
The HM Bark Endeavour located at the Whitby harbour plays host to some wonderful dining events throughout the year. March is no different when they will host the 'Astronomy, Stars and Supper' event as part of the Dark Skies Celebration.
This evening will consist of a two-course dinner, a presentation by a local astronomer Richard Darn, and a chance to gaze at the night sky from the deck. It is sure to be a night that is informative, fascinating, and full of flavour.
Astronomy, Stars, and Supper will take place on Saturday the 2nd of March and advance booking is recommended.
Runswick And The Railway
Runswick and The Railway is a four-mile walk hosted by Joan Roberts through the town of Runswick and onto the sands of Claymoor Beck. It is not for the faint-hearted as it contains a steep stepped climb to reach the Whitby to Loftus railway line. It is, however, a journey well worth making for the sights and tales that will abound.
This event is free to participate in with children and dogs on short leads welcome, the dogs that is! The route may be fairly muddy so appropriate footwear is recommended.
Stay in style – check out our Runswick Bay Cottages
Plan your trip with our one week Runswick Bay itinerary
The Opening Of Castle Howard And Mother's Day Afternoon Tea
On the 30th March, the wonderful Castle Howard will re-open for yet another season of sharing its wonderful delights with the public. However, this is just one reason why you should visit this natural treasure in March.
The other, well, of course, it's Mother's day on the 31st and this year Castle Howard is putting on a wonderful afternoon tea just for you and your Mother. This delight will be served in their elegant Grecian hall in front of a roaring log fire. Delights on the menu include an award-winning selection of savoury treats and an array of sweet delights.
Along with afternoon tea, your Mother and you will also have full access to the house and beautiful gardens for the day. A great way to celebrate I'm sure you'll agree.
A Paranormal Night
The Dracula Experience is well known for telling the story of Whitby's most famous and gothic visitor, Count Dracula. However, the vampire vibe is not the only scary and spooky thing going on in this building on Marine Parade. To the contrary, it is also home to some paranormal goings-on.
Over the years paranormal teams and mediums have investigated 9 Marine Parade resulting in the capturing of some orbs on camera, an eventful ouija board, and the sighting of a ghostly girl. This girl is believed to have lived in the building during the 1800s, dying of tuberculosis there.
The above events have meant that the fabulous Most Haunted has teamed up with the Dracula Experience to offer paranormal nights at the location. On these events, you will be able to investigate the building yourself, take part in seances, and hopefully see a ghost. The March date for this experience is Saturday the 2nd.
Burton Agnes Orchid Festival
Burton Agnes Hall is a Norman manor house built in 1173 by Roger De Stuteville that is open to the public. It is a house full of charm and character and is packed with unusual and original features. Well worth a visit.
On the 2nd and 3rd March, there is an added bonus to visiting Burton Agnes as the house will also play host to the annual orchid festival, a celebration of all things orchid. Magnificent displays will adorn the Elizabethan great hall and fill it with the gentle but fragrant smell of orchids in bloom.
At this event, you can also visit the many stalls selling plants and other orchid goods and wander in the house's garden. Here you will find the courtyard with its variety of gift shops and cafe where you can stop for some tasty refreshment.
Saving The Dark Film Screening And Party
It is believed that 80% of the world's population live under light polluted skies where they are robbed of the night sky by excessive and improper lighting. This, in turn can be disruptive to our sleep pattern, endanger nocturnal habitats, and cause damage to our night sky.
To highlight the damage being done the Yorkshire Arboretum is hosting a screening of the film 'Saving the Dark' in the hopes that it will inspire us and empower us to combat light pollution. After the showing of the film which is on the 1st March, there will be a star party hosted by amateur astronomer Richard Darn.
Dark Skies: Nocturnal Goings-on
This event is a chance to walk through the candlelit streets and alleys of Staithes at night enjoying their higgledy-piggledy houses and tales of smuggling and shipwrecks. It is part of the Dark Skies festival and takes advantage of a beautiful town that was once one of the largest fishing ports on the North-East Coast.
The walk finishes in a local hostelry, the Cod and Lobster, where over a drink or two you can talk about this town that appears lost in time and all its charms. Breathtaking cliff tops, rock pooling, fossil hunting, and sandy beaches, to name but a few. This event will take place on Sunday the 3rd of March.