13 dog friendly Holiday Cottages available through Owners Cottages, Whitby.
Here are a selection of fantastic Whitby cottages that are all dog friendly. Get away from it all on the North Yorkshire Coast with a stay at a stunning holiday cottage near the sea. A fantastic part of the UK for walking, a holiday to Whitby and its surrounding towns and villages, isn't complete without the company of your furry friends.
That's why Owners Cottages provides a range of dog friendly Whitby cottages, both large and small, where your dog, and often up to two dogs, are more than welcome to join you. What's more, you won't have to pay a penny extra to bring them with you as all dogs can stay free of charge!
All of the dog friendly Whitby cottages on offer have been rated 4 stars by the AA so you can be sure that all accommodation, from Georgian period cottages to modern terraces and fisherman's cottages, are offered at a very high standard of both cleanliness, comfort and amenities.
Booking your home away from home for your holiday or short break in Whitby couldn't be easier. Reasonable rates, fantastic locations and dog-friendly properties, are all offered with no service charges or hidden fees.
Free wifi in all dog friendly cottages featured mean that you can share all of your holiday snaps with your friends and family back home, and show off Whitby's many attractions to future visitors!
Find the perfect Whitby dog friendly holiday cottage below – you can choose from cosy one-bedroom cottages that are perfect for couples, to spacious three-bedroom properties suitable for larger families or groups of friends…
A quick look at the dog friendly Whitby cottages on offer
Dogs welcome and stay free of charge in all the cottages. (Dogs are not permitted at Whitehall Landing Apartment)
Seashell Whitby Cottage Dog Friendly
Just a short walk from Whitby's beaches, harbour-side and pubs, Seashell dog friendly Whitby cottage is the perfect choice for couples or families looking for a little touch of home whilst holidaying in North Yorkshire. Tucked away in a quiet area of the town, this welcoming cottage sleeps four people and boasts great views out to sea as well as a cosy enclosed patio area to the rear.
Check availability & book online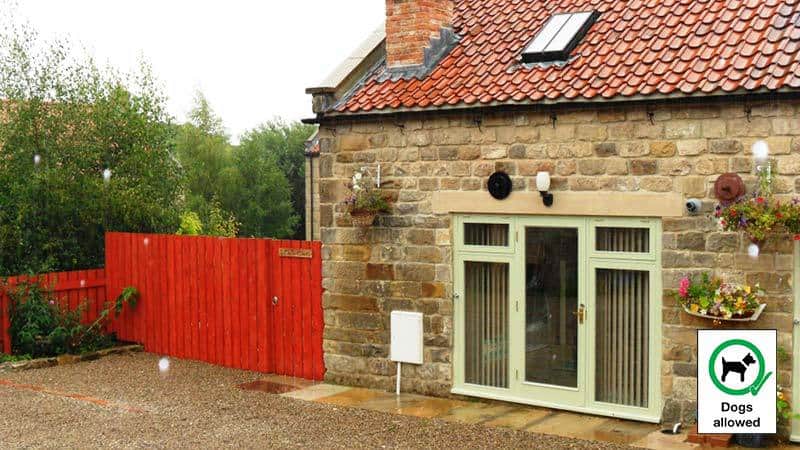 Littlemoor Barn
The pretty village of Cloughton, just four miles north of Scarborough, is home to our one-bedroom Whitby dog friendly cottage, popular with couples looking for their own little slice of Yorkshire to enjoy. Private parking and a private garden with seating area, give visitors that extra bit of privacy in which to enjoy their surroundings, whilst the log burning stove and under-floor heating add to the level of cosy comfort. Just 10 minutes' drive to Scarborough or 25 minutes to Whitby, you can also walk or cycle the Cleveland Way between the two seaside towns, via the old Scarborough to Whitby rail line.
Check availability & book online
Cuddy Dog Friendly Cottage in Whitby
This cute dog friendly Whitby cottage was converted from a Georgian wash house and is bursting with character. Located on one of the oldest streets in Whitby which runs alongside the harbour and river, you will be close to fantastic art galleries, book shops, sweet shops, cafes and more. Sleeping two people, this accommodation has been renovated to a very high standard and boasts all the modern amenities you will need for an enjoyable and comfortable stay including under-floor heating, smart TV and en-suite shower room.
Check availability & book online
Thornaby Whitby Cottage Dog Friendly
Right in the heart of Whitby, this modern cottage boasts a garage and a large fully enclosed sunny patio and is close to the town's beaches, harbour, shops and pubs. With a light, airy and welcoming feel, Thornaby can sleep up to four people in two separate rooms, as well as two well-behaved dogs. Together with Discovery Cottage, right opposite, a family or group of 6 friends can be easily accommodated on a holiday or short break to Whitby.
Check availability & book online
Discovery Dog Friendly Cottage
Discovery dog friendly Whitby cottage is a cosy, yet modern recently built cottage all on one floor. It has a large well-equipped kitchen, a walk-in shower room, a lounge/dining room and a bedroom with a kingsize bed that can be set up as two singles. Right in the centre of Whitby it even has its own garage close by.
Check availability & book online
Hundale Barn
Also located in the pretty North-Scarborough town of Cloughton, this open-plan barn conversion sleeps up to four people (two couples) and is within walking distance of lovely walks, pubs and tearooms. Its oak flooring and underground heating along with log burning stove, give it a cosy comfortable feeling, while the private courtyard garden gives it an additional level of privacy.
Check availability & book online
Periwinkle Whitby Cottage Dog Friendly
Beautifully furnished and with ample room for four people and two dogs, this thoroughly modernised Georgian stone fisherman's cottage is dog friendly can be found just a few minutes from the harbour. In addition to all the mod-cons you will require for a weekend away or week-long holiday, the cottage also boasts a cellar suitable for storing bicycles or fishing gear.
Check availability & book online
Quayside Dog Friendly Whitby Cottage
Found opposite the river Esk, Quayside dog friendly whitby cottage boasts original Georgian features including cast iron fireplaces. From here, you can take a five minute walk to Whitby's swing bridge as well as local shops and pubs. The two bedrooms, both with en-suite bathrooms, a large lounge/diner complete with leather sofas, as well as full central heating, make this cottage a cosy home from home for two couples or a family.
Check availability & book online
Eskside Cottage
Just two miles outside of Whitby is the picturesque village of Ruswarp where you will find the modern 3 bedroom Eskside Cottage. Situated on the riverside there are great views across the river Esk, where you can rent pleasure boats or take a pleasant walk. Great for visitors who like to enjoy the outdoors, the cottage also features a seating area to both the front and the rear of the property for you to soak up the sun in the summer.
Check availability & book online
Seagull Dog Friendly Whitby Cottage
A great location is one of the biggest draws of this popular Grade 2 listed, end of terrace fisherman's cottage. Just steps away from the harbour side, you can also reach the ancient route from the Abbey to the river Esk from the cottage's rear yard. The cottage also features a fully enclosed rear garden with grass, making it a favourite with dog owners. Parking for the cottage is right outside the property and you can park there for free whilst you are staying here.
Check availability & book online
Boatyard Cottage
One of the larger cottages on offer in the town of Whitby, Boatyard dog friendly cottage is full of character with beamed ceilings and a cast iron fireplace. It sleeps up to six people and features great panoramic views from the 1st-floor lounge and the master bedroom! You can see the boatyard, marina and the harbour from the cottage so you can plan your day of sightseeing from the comfort of your bedroom or whilst sipping your morning cup of coffee.
Check availability & book online
Chain Bridge Cottage
Another beautiful Whitby cottage that is dog friendly is set by the riverside in the pretty village of Ruswarp. This two bedroomed detached property boasts an outside decking area with seating, perfect for enjoying a meal or a drink whilst you watch the boats go by. Chain Bridge Cottage also features private off road parking for two cars, but for those of you who like to travel by foot, the nearby town of Whitby can be reached by a 20-minute walk along the pretty riverside path.
Check availability & book online
How to book
With so much choice when it comes to dog friendly cottages in Whitby, Owners Cottages have you covered. So whether you are visiting as a couple, with friends or with your family (and family pets!) you will be made to feel more than welcome in this truly lovely part of the UK. You can book any of the stunning Whitby dog friendly holiday cottages above by contacting Owners Cottages using the details below.
Website: www.whitbycottages.com
Please use the website to check availability and book online
Other contact details
Tel: 01723 871028
Mob: 07940 301314
Email: spwicks@btinternet.com
You can also follow Owners Cottages on Facebook
Article last updated: 28/02/2018
Love Dog Friendly Cottages? Pin It!