Fancy a dip? Try one of these Whitby Hotels with a swimming pool on your next holiday.
A good swim, or paddle, or splash around is definitely what the doctor ordered. This is no different whether you're sunning yourself on the Costa Del Sol or enjoying the gorgeousness of the British seaside. Everyone loves to partake in a good swim and Whitby and its surrounding areas, believe it or not, has some fabulous places to take a swim. We take a look at some Whitby hotels with swimming pools below.
Free Whitby Mini Guide
"Get the best from your stay in Whitby"
We have compiled everything you need to know about Whitby into a
free mini-guide!
Download Now
The Raithwaite Estate With Swimming Pool
The Raithwaite Estate nestles in the North Yorkshire coastline just nine minutes drive from the centre of Whitby. It is the perfect place for a relaxing break, a couple's retreat, and of course, romantic getaways. It is set in one hundred acres of beautiful grounds and has a plethora of different accommodation for you to choose from.
The two hotels within the Raithwaite Estate are certainly the height of luxury. Rooms are spacious and light and all en-suite with a great range of facilities. Downstairs you will find a bar, conservatory, and an exceptional brasserie for you to eat and drink in. From afternoon teas to light lunches, French cuisine, and cocktails, Raithwaite Estate offers it all.
The swimming facilities are found in the estate's spa along with treatment rooms, relaxation rooms, jacuzzi, steam rooms, and a small gym. The pool itself is small but constantly set to a warm temperature to increase your swimming pleasure and overlooks the naturally fed stream and magnificent gardens.
Address: Sandsend Road, Whitby, YO21 3ST
Check Availability
Mallyan Spout Hotel And Mallyan Spout
With scenery you can only dream of and outstanding views across the Esk Valley, the Mallyan Spout Hotel is a charming grade two listed country house dating back to 1892. It is surrounded by many places to go out walking and lose yourself for an hour or two.
Within the house, the atmosphere is warm and welcoming with its three guest lounges and roaring log fires. There are also two bars, an a la carte restaurant and twenty en-suite rooms. Each room has been decorated and furnished to an extremely high specification. All are en-suite and come with a flat-screen TV, radio, wifi, tea, coffee, and mineral water. All rooms are unique, no two are alike.
You may now be surprised to hear that the Mallyan Spout Hotel does not have a swimming pool, especially since the subject of this article is hotels with pools! However, it does have something spectacular, literally on its doorstep, that could be far preferable to a pool.
Mallyan Spout, a 70ft waterfall that cascades into a natural pool below, forms part of the Wade's Causeway and is located just behind the hotel. It has a reputation for providing an excellent place to swim and is in an area of natural outstanding beauty. Swimmers have been dipping their toes at Mallyan Spout since the 19th century when the area became popular as a spa centre.
Address: Goathland, North Yorkshire, YO22 5AN
Check Availability
The Royal Hotel And Westcliff Leisure Centre
Situated opposite the famous Whitby Whalebone Arch and overlooking the harbour, the Royal Hotel is an excellent choice of place to stay when holidaying in Whitby. It is just ten minutes walk from the centre of town and guarantees you a tranquil stay.
With spacious and light en-suite rooms all offering great facilities, plus drinks and meals in a bar that overlooks the sea, the Royal Hotel is unsurprisingly a favourite place to stay for many. It has one hundred and fifteen rooms including doubles, twins, singles, and family rooms. There is also a stunningly attractive ballroom where various entertainments are provided.
Again, the Royal Hotel does not have its own swimming pool, but there is a great one just ten minutes walk away along the West Cliff. It is housed within the local leisure centre and is open for everyone to enjoy. As well as the main pool for those who can swim there is also a teaching pool at the leisure centre for those who are less sure of their water abilities. Swimming lessons are also offered should you wish to partake in them. Opening hours are varied for both pools and you should check them before visiting.
Address: Bay Royal Whitby Hotel, West Cliff, Whitby, YO21 3HA
Check Availability
Discovery Accommodation And Silver street Swimming Pool
Discovery Accommodation in Whitby offers a wide range of places to stay throughout the town. You name it, town centre, West Cliff, seafront, or even down a quiet street, and Discovery will be able to provide it. They can also tailor the accommodation to your needs with self-catering, bed and breakfasts, hotels, mini-suites, apartments, houses, and cottages being available.
Just one of the many locations in which Discovery has accommodation is Silver street where you will also find an infrared sauna and indoor heated swimming pool for the use of all Discovery Accommodation guests. It is the ideal place to splash and swim with the family all year round.
Address: 11 Silver Street, Whitby, YO21 3BX
Check Availability
Boggle Hole YHA And Boggle Hole
Boggle Hole YHA offers accommodation that is tucked away between Whitby and Robin Hood's Bay in a smugglers cove. It has two hotels/hostels which both offer rooms and dormitories of all shapes and sizes as well as gardens, grounds to wander in, and a pirate-themed quarterdeck cafe. Boggle Hole YHA can sleep up to eighty-six people in total and is extremely environmentally friendly.
Boggle hotel itself, where you can do some swimming, is located to the front of the accommodation and is one of the Yorkshire coasts little known hidden gems. It is a sheltered bay, once known for smuggling and Boggles, mischievous little people once thought to live in the caves there. Care should be taken when swimming in the sea at Boggle Hole as there is no lifeguard and it is only safe during low tide.
Address: Mill Beck, Whitby, YO22 4UQ
Check Availability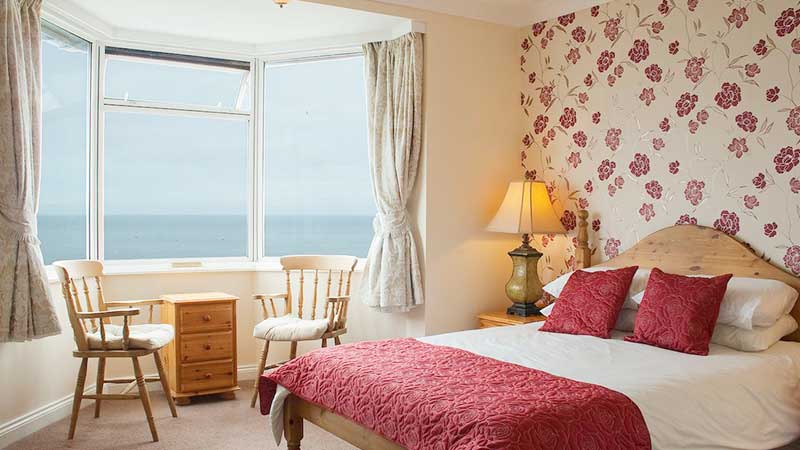 The Seacliffe Hotel And………. The Sea
Standing on the North Promenade at Whitby, the Seacliffe Hotel benefits from an unrivalled location overlooking the beach and harbour entrance. It has nineteen en-suite rooms, a fully licensed bar, a comfy guest lounge, and a large dining room for you to use. It also close to Whitby Leisure Centre, which has an indoor open-access swimming pool.
Address: 12 North Promenade, Whitby, YO21 3JX
Check Availability
The Royal Oak And Helmsley Open Air Lido
Just an hour away from Whitby and tucked within the North York Moors is the quintessentially English market town of Helmsley. It has a bustling market square, dramatic castle ruins, tea rooms, gorgeous open-air lido, and a great hotel, The Royal Oak.
Family run and providing a personal and friendly service, the Royal Oak is a small but unmissable place to stay in this glorious market town. It has just five en-suite rooms including king-size and family rooms all with excellent facilities. Lunchtime fayre, evening meals, and unbeatable Sunday dinners are served in the Royal Oak for all to enjoy.
Helmsley also boasts the only open-air lido within Yorkshire that is 25 metres in size and heated. It has changing rooms, toilets, and can be hired privately or used during open to the public sessions. It is open every day for two sessions with the exception of Saturday and Sunday, which has three. Family, season, spectator and concession tickets are all available.
Address: 15 Market Pl, Helmsley, York, YO62 5BL
Check Availability