Here is a selection of pubs in Whitby with outdoor seating. We love a beer garden in Whitby, soak up the sun, appreciate the pretty views and enjoy a refreshing drink.
It's so lovely to make the most of the sunshine and eat and drink al fresco. Here is a selection of pubs in Whitby with outdoor seating & beer gardens.
1. White House Inn

This family-run pub, restaurant and guest house is famous in Whitby for its beautiful outdoor seating and beer garden. It overlooks Whitby Golf Club on the edge of the North York Moors National Park. You get one of the best panoramic views at the White House along the Yorkshire Coast. It also runs alongside the Cleveland Way, so it's perfect for stopping off during or after a walk. To drink, the Theakston range is very popular, especially Theakston Best Bitter and Old Peculiar. Don't worry; you are also well catered for if you prefer lager, spirits, wine or soft drinks. Find more information here.
FREE Whitby Mini-Guide
"Get the best from your stay in Whitby."
Everything you need to know about Whitby into a free mini-guide!
2. Abbey Wharf
Abbey Wharf is an excellent location for calming views of the Harbour on a sunny day. The restaurant and bar area is large and caters for parties of all sizes. There is upstairs seating which you can hire for private functions. However, if you prefer something a little more al fresco, sit out on their balcony, seating overlooking the Harbour and out towards Whitby's famous East and West Piers. The Abbey Wharf Bar serves a wide selection of traditional beers, wines and spirits. In addition, cocktails, soft drinks, and very delicious hot drinks are available throughout the day.
3. The Fleece
The Fleece in Whitby is a great little pub with lots of character. It has arguably, one of the best beer gardens in Whitby for watching the sun go down over the harbour. It's also a great people-watching spot. They serve food and offer a friendly atmosphere. They have plenty of real ales, lagers, spirits, wine, and soft drinks, and like most pubs in Whitby, dogs are welcome to join you.
4. Middle Earth Tavern
Middle Earth Tavern is a local's favourite and sits beside the Harbour, slightly out of the main hustle and bustle. It's a fantastic location to enjoy in the Summer. They offer food from Cirdan's Harbourside Grill, and you can stay here too. This pub also features comfortable accommodation in their newly refurbished en suite rooms at an attractive price. They serve a wide selection of lagers, ciders and wines along with reasonably priced real ales.
5. Pier Inn
The Pier Inn is lovely to enjoy a quiet pint on the terrace. We have sat outside this pub many times to rest our legs and enjoy a spot of people watching beside the Harbour. The Pier Inn offers a vast selection of cask ales, traditional home-cooked pub food and live entertainment. It's a great family pub with a friendly atmosphere.
6. Whitby Brewery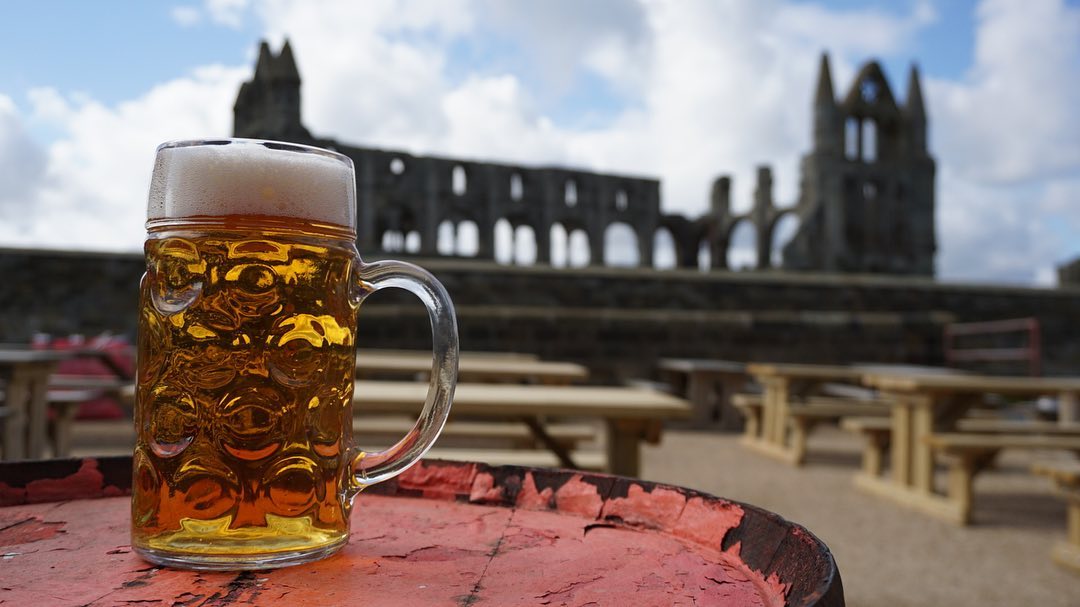 If you're visiting Whitby Abbey, stop by Whitby Brewery for a few drinks in the sunshine. The outdoor seating here is out of the busy town and is a peaceful spot in the shadow of the Abbey. There is an excellent selection of beers on offer here. So it's great if you fancy giving something different a try. It is a small place with only a capacity of a handful of people inside but plenty of outdoor seating to enjoy.
7. The Angel Hotel (Wetherspoons)
The Angel Hotel boasts a fantastic location overlooking the Harbour. It's a Wetherspoon pub, so you know you will get great value for money here. The outdoor seating area is large and ideal to stop at for a drink with a view. The staff here are very friendly, and they offer accommodation too.
Hopefully, we have given you some ideas for your next trip to Whitby. Maybe you have visited one of our suggestions; let us know your favourite pub with outdoor seating in Whitby. You can comment below.