If you're looking for a pub in Whitby you won't have far to look! For such a small coastal town it really does have more than its fair share of amazing pubs…
Here we have listed the best pubs in Whitby based on both local and tourist reviews. If we have missed any important names out then please do leave a comment below. We would love to hear your opinions.
Many of the pubs in Whitby have retained much of their traditional character, with good ale, friendly landlords and top quality pub food thrown in as well. The Whitby pubs and inns located along the West Cliff and East Cliff are particularly popular with visitors and locals alike so they do tend to get busy during the evenings and from Friday lunch until Sunday. Many of the Whitby pubs mentioned below are child friendly.
Free Whitby Mini Guide
"Get the best from your stay in Whitby"
We have compiled everything you need to know about Whitby into a
free mini-guide!
Download Now
Here is our extensive guide of pubs we consider worth a visit if you're looking for a good bustling night out in Whitby…
1. Middle Earth Tavern
Middle Earth Tavern boasts a stunning harbourside location which is fantastic in summer. Tts roaring log fires in Winter offer respite on the coldest of days. They are dog friendly and offer food from Cirdan's Harbourside Grill. They also offer clean, comfortable accommodation in their newly refurbished en suite rooms at an attractive price.
Address: 25-26 Church St, Whitby YO22 4AE
2. The Star Inn
Slightly set back from the quayside, this pub is one of the most traditional pubs in Whitby. It hosts a good selection of ales at a reasonable price, it's not so busy that you have to stand but is busy enough to have a good time, the entertainment includes a TV, pool table and jukebox, and the landlord/landlady are equally as friendly as the locals that frequent it. The Star Inn is also dog friendly and child friendly.
Address: 4 Haggersgate, Whitby, YO21 3PP
3. The Elsinore
Again, this is a very traditional and busy pub that appeals to both visitors and locals throughout the week. Known for its quality live music acts, the Elsinore provides a lively atmosphere that makes you feel welcome from the minute you walk through the door.
Address: 25 Flowergate, Whitby, YO21 3BB
4. The Little Angel
If you're looking for somewhere to watch a big sporting event then this is the pub for you. The Little Angel has invested in state of the art 3DTV equipment to make match night perfect. Saying this, many of the pub's traditional characteristics still remain and according to reviews, the food is absolutely fantastic. Not over-priced and set in a lovely, friendly atmosphere the Little Angel should definitely make it onto your must-visit list.
Address: 18 Flowergate, Whitby, YO21 3BA
5. The Fleece
This traditional Whitby pub has something for everyone, making it popular with partygoers, locals and families alike. With its big screen TV, live sporting events, live music acts, pool table, excellent food, good ales, decent prices and family-friendly atmosphere you can't really go wrong. It's the perfect place to sit with a pint and watch the sun go down over the harbour in the summer. Located on the East Cliff it is a bit of a trek from the popular hotels on the West Cliff but it's definitely worth the journey.
Address: Church St, Whitby, YO22 4AS
6. The Station Inn
Serving a great range of guest ales this popular pub attracts beer connoisseurs from far and near. Loved by the locals, it has a friendly atmosphere and is always busy. Live music acts perform at the Station Inn most evenings, making it the go-to spot for the younger generation. Don't worry though as by 9 pm the revellers have moved on leaving the party atmosphere behind in the pub for all to enjoy.
Address: New Quay Rd, Whitby, YO21 1DH
7. The Endeavour
This particular pub is warm and friendly with great views of the Eastern side of Whitby. Children and dogs are heartily welcomed making it a lovely place to stop for lunch and a quick pint.
Address: Church Street, Whitby, North Yorkshire, YO22 4AS
8. The Duke of York
This is one of the only true family-orientated pubs in Whitby and truth be told children love the atmosphere. The food is good quality, with a full child's menu, but is considered a little bit more expensive than other pubs in Whitby. With its lovely views of the lower harbour, you are guaranteed a quiet, pleasant atmosphere for a family afternoon/evening.
Address: 124 Church St, Whitby, YO22 4DE
9. The Board Inn
Situated at the end of old Church Street, The Board Inn offer a warm and friendly welcome to everyone. Go in and enjoy the splendid views over the harbour as you quench your thirst. They have a selection of fine Ales and Lagers and are listed in the 2010 Good Beer Guide.
Find more information here.
Address: 125 Church St, Whitby, YO22 4DE
10. The Pier Inn
The Pier Inn is a lovely place to enjoy a quiet pint on the terrace whether you have youngsters or not. Again, at the weekend when the live music acts are booked the pub can become crowded but during the week it's a great family pub.
Address: 4-6 Pier Rd, Whitby, YO21 3PU
11. The Ship Inn
Everybody loves the Ship Inn because it simply is one of the friendliest, happiest pubs in Whitby. A big favourite with the locals, they love to meet new people and everyone is welcome, even the loudest of children. Fishermen in particular love this pub so get ready for some cheeky banter and a right good laugh.
Address: Marine Parade, Whitby, YO21 3PR
12. First In Last Out
The First In Last Out is a small and friendly pub just off the beaten track. It's definitely a local community pub, close to the Caravan Parks, and only five minutes away from the main train station by foot. It's dog friendly and there is a small beer garden on-site so it's a lovely place to have a quiet drink in the summer months. There is a Quiz Night on a Wednesday here and Karaoke every first Friday of the month as well as an open Folk Session every Saturday night.
Address: 1 York Terrace, Fishburn Park, Whitby, YO21 1PT
13. The Whitby Way
The Whitby Way is a great pub offering live music and hosting open mic nights, you are sure to have fun here! The pub welcomes families and dogs too, and although there is no food available you are encouraged to bring in your own food, fish and chips etc.
Address: 15 Station Square, Whitby YO21 1DU
14. The Plough Inn
This is a traditional pub selling great quality beers. The layout is the traditional central bar serving the surrounding separate rooms. Just to note there are rules in this bar to follow such as no phones, tablets or cameras to be used on-site so that each others company can be enjoyed. Check the rules before entering is our advice.
Address: 20 Baxtergate, Whitby YO21 1BW
15. The Golden Lion (Irish Bar)
Whitby's Irish bar! This small and welcoming pub packs a great atmosphere. Staff are friendly and there are old games to play with to crack the ice with a conversation with other people around you. The Golden Lion is generally recognised as Whitby's oldest existing pub. The earliest landlord to be named was Richard Clark in 1714 but there was probably a public house on the site long before that.
Address: 8 golden lion bank, Whitby, YO21 3BS
16. Arch & Abbey

Arch & Abbey is a micropub based in Whitby. Selling locally sourced real ale, real cider, 60+ craft and bottled beers, Yorkshire spirits and wine. They are dog friendly, and a great place to stop buy if you are into your ales.
Address: 6c Skinner St, Whitby YO21 3AF
17. The Granby
The Granby is a friendly traditional pub located in the popular area of West Cliff with lots of local amenities nearby including Whitby Pavillion only a few minutes walk away. This is a dog-friendly pub with a good choice of ales and delicious food. The roast dinners are highly recommended!
Address: 34 Skinner Street, Whitby, YO21 3AJ
18. The Black Horse
The Black Horse is a tiny, traditional bar pub, in Whitby. Here you can enjoy award-winning cask ales from both local and national breweries, craft beers, a large selection of gin, rum, and wine, and try the Yapas (Yorkshire Tapas) menu. Dogs are more than welcome in both bar areas.
Address: 91 Church Street, Whitby, YO22 4BH
19. The Dolphin
The Dolphin pride themselves on having a great selection of local cask & craft ales, ciders and a great wine range. You won't be disappointed! And if you're a gin lover, there is a Gin Palace behind the bar with up to 40 of the worlds best! The view is brilliant too.
Address: Bridge St, Whitby YO22 4BG
20. The Quirky Den
The Quirky Den is a micropub and spirit bar if you're after friendly service and a welcoming atmosphere we highly recommend this pub!
Address: 11 Grape Ln, Whitby YO22 4BA
21. Whitby Brewery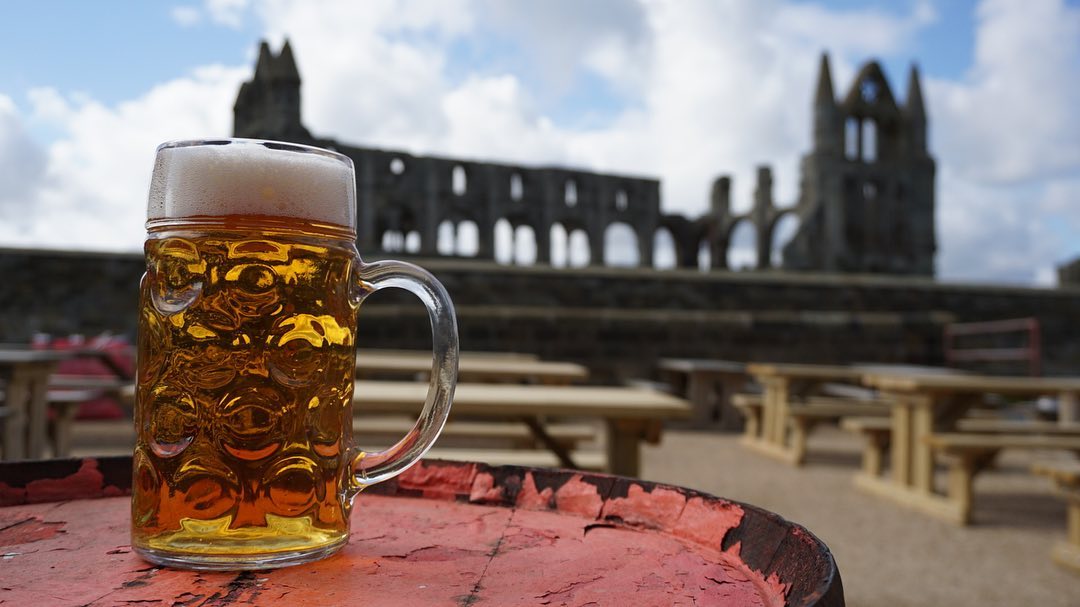 Whitby Brewery has been producing delightfully delicious Yorkshire ales since 2013. The brewery itself was built by hand by local Whitby craftsmen and has proven to be perfect for brewing cracking Yorkshire ales. They only use only the finest floor-malted barley and whole hops to make some of the best beers about.
Address: East Cliff, Whitby, YO22 4JR
22. Harry's Bar
This is a fun mixture of a café, cocktail bar and restaurant and offers a light, friendly atmosphere and a good range of drink options. In fact, Harry's Bar is known throughout Whitby for its huge selection of available drinks, which incidentally include nearly 20 varieties of cocktail, 11 champagnes (ranging from £35 to a staggering £240 per bottle), 9 white wines, 9 red wines, 2 rose wines, 12 boutique beers, all the popular spirits and 5 varieties of coffee! Something for everyone wouldn't you say? Read our detailed Harry's Bar review here.
Address: 10-11 Pier Rd, Whitby, YO21 3PU
23. The Marine
The Marine offers a similar selection of drinks to Harry's Bar. According to their website, you can either sample the exciting cocktails, wines, spirits and beers in the modern bar area or take full advantage of the evening by enjoying a delicious seafood meal accompanied by your favourite tipple. One of the best features of the Marine is its location on the harbourside. After all who wouldn't want to sit sipping a cheeky cocktail while lapping up the beautiful sea views?
Address: 13 Marine Parade, Whitby, YO21 3PR
24.The Moon & Sixpence
If you're looking for an ultra-stylish bar to spend your evening in then this is the place to be. With right angles replacing the traditional curves and modern colour schemes, The Moon & Sixpence definitely fits the description of the contemporary bar. Again, the range of drinks on offer includes cocktails, wines and spirits, beers, coffees and fruit juices for the underage drinkers.
Address: Whitby, YO21 3PR
25. The Fisherman's Shack
The Fisherman's Shack is located underneath the Fisherman's Wife on Battery Parade. It's also a bar and grill which serves fresh grilled seafood or simply pop down after a delicious meal above to enjoy drinks with a view and a relaxed, friendly atmosphere.
Find our full review and more information here.
Address: 1-5 Battery Parade, Whitby YO21 3PY
26. Macy Browns
The newest little cocktail bar in the heart of Whitby. Serving up delicious cocktails, breakfast, brunch and tapas. We loved the atmosphere in the quirky bar.
Address: New Quay Road, Whitby, YO21 1DH
27. Abbey Wharf
The Abbey Wharf holds a well-stocked bar and it is proud to have its own beer especially by Whitby Brewery, 'Abbey Wharf Dry Hopped Blonde.' It stocks over 20 gins and you can even order some of new latest gin to hit the market, 'Whitby Gin.' I have tried a sample (or two) of the Whitby Gin and it is one to try if you are a gin fan. The food here is fab too and they are family and dog friendly.
Address: Market Place, Whitby YO22 4DD
28. The Waiting Room
The Waiting Room has cask beers, wines and ciders in a pub where people meet, talk and have a good time. They don't have any TVs or music and don't sell spirits or lager. Dogs are more than welcome. Children over 14 only until 7.30 pm. They also sell good wines, ciders and soft drinks as it isn't all about the beer! Please note, children under 14 are not allowed in The Waiting Room.
Address: 2, Whitby Station, Langborne Rd, Whitby YO21 1YN
29. The George Hotel
A perfect place for a fun night out! They offer a wide and interesting range of music and entertainment. There is entertainment on most nights of the week so there is no time to get bored. They also feature a full football schedule on Sky Sports HD & BT Sport HD.
Address: 38 Baxtergate, Whitby, YO21 1BN
30. The Angel Hotel (Weatherspoons)
With an excellent central location overlooking the harbour, The Angel Hotel is a popular pub with tourists. Part of the national Wetherspoons chain, this is a busy pub and restaurant. It is located bang in the middle of Whitby town centre, with popular attractions such as Whitby Abbey, the beaches, harbour and shopping streets just a short walk away.
Address: 1 New Quay Rd, Whitby YO21 1DH
31. The Jolly Sailors
Great pub with old fashioned ways such as no phones. Beautiful views over the harbour, faultless food and drinks and most importantly friendly service. A great pub to visit for a traditional experience.
Address: 13 St Ann's Staith, Whitby YO21 3PW
32. The Buck Inn
If you're into live sports and live entertainment and want great offers on drinks then The Buck Inn is the place to frequent, with 3 letting rooms too, perfect!
Address: 11 St Ann's Staith, Whitby YO21 3PW
33. The White House Inn
The White House bar is a great place to enjoy during the day and night. With a mix of local residents, hotel guests and tourists staying locally there is a vibrant atmosphere. The Theakston range is very popular here, especially Theakston Best Bitter and Old Peculiar. Lager, Spirit and Wine lovers are also well catered for and if there is a particular tipple you are looking for to enhance a celebratory visit then let them know.
Address: Upgang Ln, Whitby YO21 3JJ
34. The Black Swan
The Black Swan is a great local pub that offers friendly service for new and regular customers. Dogs are allowed in, and the drinks are good value and with a live singer or band at the weekends. The outside beer garden is nicely tucked away in the back yard and alley. This is a traditional style pub that serves local Whitby Ales and the landlord is the friendly talkative type.
Address: 69 Baxtergate, Whitby, YO21 1BL
35. JK's
JK's Bar offers live sports daily, karaoke nights weekly, great priced drinks and a fun atmosphere. The reviews all boast about the friendly staff and how dog friendly they are. A great place to stop for a drink or two!
Address: 2-3 Wellington Rd, Whitby YO21 1DY
36. The Met Lounge Bar
The Met Café Bar and Ballroom is a wonderful place to stop for a drink. Pop in and enjoy free wifi and dogs are very welcome. A lovely atmosphere, great drinks and there is a ballroom also available to hire for functions here.
Address: Argyle Rd, Whitby YO21 3HU
37. The Resolution
The Resolution Hotel sits above Whitby's charming town centre with spectacular views of the world-famous Abbey, Harbour and Pannett Park. It's a perfect central location with a fantastic lounge bar and traditional restaurant. Whether it's a relaxing break or an entertaining weekend away there are friendly staff always available to assist here.
Address: Resolution Hotel, Skinner St, Whitby YO21 3AH
So hopefully we've given you a few ideas regarding where to eat and drink in Whitby but remember, this list includes only a very small number of the pubs in Whitby. Do feel free to wander around the town and find your own favourite drinking hole, but don't forget to pop back and let us know all about your experience in the comments below. Happy drinking!