What's better at the seaside than the food on offer? Here are the best delicacies Whitby has to offer.
There's an endless supply of culinary delights to choose from, not sure what food to try first? Well, let us help you! Here are 7 Whitby delicacies that every visitor should try.
1. Afternoon Tea at Botham's Bakery
FREE Whitby Mini-Guide
"Get the best from your stay in Whitby."
Everything you need to know about Whitby into a free mini-guide!
Established in 1865 by Elizabeth Botham, Botham's Bakery is the place to go if you fancy a little afternoon tea. They serve bakes that are still made to traditional and original recipes with only the finest ingredients being used. Afternoon tea is served in their gorgeous vintage-style tearoom and comes on beautifully styled tea stands. Examples of the tasty treats you can expect include freshly cut sandwiches such as ham, cucumber, sultana scones with strawberry jam, and sumptuous Yorkshire clotted cream. That is not to mention, nor should it be forgotten, that you will also get three dainty and classic fancy cakes, and that all this will be served with a choice of Botham's blend Resolution tea or a cup of cafe 1865.
2. Fortune's kippers
Take a walk down the ancient cobbles of Henrietta Street, and you will not be able to miss the all-pervasive aroma of oak wood smoke that will waft toward you. It is delectable, impossible to ignore, and will make you follow your nose to Fortunes. Fortunes Smokehouse was established in 1872 by William Fortune and has been passed down through the generations. It uses unchanged traditional smoking methods and produces the tastiest and finest smoked kippers. Kippers that have been smoked over three fires for eighteen hours or more using a mixture of oak, beech, and softwood. They are a true Whitby delicacy!
3. Whitby Gin
In June 2017, Jess and Luke took a camping trip in the Outer Hebrides, where they discovered many distilleries. So naturally, this led to Jess wondering why, if the outer Hebrides had many, Whitby didn't even have one? Fast forward through the holiday, Jess and Luke arrived home with a new business plan and a small still on its way. They then began the search for the perfect ingredients and botanicals that could be sourced from the Yorkshire coast and moors. Recipes were tested on family and friends for the worse and better until they found the perfect mix. Whitby Gin contains twelve traditional botanicals, including sugar kelp foraged from Robin Hoods Bay at low tide and honey and heather from the North York Moors. It has a nose of herbal, floral air with a hint of sweetness and tastes rich with a clean freshness that lingers.
4. Fish and Chips from Trenchers

I'm sure that every person who has ever been to Whitby, or any other seaside destination, will agree that fish and chips must be on a list of delicacies. They are a staple food of being at the seaside and thoroughly and utterly yummy. It needs to be said that I have never personally experienced lousy fish and chips in Whitby, and I've eaten more than my fair share there. I have, however, found one or two fish restaurants that I prefer, Trenchers being the favourite. Established in 1980, they serve a traditional fish and chip menu alongside dishes such as crab, lobster, and even a fish lasagne.
5. Ale from Whitby Brewery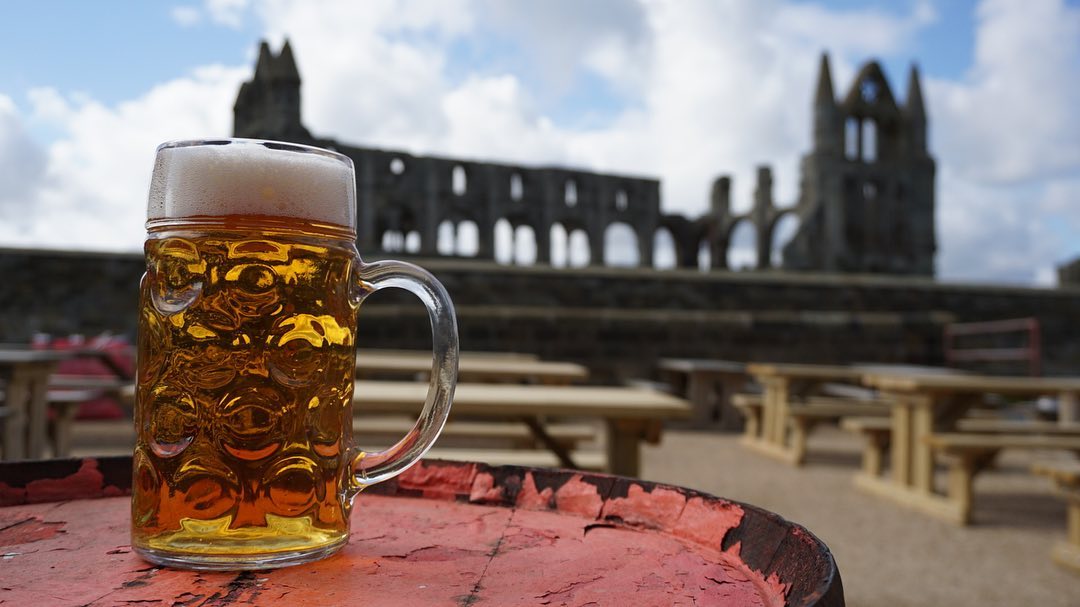 Perched on a cliff top and in the shadow of Whitby Abbey, Whitby Brewery is home to some of the country's finest ales. It was built by local Whitby craftsmen and has proved to be the perfect brewing home. Here, only the finest floor-malted barley and whole hops are used.
Whitby Breweries' range includes something for everyone, including their 4.2% Smugglers Gold. This fine golden ale uses pale barley and gives off a smooth maltiness. For those who prefer darker ales, there is also the 5% Black Death. It was originally brewed with the Whitby Goth Weekend in mind and has a liquorice flavour with hints of chocolate and coffee.
6. Humble Pie N Mash
Also in the heart of the Captain Cook District, but this time down Church Street, lies the Humble Pie N Mash shop. They sell, no surprises here, pies! You can have them on their own, with mash, or topped off with a sumptuous gravy. None of which matters, just as long as you have one. Served in front of an open fire and in unique surroundings, Humble Pie N Mash makes their pies every day on the premises. Fillings include Romany Hommity (potato, garlic, cheese, and spices), slow braised steak and stout, and the delectable roast vegetable and goat's cheese.
7. Ice Cream or Sorbet from Trillo's
Have you ever wondered what kind of ice cream Dracula would have eaten? Well, me too, and I have it on good authority that he would have loved Trillo's gothic blackcurrant and liquorice flavour topped with dark chocolate sprinkles and dripping strawberry sauce! Why he would have loved it is no mystery because Trillos make the best ice cream ever and have been doing so for a hundred years. They use only the best quality ingredients; it contains no artificial colourings and preservatives, and best of all, its luxurious and creamy. Flavours, if you're not akin to Dracula, include all the usual favourites alongside the more unusual such as cookies and cream, rhubarb crumble, banoffee, amaretto and black cherry. Grab your Trillos ice cream from the hut down by the bandstand or the Trillos ice cream van, which can be found parked on the West Cliff by the Whale Bones.
Is your mouth watering now? Let us know your favourite Whitby delicacies to devour in the comments.