How do you spend your time during a two-night break in Whitby? Plan your action packed 48 hours with our handy 2 nights in Whitby itinerary.
A short break can be just the ticket if you need a little time away from the day-to-day grind of life to relax and unwind. And what better place to take that break in than Whitby? After all, this is a town full of heritage, seaside treats, and activities; it's the perfect place to take a break.
It goes without saying that whilst in Whitby you are going to want to make the most of it. You will want to see the sights, taste the cuisine; in fact, take in everything this town has to offer; who wouldn't?
Free Whitby Mini Guide
"Get the best from your stay in Whitby"
We have compiled everything you need to know about Whitby into a
free mini-guide!
Download Now
So with that in mind, we have created a short and concise guide of things we think you just should see during your stay in Whitby. It includes museums and restaurants, and landmarks and experiences that you just don't want to miss!
Day One – Whitby Landmarks And Shopping
When it comes to landmarks, Whitby has more than its fair share making them an excellent feature to build a tour of the town around. There's history, mystery, fresh air, and exercise waiting for you if you choose to see these sites.
Whitby Lighthouses
Whitby Lighthouses are positioned at the end of the West and East piers and mark the harbour entrance to Whitby. They have stood in their positions since 1831 and 1855 respectively and played a huge part in guiding ships safely into the Whitby port.
Standing at 73 feet, the West Lighthouse is the tallest of the two industrial and distinctive lighthouses. It is open to the public during the summer months when you can climb to the top and share the amazing views with swooping seagulls.
How to get there: West Lighthouse, Battery Parade, YO21 3PZ
Whalebone Arch
Originally erected around 1853 using an authentic whalebone jaw, the whalebone arch pays homage to both the fishing and whaling industry Whitby was once famous for. This industry ran between the 18th and early 19th century with Whitby being one of England's finest and largest ports.
The original whalebone was replaced in 1963 by a replica archway donated to Whitby from Norway, and then again in 2003 with a replica given by Alaska. The whalebone arch is hugely popular as a hotspot for Whitby holiday snaps to be taken.
How to get there: North Terrace, Whitby, YO21 3HA
Captain Cook Memorial
With huge ties to Whitby, it is not surprising that there would be a statue of one of the most famous Captains of all time here. After all, not only did Captain Cook learn his maritime trade whilst living and working in Whitby, but also his most famous ship, the Endeavour, was built there.
The Captain Cook memorial is a bronze statue which pays homage not only to the great man himself but also the men who built and sailed ships here. These include the Endeavour, Resolution, Adventure, and Discovery.
How to get there: Captian Cook Memorial, Whitby, YO21 3HA
The Caedmon Memorial
The Caedmon memorial stands in front of St Mary's Church and overlooking Whitby. It is a form of an Anglican cross that was unveiled to the public in September 1898. It is made of hard sandstone that came from Northumberland and dedicated to a lay brother of Whitby Abbey.
According to Bede, an 8th-century historian, Caedmon was a man who cared for the Abbeys animals. He also wrote the earliest English poem that can be attributed to an author and claimed to obtain his poetry from dreams. Unfortunately, only one of his written works survives to this day, a poem named 'Caedmon's Hymn.'
How to get there: 3 Church Ln, Whitby, YO22 4DP
St Mary's Church
Founded around 1110 AD, St Mary's Church stands beneath Whitby Abbey but at the top of the 199 Steps. It is a grade one listed building with interiors dating back to the 1700s, and a graveyard that has made it into the pages of fiction.
Bram Stoker used St Mary's Graveyard in his famous novel Dracula in 1890. In it, he describes a hound that is seen disappearing among the creepy and weather-beaten gravestones after the grounding of the Russian ship, the Demeter. Unsurprisingly, this graveyard is a popular site for photographs, especially during the twice annually Goth Weekend.
How to get there: Abbey Plain, Whitby, YO22 4JR
The 199 Steps
The 199 Steps have to be one of the most famous landmarks of Whitby with many a visitor challenging another to climb and count them. This has led to debate over the actual number of steps, with some claiming 198 and others 200.
Unlike, possibly the number, the history of the Whitby steps remain the same. They were built out of wood at a date that is unknown and changed to Sneaton stone in 1774. They are thought to have been used by St Hilda of Whitby Abbey as a means for proving faith. If you climbed the steps, you were faithful to God, a feat which anyone who has climbed them will agree is tiring. Even more so, I would suggest, before they were built of stone.
How to get there: 199 Steps, Whitby, YO22 4DL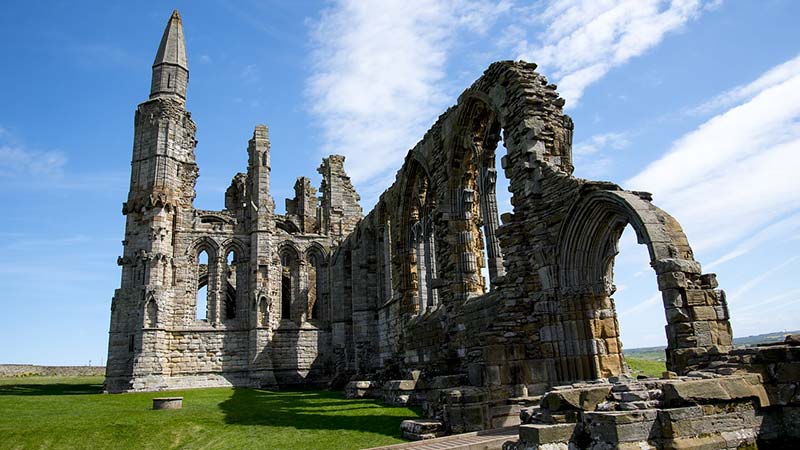 Whitby Abbey
Undoubtedly one of the most celebrated sights in all of North Yorkshire, Whitby Abbey looks down upon Whitby from its position upon high. It is iconic, formidable, and perhaps even a little intimidating especially when viewed in the dark.
Originally a Benedictine monastery founded in 657, Whitby Abbey was transformed into a stunningly beautiful 13th-century church. Unfortunately, it is now, however, little more than a shell, thanks to Henry VIII's reformation in which he stripped it of all its worth.
How to get there: Abbey Ln, Whitby, YO22 4JT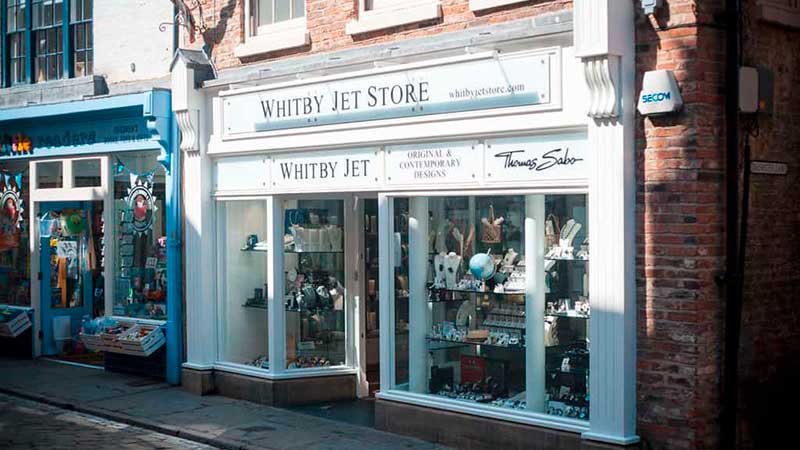 Shopping
If you're not too tired after your tour of Whitby we highly recommend you hit the massive array of weird, wonderful, and unique shops. Many of these are independent and fabulous, and you won't find them anywhere else.
Many of the best shops in Whitby can be found within the Captain Cook District such as 'Natural Wonders'; where you can purchase your very own fossil, 'Welcome to Woodstock'; the home of amazing wood carvings, and 'Spiritual Connection'; selling all things pagan and white witch!
You also don't want to miss the plethora of Whitby Jet jewellers that are dotted all over Whitby. Here you will find an amazing array of necklaces, bracelets, earrings, and accessories all made out of this wonderfully dark and mysterious gem. Established in 1860 and classed as the original Whitby Jet shop, W.Hamond offer an incredible selection of Whitby Jet jewellery.
You can learn more about Whitby Jet in the newly opened Museum Of Whitby Jet on Church Street.
The video below gives an insight into how Whitby Jet jewellery is made at W.Hamond.
Day Two – A Choice of Fine Museums And Experiences
For many, weather permitting, a lazy day on the beach, visiting the amusements, and walking the promenade, will be all that they require or want on day two of their visit to Whitby. However, there will be others who want to do a little more exploring, and what better way to do that than by visiting a museum or two?
Whitby Museum
Located within the gorgeous and beautifully landscaped Pannett Park, Whitby Museum is home to a collection of items and artefacts that have been donated to them over two hundred years. It is the perfect place to learn about Whitby history with many exhibits being dedicated to local heritage.
Collections include exhibits relating to the Scoresby whaling family of Whitby, Captain James Cook, fossils, jet, toys, costumes, and jewellery. There is even, though perhaps a little gory, an example of a 'hand of glory.' These were the hands of executed criminals that were made into grotesque candles and used by other criminals to light their way.
How to get there: Pannett Park, Whitby, YO21 1RE
More information: www.whitbymuseum.org.uk
RNLI Lifeboat Museum
The RNLI Lifeboat museum is located within a Victorian double boathouse and celebrates the history of Whitby's lifeboats. It is a treasure trove of paintings, medals, photos, and mementos from some of the town's most famous rescues and shipwrecks.
How to get there: Pier Rd, Whitby, YO21 3PU
More information: Click here
Captain Cook Memorial Museum
Located in a 17th-century house down Grape Lane, the Captain Cook Memorial Museum is a place, no surprises here, dedicated to celebrating the great man himself. It is also Captain Cooks former home where he lodged as an apprentice learning maritime skills.
Collections include a variety of letters written by Captain Cook and to him, South Seas paintings, replica model ships, maps, and much, much more.
How to get there: Grape Ln, Whitby, YO22 4BA
More information: www.cookmuseumwhitby.co.uk
The Endeavour Experience
On the 29th June 2018, an exact replica of the HM Bark Endeavour sailed into Whitby Harbour. It has since been transformed into a 'not to be missed' Captain Cook experience that has to be explored. The Endeavour Experience is interactive, educational, and suitable for all.
Exhibits and experiences include map reading, nautical knots, botanical bounty's, sea shanty's, secret signals, and barbers who also doubled up as surgeons. That is not to mention the seat of ease, we'll let you discover what that is for yourselves and the barrels of urine that sailors clothes were soaked in to rid them of lice!
How to get there: Endeavour Wharf, Whitby, YO21 1DN
More information: www.hmbarkendeavour.co.uk
The Dracula Experience
Let's be honest and admit that no trip to Whitby would be complete without a little Dracula thrown in the mix! He is an iconic, albeit fictional, and integral part of the history of the town. Plus, everyone likes a spooky or scary story to keep them awake at night, right?
The Dracula Experience is a unique tour through eight scenes from the original novel written by Bram Stoker around 1891. It is interactive with live actors, has animated scenes, and electronic special effects. Scenes include the crazy Wrenfield locked up within the asylum, and Lucy walking in the moonlight near Whitby Abbey on her way to a rendezvous with the count himself.
How to get there: 5 Marine Parade, Whitby, YO21 3PR
More information: Click here
Feed Me Now!
I bet you thought we were never going to get round to feeding you whilst you are on your short break? However, this is not true, and quite to the contrary, we are going to share some of our favourite eating spots with you.
Whether you are looking for just a spot of lunch, a fancy afternoon tea, a romantic meal, or fish and chips to eat on the move, Whitby has it all and more. There is something to suit everyone with all dietary requirements being catered for.
Moutreys
A classic Italian restaurant serving homely cuisine from an open kitchen with a wood-fired oven. Here you can choose from pasta, pizzas, meat dishes, and seafood in a comfortable but luxurious setting. Moutreys is perfect for a celebration night out, a romantic meal for two, and also family dining.
How to get there: 9 Grape Ln, Whitby, YO22 4BB
Learn more: Read our review of Moutreys here
Book a table: +44 1947 602 751
The Fisherman's Wife
The Fisherman's Wife is undoubtedly one of the best fish restaurants in all of Whitby. It also, as an added bonus, has one of the best sea views of the bay. They have over fifty years of experience combining the best that the sea and fields of Yorkshire have to offer, including traditional and yummy fish and chips.
How to get there: Khyber Pass, Whitby, YO21 3PZ
More information: www.thefishermanswife.co.uk
Book a table: +44 1947 603 500
Bothams Bakery
If afternoon tea is on the agenda, then we suggest you head for the glorious tea rooms of Bothams Bakery. From their freshly cut sandwiches to their sultana scones and fancy cakes; everything is made to a traditional recipe and from the freshest ingredients. You can also take away a variety of treats such as biscuits, plum bread, cakes, and pork pies.
How to get there: 35/39 Skinner St, Whitby, YO21 3AH
Humble Pie n Mash
Whilst Whitby is renowned for serving some of the finest fish and chips, it is not the only tasty lunchtime treat they have to offer. Rather, there is also the Humble Pie n Mash shop. Here you can choose from homemade delights such as Romanity Hommity, slow braised steak and stout, and for those who are vegetarian, roast vegetable and goats cheese.
How to get there: 163 Church St, Whitby, YO22 4AS
Trillos Ice Cream
Finally, no trip to the seaside would be complete without the sweet treat of ice cream, and in Whitby, Trillos serves the best. This is no surprise really since they have over a hundred years experience of doing so under their belt, they are masters of their trade. Flavours include the classic favourites and oddities such as blackcurrant and liquorice, cookies and cream, and the incredible amaretto and black cherry.
Grab your Trillos ice cream from the hut down by the bandstand or the Trillos ice cream van which can be found parked on the West Cliff by the Whale Bones.
Enjoy your two-night break in Whitby!
We hope the above suggestions will help you plan your two nights in Whitby. There is plenty to cram into your 48-hour trip. If you have any suggestions please comment below. Have a great time in Whitby.