The relatively unheard of, except by Whitby residents, Captain Cook District is a small area of Whitby with the ancient Grape, or Grope, Lane at its heart.
'Grope' is the original name of the lane dating back to 1425 when it was just a dark passageway that you had to 'grope' your way through!
Free Whitby Mini Guide
"Get the best from your stay in Whitby"
We have compiled everything you need to know about Whitby into a
free mini-guide!
Download Now
The name Captain Cook District is for the historical importance of the area with regard to the great Captain himself.
Captain Cook and The Memorial Museum
Captain Cook is a renowned British explorer, navigator, and cartographer who led the famous expedition on the HMS Bark Endeavour in search of Terra Australis in 1768.
Not only did he do this, first landing at Botany Bay, but he also went on to captain further successful expeditions.
Born in 1728 in Barton, Middlesbrough, Captain James Cook would go on to first live in the North Yorkshire town of Staithes where he was apprenticed as a draper.
Here he would fall in love with the sea which led to him moving to Whitby where he trained with a local shipping firm before joining the Royal Navy. Once in the Navy, he rose quickly through the ranks until he was promoted to command.
During his time in Whitby, Captain Cook lodged with his master at the shipping firm, John Walker, in a house on Grape Lane. This house would go on to become the Captain Cook Memorial Museum.
Within the Captain Cook Museum you will find highlights such as the attic where Cook himself reputedly slept, now home to annual special exhibitions, memorabilia such as models of the ship's Captain Cook sailed on, letters he wrote to home, South seas paintings and treasures, and huge collections of materials all relating to Captain Cook.
Captain James Cook, A Biography
Buy now on Amazon
James Cook: The Journals
Buy now on Amazon
The Voyages of Captain James Cook
Buy now on Amazon
It's a real treasure trove of all things maritime and well worth a visit. As is the White Horse and Griffin, where Cook plotted many of his great adventures.
The museum itself, however, is not the only place worth visiting whilst in the Captain Cook District as the area is also home to some wonderful shops, restaurants, and bars.
Shopping in The Captain Cook District
There is a myriad of fabulous shops to check out in the Captain Cook District and since we cannot rate any one above the other, since they're all fantastic, here is a list of them all.
Natural Wonders
Natural Wonders is a world of wonder where you can find all manner of fantastic fossils. Want a framed Eocene fossil fish to display on your wall?
You can find it here! Need a Triassic dinosaur pooh to amaze your friends with? You can, yes you guessed it, find it here!
Owned and run by Byron Blessed, Natural Wonders has been collecting and selling fossils for over twenty years. Every fossil in the store has been hand-picked by Byron himself or a select group of fossil finding friends.
Collections available include museum-quality pieces, interior decorations, ammonite, trilobites, vertebrate, and dinosaur. Every piece comes with the guarantee that if it is not good enough to be in Byron's own collection, it will not be sold in the store!
Natural Wonders is located at 20 Grape Lane and opens 10.30 am to 5 pm seven days a week.
Address: 20 Grape Ln, Whitby YO22 4BA, UK
Phone: +44 1947 821363
The Green Dragon
The Green Dragon is a little piece of heaven for any connoisseur of real ale. Selling over 200 locally sourced and international ales there is sure to be something for everyone.
Ranges of ale here also include a multitude of gift sets for that loved one and Green Dragon merchandise such as their bottle opener keyring. Why not try a pint on one of the excellent real ale pubs in Whitby?
If you'd like to try before you buy, you can here as the Green Dragon also boasts a quirky and cozy tap room that has been set up in a Georgian style.
Lit by candlelight and full of charm with its taxidermy and pet portraits the tap room is well worth a visit.
The Green Dragon is located at 4 – 5 Grape Lane and opens 11 am – 5 pm Monday to Thursday, 11 am to 6 pm Friday and Sunday, and 11 am to 7.30 pm Saturday.
Address: 4-5 Grape Ln, Whitby YO22 4BA, UK
Phone: +44 1947 820530
Simpsons Jet Of Whitby
No area of Whitby would be complete without a Jet Jewellery store and happily, the Captain Cook District has one. In fact, Simpsons have been making and selling Whitby jet items in this part of the town for over 30 years.
It is a family run business and all items that they sell have been handcrafted in their local workshops.
Simpsons Jet of Whitby collections includes not only Whitby Jet but also mixes of amber, Blue John, and labradorite which has to be seen to be believed. Discovered in Labrador, Canada it has a predominant blue colouring with flashes of gold, green and coppery red.
Simpsons Jet of Whitby is located at 21 Grape Lane and opens 9.30 am to 5 Monday to Saturday and 10 am to 5 pm on Sundays.
Address: 21 Grape Ln, Whitby YO22 4BA, UK
Phone: +44 1947 897166
Just Games
An unusual store Just Games sells as it says on the tin just games! Board games, strategy games, family games, and traditional games are all found on its shelves. So why not pop in, peruse the choices and buy a night of fun for you and your family?
Just some of the Just Games selection includes Game of Thrones, the board game, Scrabble, Upwords, Boggle, Risk, various editions of Monopoly, and oodles of different packs of cards and sets of dominoes. Fancy something more active? Here's our guide to fun things to do in Whitby.
Just Games is located at 15 Bridge Street and opens from 10 am to 4.30 pm Monday to Sunday.
Address: 15 Bridge St, Whitby YO22 4BG, UK
Phone: +44 1947 820311
Welcome To Woodstock
At first reading you could be forgiven for thinking the wonderful Welcome to Woodstock is a store that sells vintage records or some such. However, it's not, it is actually named for, and very cleverly, the stunning wooden carvings that it sells.
This store is a plethora of natural wood and painted Buddhas, elephants, alligators, unicorns, ducks, dolphins, wall lizards, plaques, and much, much more.
There really is something for everyone as you will see just by gazing at its beautifully arranged window displays.
Welcome to Woodstock is located at 10 Grape Lane and opens from 10 am to 5 pm Monday to Sunday.
Address: 10 Grape Lane, WHITBY, North Yorkshire, YO22 4BB
Phone: 07748 003875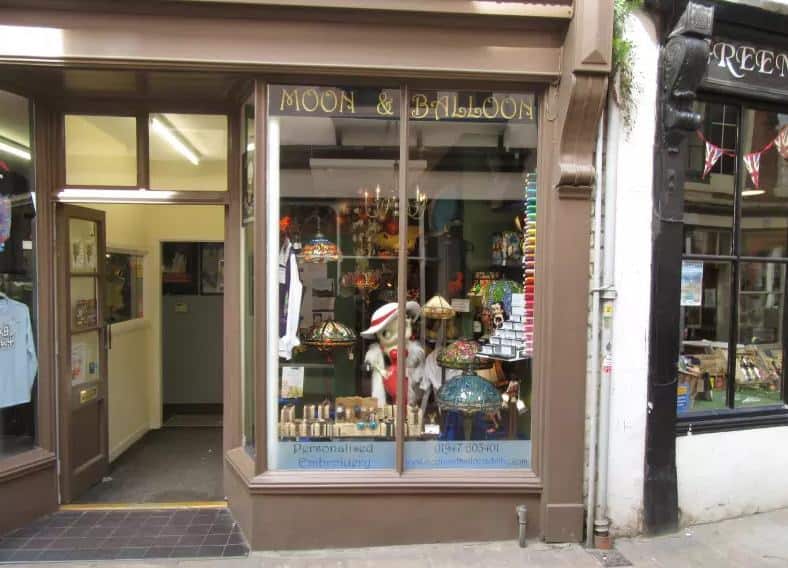 Moon and Balloon
First opening its doors in November 2016 the Moon and Balloon are a glorious store full of delights. Originally concentrating on embroidery designed items such as workwear, dog coats, baby grows, and cushions they have since expanded to include so much more.
Quirky giftware such as Betty Boop figurines, Moorcroft pottery, wooden watches, yes wooden watches, and unique cufflinks now fill their shelves. Tiffany lighting hangs from the gorgeous ceiling shining vibrant light over their wonderful wares.
Moon and Balloon are located at 3B Grape Lane and opens from 9 am to 5 pm Monday to Saturday and 10 am to 4 pm Sundays.
Address: 3B Grape Ln, Whitby YO22 4BA, UK
Phone: +44 1947 603401
Baytree Interiors
Located just over the Swing Bridge, Baytree Interiors sells exactly what it says on the tin. They have a unique range of furniture and giftware, something for everyone.
In amongst all the beautiful furniture, home furnishings, clocks, and floral displays you will find the funniest and life inspiring message plaques.
One of my personal favourites is the 'Marriage is like a game of cards. To begin with, you need two hearts and a diamond. In the end, you wish you had a club and a spade.' It's worth popping in here just for these!
Baytree Interiors is located at 16 Bridge Street and opens Monday to Sunday from 10 am to 5.30 pm.
Address: 16, Bridge St, Whitby YO22 4BG, UK
Phone: +44 1947 820070
Spiritual Connection
This fascinating store sells all things pagan, alternative and witchy. There is jewellery, magical and quirky essentials, even coloured contact lenses.
You can also have your runes or your tarot read here and arrange for handfasting, rites of passage and other ceremonies to be celebrated.
Spiritual Connections is located at 11 Grape Lane. For opening hours contact the store directly.
Address: 11 Grape Lane, Whitby, UK
Endeavour Books
There is nothing quite like browsing the shelves of a second-hand bookstore. Firstly that smell of all the aged books, and secondly you just don't know what little literary gem you might find.
At Endeavour books, you will find books on every subject you can think of and more. It is a treasure trove of knowledge and all come with a very reasonable price tag.
Endeavour Books is located at 1 Grape Lane and opens Monday to Sunday 10 am to 5 pm.
Address: 1 Grape Lane, Whitby, North Yorkshire, YO22 4BA
Phone: 01947 821331
Squid Rock
Undeniably, the first thing you will notice about Squid Rock is its signage which shows a huge squid holding a rock. There is no way you can miss this store or be unable to locate it!
Inside you will find a fabulous range of rock orientated clothing such as tops, skirts, dresses, hats, handbags and much, much more.
Do not be put off browsing if you are no rock god or goddess as again there is something for everyone to wear in this unique clothing store.
Squid Rock is located at 16 Bridge Street and opens 10 am to 5.30 pm Monday to Sunday.
Address: 16 Bridge St, Whitby YO22 4BG, UK
Artefacts
Opened in 1991 this fun, quirky and relaxed store sells floral and decorative pieces from inside its stunning medieval timber-framed exterior.
Collections range from hot colours created to produce a dramatic impact and represent long hot summers and cool hues which portray the tranquility of the sea and sky.
Artefacts is located at 159 Church Street and open Friday to Sunday 11 am to 5 pm.
Address: 159 Church St, Whitby YO22 4AS, UK
Phone: +44 1947 820682
Made In Whitby
This cute little shop really is one that every visitor to the Captain Cook district should visit. Everything within its doors is unique, handmade, and stems from Whitby. Many items are made by the owners themselves, others by local craftsmen.
Items you can expect to find are cute knitted characters such as bunny's and dolls, greeting cards, picture frames, clocks, baby cardigans, jewellery, keepsakes, and much, much more.
Made In Whitby is located at 160 Church Street and opens from 10 am to 5 pm Monday to Saturday and 11 am to 4 pm on Sundays.
Address: 160 Church St, Whitby YO22 4AS, UK
Phone: +44 7944 721365
The Hair Shop
Whether you are going out for a celebratory meal or just fancy a new hairstyle, The Hair Shop is the salon to visit. Rated with five stars on Google and with no appointment being necessary it really is convenient and the place to go.
The Hair Shop is located at 162 Church Street and opens Monday to Friday 9 am to 5 pm and Saturday 9 am to 4 pm.
Address: 162 Church Street, Whitby, North Yorkshire YO22 4AS
Phone: +44 1947 604118
Flyaway Rugs
Flyaway Rugs is a curious little shop tucked away on Grape Lane. They sell Persian rugs and carpets that are so beautiful you won't be able to resist purchasing one.
Flyaway Rugs is located at 7 Grape Lane and opens Tuesday 12 to 5 pm, Friday 12 to 6 pm, Saturday 10 am to 5 pm, and Sunday 11.30 am to 4.30pm.
Address: 7 Grape Ln, Whitby YO22 4BA, UK
Phone: +44 7774 251441
Eateries Around The District
Off course when you're all shopped out and have explored the museum the chances are that you are going to be hungry. If you are, the Captain Cook District has some fabulous places to stop for a bite all offering something tasty and in their own unique way. Read more about all the restaurants in Whitby here.
Humble Pie & Mash
Whitby, of course, is well known for its fabulous fish cuisine but what if you fancy something different? Well, we'd suggest you try the Humble Pie & Mash shop for some hearty homemade food.
Freshly made on the premises every morning the pies at this cozy and comfortable little restaurant are literally to die for.
They come in a massive range of flavours using meats and vegetables from local farmers. That's not to mention the gorgeous pastry that is made from scratch and completely organic.
The mouthwatering flavours here include black pudding and sausage, Romany homity, slow braised beef and stout, and roast vegetables and goats cheese. Don't fancy a pie then why not try their ever so tasty haggis and neeps?
Humble Pie & Mash is located at 163 Church Street and opens from 12 to 8 pm Monday to Sunday.
Address: 163 Church St, Whitby YO22 4AS, UK
Phone: +44 1947 606444
Hadley's Fish Restaurant
If you decide you want to go traditional and indulge in a mighty portion of fish and chips, you can't go far wrong by trying Hadley's. This lovely restaurant first opened its doors in 1937 and has been serving their fishy delights for over 75 years.
Hadley's uses only the finest ingredients including British spuds, MSC certified cod and haddock, home-cooked mushy peas and tartare sauce. Gloriously all the fish and chips are cooked in the traditional way using beef dripping – yummy!
Hadley's also has five guest rooms above the restaurant should you wish to stay in Whitby longer than a day. All rooms are en-suite and either doubles or triples.
Hadley's Fish Restaurant is located at 11 Bridge Street and opens 11 am to 7 pm Monday to Sunday.
Address: 11 Bridge St, Whitby YO22 4BG, UK
Phone: +44 1947 604153
The Dolphin
Located right in the harbour and with glorious sea views, The Dolphin is a hotel and traditional style pub. They have on-site entertainment every night with live music featuring on Tuesdays and weekends.
Food wise The Dolphin serves local and traditional pub grub including a hearty breakfast menu and a sumptuous Sunday Carvery. You can also enjoy a great selection of local cask ales, craft ales, ciders, a fab wine range and over 40 gins from their gin palace here.
The Dolphin also has six double en-suite rooms should you wish to extend your visit to the Captain Cook district.
The Dolphin is located on Bridge Street and opens 8.30 am to midnight Monday to Sunday.
Address: Bridge St, Whitby YO22 4BG
Phone: +44 1947 459172
Moutreys
If your food of choice is Italian, then you will love Moutreys. Here you will find all your Italian favourites including fresh pizza, pasta, meat dishes, and seafood. The menu here is created from only the finest ingredients, local when possible.
Choices include traditional garlic bread, garlic mushrooms, tasty bruschetta, melon and parma ham for starters. For mains, there is spaghetti bolognese, wild mushroom and leek cannelloni, cajun chicken, pollo funghi, steaks, and burgers.
Fresh from the wood-fired oven comes Gambero, Di mare, Azzuro, and carne festa pizza. Read our review of the food at Moutreys here.
Moutreys is a restaurant suitable for couples, families, and parties with booking being recommended. They are located at 9 Grape Lane and open Monday to Sunday from 6 pm to 9 pm.
Address: 9 Grape Ln, Whitby YO22 4BB
Phone: +44 1947 602751
The Edge
The Edge is family friendly bistro and restaurant fit for any celebration. They serve a range of British contemporary cuisine, seafood, vegetarian, vegan, and gluten-free food on their menu.
Read Sara Harland's local review of The Edge here.
Should you not find anything you fancy on their main menu, which is unlikely, you could alternatively pick from their specials board. Examples would include fish and chips, seafood bouillabaisse, seafood chowder, a rack of lamb and a tasty glazed duck.
The Edge is located at 13 Bridge Street and opens Sunday to Thursday 11 am to 9 pm, Friday 11 am to 9.30 pm, and Saturday 11 am to 10 pm.
Address: 13 Bridge St, Whitby YO22 4BG, UK
Phone: +44 1947 601110
Cosa Nostra
Cosa Nostra is a small but quaint restaurant with both dining up and downstairs. A mixture of paintings covering the walls and ornate chandeliers make this dining space cozy and elegant.
Regarded as Italian Cosa Nostra's menu includes ribeye steak, sea bass, bruschetta, smoked haddock risotto, pollo al funghi, agnello lamb, and both sirloin and fillet steak.
Cosa Nostra is located at 161 Church Street and opens from 4 pm to 11 pm Monday to Sunday.
Address: 161 Church St, Whitby YO22 4AS, UK
Phone: +44 1947 602030
The Four Seasons
Whether you are looking for breakfast, lunch or dinner, The Four Seasons is the spot to head for. They serve a mixture of British and Turkish cuisine including sea bass, sirloin steak, and baklava. Must try's include their delicious coffee and good apple tea!
Patrons here will find a cosy atmosphere and a warm welcome that makes visitors feel at home and relaxed. They are famous within Whitby for their fantastic A star service.
The Four Seasons is located at 14 Bridge Street and opens Monday to Sunday 9 am to 11.55 pm.
Address: 14 Bridge St, Whitby YO22 4BG, UK
Phone: +44 1947 821035
Where To Stay In and Around Captain Cook District
As many people already know, and you are about to find out if it is your first visit, one day in Whitby is never enough! Therefore, it makes sense to book into some accommodation and spend at least a couple of days exploring. Following are our suggestions for some really great places to stay.
The Endeavour
The Endeavour is located on Church Street within the Captain Cook District itself. It has four rooms with one being a larger deluxe, all of which are comfortably furnished. Each room also has an en-suite shower room, complimentary toiletries, flat screen TV, and a hospitality tray.
The Endeavour is also a public house so great if you'd like a nightcap before retiring for the night. They also serve some tapas dishes in the bar if you're peckish. More hungry? The Endeavour welcomes you bringing in your own fish and chips!
Address: Church Street, Whitby, North Yorkshire YO22 4AS, UK
Phone: +44 1947 603557
The Corner House
The Corner House is a quaint little cottage located on Church Street right next door to the Humble Pie and Mash shop. It is one of the oldest properties in Whitby with the first record of it being leased in 1639.
Inside the cottage has two bedrooms, two bathrooms and can sleep four people and a baby. Should you need them a cot, high chair, potty, and safety gate are all available for your use.
The layout of the property consists of an open-plan kitchen and lounge with York stone flooring and gorgeous granite worktops. The lounge is comfortable and cosy with wifi, books, games, and DVDs galore.
Upstairs there are two bedrooms, one containing a king size bed and the other two singles. Both rooms have TV's with Freeview and DVD player and have views over the upper harbour.
Please note there is no private parking at the cottage but there is a bay you can park and unload in for forty minutes directly outside. A long stay car park is situated just 50 metres away.
Address: 12 Grape Ln, Whitby YO22 4BA, UK
Phone: +44 1924 273652
The Captains Quarters
For those larger parties, the Captains Quarters sleeps eight in four bedrooms and is pet-friendly. This accommodation also has links with Kipper Cottage which is below and can extend the number in your party to fifteen guests.
The Captain's Quarters itself has wonderful sea views, a BBQ area, and is situated close to the beach. There is a large and inviting lounge, a kitchen diner, and four bedrooms. Two of the bedrooms are double en-suite, one has bunk beds, and the other is a twin.
Address: 23 Henrietta St, Whitby YO22 4DW
Phone: +44 1947 607087
Old Curiosity Shop
For those couples looking for a romantic break away, the Old Curiosity Shop is ideal. It has one bedroom, is pet-friendly, and full of history. The building it is housed in dates back to 1654 when it was used as shell and fossil shop selling Whitby jet as well as other items.
View more luxury cottages here.
Spread over three floors the Old Curiosity Shop has a spacious kitchen on the ground floor, a comfy lounge on the first, and a cosy bedroom on the second. The lounge benefits from sea views right across the stunning Whitby Abbey.