Robin Hood's Bay is a gorgeous small fishing village located on the North Yorkshire Coast. Whether you want to relax, get active, explore, or do a bit of all three, Robin Hood's Bay is the ideal location to choose.
Robin Hood's Bay is situated within the North York Moors National Park making it an ideal base for walking, hiking, cycling, and exploring all the history that the area has to offer. It is also not far from the historic town of Whitby and the fabulous Scarborough. Whether you want to relax, get active, explore, or do a bit of all three, this is the ideal location to choose. It has plenty of places to stay, things to do, restaurants and pubs, and a whole lot of history. Read our guide to spending 7 days in Robin Hood's Bay here. Robin Hood's Bay is situated approximately 13 minutes West of Whitby (5.5 miles). Click here to get directions.
---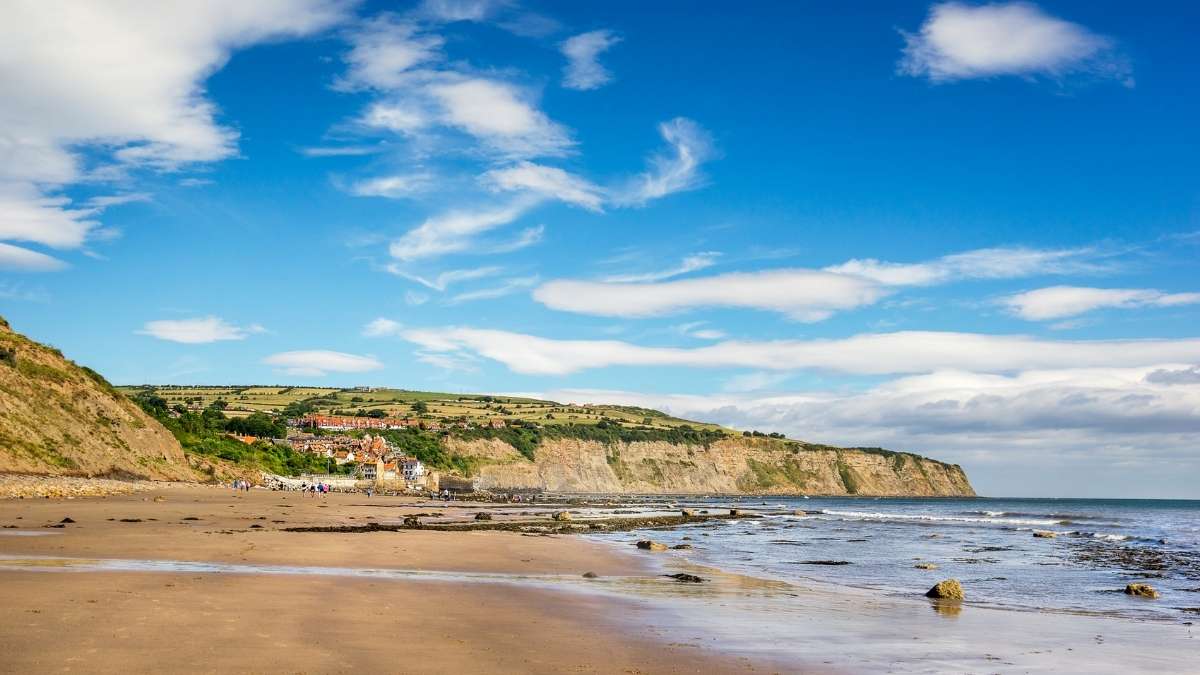 A Brief History of Robin Hood's Bay
Known to the locals as 'Bay Town', Robin Hood's Bay, it has to be said, does not have any evidential ties with the Robin Hood who robbed the rich to feed the poor. In fact, it is doubtful, despite an old English ballad saying differently, that he ever even went there. The naming of the area is a bit of a mystery.
---
---
The bay was originally a farming and fishing community that thrived mainly on their catch. In winter fleets of brightly coloured cobles bobbed at sea whilst their crew line fished upon them. Larger boats were used for the herring which were unloaded into panniers at the docks and transported over the moors to Pickering and York. Whole families worked in the fishing industry, be it out on the open sea or walking and riding the catch to market.
Fishing and farming were not the only trades, however, as smuggling was a rife tradition too. Boats from the continent brought contraband to their shore which was distributed to the contacts on land. Operations were financed by large syndicates who made all the money whilst the villagers took all the risk. Trying to lower that risk it is reputed that the villagers built a network of subterranean passages underneath their homes. This would mean they could move the tea, gin, rum, brandy, and tobacco, with less chance of being caught.
By the 19th century, the fishing industry had reached its peak and began to wain. Nowadays, the town relies more on tourism than it does on fishing although there are still some cobles and fishing vessels working from here that you can see.
---
---
Places to eat and drink in Robin Hood's Bay
For a small village, it has a few great places to grab a bite or stop for a quick or leisurely drink. From the traditional cosy little tavern to the fancy bistro all candlelit, here are just a few of the places we would recommend.
Smugglers Bistro And Bar
Situated just metres from the docks Smugglers Bistro and Bar is a candlelit and wonderfully romantic venue. It specialises in steaks and, yep you guessed it, seafood with all local ingredients being used. All meals are freshly prepared on the premises and the service is out of this world.
The Bay Hotel
The Bay Hotel has probably the best views of the bay. They serve light snacks and hearty home meals to their bar, family dining room, alfresco, and on the balcony. Recommended would be the cod in beer batter or their tasty steamed mussels. The Bay Hotel bar is also well-stocked with four regular cask ales, lagers, and a great range of wines and spirits.
Fish Box
The Fish Box is perfectly located in the heart of Robin Hood's Bay at the top of Bay Bank. Nestled on the clifftop, it has stunning panoramic views across the Bay and out to sea, yet is ideally situated just off the roundabout and car park. Stop here for the most delicious classic fish and chips.
---
---
Things to do in Robin Hood's Bay
From cycling to hiking, swimming to relaxing, history-seeking or ghost hunting, this place has it all. Here are a few of our favourite things to do whilst visiting Robin Hood's Bay.
Walk the Cinder Track
If you fancy a little walking or cycling the Cinder Track which runs from Mount Pleasant North to Whitby is ideal. It is a 7.38-mile journey with breathtaking views that will take you approximately 3 hours to walk. Be aware this path can be uneven at times and may not be suitable for prams. Running along a disused railway path with some relics such as bridges and sleepers the Cinder Path offers sea and country views to die for. The highlight, however, of this delightful walk has to be the Larpool Viaduct. This is a grade two listed structure with thirteen arches and being built of brick. It was built by John Waddell and spans the River Esk.
Visit Boggle Hole
Located at the Southern end of Robin Hood's Bay, Boggle Hole is a site of special scientific interest (SSSI) due to the array of fossils that are found there. The name Boggle Hole comes from a local name for a mischievous hobgoblin that was thought to have dwelled in the caves at the site where smugglers used to land their contraband. Always check for tide times before trying to explore the caves or fossil hunt here.
Boggle Hole can be reached at low tide along the beach (for approximately 3 hours on either side of high tide). Boggle Hole is not accessible via the beach or by the cliff path at other times.
---
---
Go Shopping
One of our favourite things to do in Robin Hood's Bay is simply shopping. There are gift shops, antique stores, bookshops, and much more. You can wander from one shop to the next, all the while taking in the breathtaking views that Robin Hood's Bay has to offer. Then, when you're finished shopping, stop in one of the restaurants for a bite to eat and a drink before you move on to the next adventure. One of our favourite shops is Berties of Bay which revives the traditional nautical styles worn along the wonderful Yorkshire coastline from times gone by. You're sure to pick up a special piece here.
---
Accommodation in Robin Hood's Bay
The best way to explore Robin Hood's Bay fully is to stay for more than a day and book yourself into one of the fantastic accommodation options available in the village. There are numerous bed and breakfasts, hotels and camping options in and around Robin Hood's Bay. For those who prefer to spend their holiday in accommodation that feels a little more like a home from home, there is a fine selection of holiday cottages to let. These range from cosy one-bedroom traditional properties to modern and luxurious houses to sleep eight plus.
Coastguard's Cottage
Located in Robin Hood's Bay, the Coastguard's Cottage is beachfront accommodation with a garden and free WiFi. Featuring free private parking, the holiday home is in an area where guests can engage in activities such as hiking and cycling. The holiday home comes with 3 bedrooms, 3 bathrooms, bed linen, towels, a flat-screen TV, a dining area, a fully equipped kitchen, and a balcony with garden views.
---
---
Blacksmiths Boutique B&B
Blacksmiths Boutique B&B offers 6 individually themed rooms set in the North Yorkshire Moors National Park. The property is located on the A171 main road 8.4 miles from Whitby and 11 miles from Scarborough. The rooms feature fresh milk, homemade biscuits and slippers. At Blacksmiths Boutique B&B every room is fitted with a desk, seating area and a flat-screen TV. The daily breakfast offers Full English and vegetarian options in the Blacksmiths Café.
---
---
Victoria Hotel
This property is a 6-minute walk from the beach. Boasting stunning cliff-top views over Robin Hood's Bay, this grand, Victorian hotel is on the edge of the North York Moors. It offers homemade food, rooms with Egyptian cotton bedding, and a sea view tea room. Light and elegant, the rooms all provide a flat-screen TV, free Wi-Fi, and free tea and coffee for guests to relax. Every bedroom has a private bathroom with free toiletries and a hairdryer.
Using local Yorkshire ingredients, the Sea View Restaurant here serves hearty cooked breakfasts and local cuisine in the evening. During the day, it doubles as a coffee shop and tea room with fantastic sea views. The bar provides real ales and a cliff-top beer garden.
---
---
Our most popular Robin Hood's Bay content
Ravenscar to Robin Hood's Bay Walk
Robin Hood's Bay, Myths, Legends and Ghost Stories
10 Of The Best Places To Stay In Robin Hood's Bay
Robin Hood's Bay Bed And Breakfasts, 10 Of The Best
Robin Hood's Bay Beach, Sublime Natural Beauty
Hotels in and Near to Robin Hood's Bay
How To Get From Whitby To Robin Hood's Bay
Campsites Near Robin Hood's Bay
Restaurants in Robin Hoods Bay
The Best Pubs In Robin Hood's Bay
Walks In And Around Robin Hoods Bay
10 Things To Do In Robin Hood's Bay, Attractions & Place To Visit