So you have booked a week in the beautiful Robin Hood's Bay. Now what? Let us help you plan for it with our 7 days in Robin Hood's Bay itinerary.
Robin Hood's Bay is a gorgeous little village in which to spend a peaceful week's holiday. It is located just five miles south of Whitby and 15 miles north of Scarborough on the beautiful North Yorkshire coast. With views that overlook the ever-changing North Sea to its front and to its rear the North York Moors National Park. It really is a gem for those who enjoy a magnificent landscape.
FREE Whitby Mini-Guide
"Get the best from your stay in Whitby."
Everything you need to know about Whitby into a free mini-guide!
Whilst the description of Robin Hood's Bay as a little village may have you wondering if there will be enough to do for a week there, you can believe when we say that there is more than enough to keep you occupied both day and night.
Day One – Take in the view and get settled in
Since you will have been travelling and you may have been travelling a while, we'll start you off gently. Spend some time checking out your accommodation, freshen up and head out for a wander around the beautiful little streets in Robin Hood's Bay.
If you fancy it take a visit to Old St Stephen's Church. Located just a short distance away on Thorpe Lane. Built in 1822 Old St Stephen's Church has not been altered at all. It still has the original West gallery, famous three-decker pulpit, and box pews.
Can you work out the mystery of the box pews though? Half of them were built facing backward, and no one seems to know why! Described as being straight from the pre-Victorian world of Jane Austen and Thomas Hardy, Old St Stephen's Church regularly hosts concerts, exhibitions and hosts its own churchyard walks.
There are over two hundred years of graves here, with many belonging to master mariners, farmers, local families, and those lost at sea. As a busy port, smuggling, and fishing village Robin Hood's Bay lost many a villager to the cruel North sea, and they are commemorated here.
Following your visit to Old St Stephen's Church, you could purchase yourself some tasty local caught fish for your evening meal. Or some tasty fish and chips! We recommend Fish Box. Take this back to your accommodation and enjoy the taste of the North Sea.
Day Two – Follow the Cinder Track to Whitby
In 1885 a train service was launched that ran from Whitby to Scarborough with a station at Robin Hood's Bay. This service, however, stopped running in 1965 leaving a now much-loved walkway known as the Cinder Track. Today you are going to cycle or walk this all the way to Whitby!
The root of the Cinder Track starts at Mount Pleasant North which is just thirteen minutes walk or five minutes drive from Kings Street. The walk itself will take you three hours plus and is a distance of approximately seven miles. Be aware that the track you are going to walk is hardcore/cinder and can be uneven at times so suitable footwear is advised.
Once you arrive at Mount Pleasant North, you will see a signpost that indicates Cinder Track one way and Cinder Track and Cleveland Way the other. For the purposes of going to Whitby, you are going to go in the direction of the latter. Once on this track, you do not need to worry about directions, as you are just going to follow this path for the majority of the journey. Along the Cinder Track not only will you have great views of the sea and surrounding countryside but you will also find relics from the railroads past.
There are bridges, piled sleepers, and partially buried sleepers all along the way. Past Hawsker, where you are going to temporarily leave the track to cross the A171, you will also find the old station which is now a cycle hire shop. Keep going and you will find yourself in gorgeous woodlands with steep embankments all around. Just before you reach your destination of Whitby you will see that the Cinder Track has saved the best view for last. Spanning the River Esk here you will find the Larpool Viaduct.
With thirteen arches, this beautiful structure really is stunning and listed as a grade two structure. Spend some time admiring it, Whitby is just around the corner! Now you've reached Whitby it seems a shame to just turn around and go back. Whilst obviously Whitby is not technically a Robin Hood's Bay activity you should really stay and see what it has to offer.
Suggestions to have a look at would be the 199 Steps, Whitby Abbey, the Dracula Experience, and Whitby Jet Shops. When you're done here, you can either take the Cinder Track back to Robin Hood's Bay or take the bus. These run quite regularly and it will cut your journey back down to just twenty-one minutes!
Day Three – Visit the Old Coastguard Station then grab a beer…or two!
The Old Coastguard Station is located not more than a two-minute walk from Kings Street on Cleveland Way. Run by the National Trust, the intention of this visitor centre is to educate people on the geology, impact of elements, the variety of wildlife, and the secret history of smuggling in Robin Hood's Bay.
Many of the exhibits and educational tools have hands-on models so that you can really get involved in the information you are being given. These include equipment so you can make waves, generate wind power and get hands-on with shore crabs, hermit crabs, winkles, sea anemones, and prawns. There is also a gift shop where you can purchase gifts, books, and national trust products.
Following your visit to the Old Coastguards Station, I am sure that you will want to learn more about the history of smuggling in Robin Hood's Bay and visit some important sites. You can do this by taking one of Baytown Breweries smuggling tours and beer tasting trips.
On this tour, you will take a leisurely stroll around the village and hear tales of smugglers and visit authenticated smuggling locations. This tour is ideal for families and couples alike and includes a tasting session of the breweries ales. You will also get to take back with you a bottle of your favourite beer. Perfect to enjoy whilst chatting about your day and the smugglers of days gone by!
Day Four – Of course, a day at the beach!
No trip to Robin Hood's Bay is complete without a visit to the beach which in 2017 was described by Passport Magazine as one of the world's top twenty-five. Don't worry if the day isn't fantastic as Robin Hood's Bay beach has plenty of dreary day charm. Passport magazine said 'with its chilly waters and often-cloudy skies, this is not a beach for swimming and tanning.
Rather it's a photographer and scenery-gulpers delight: the centuries-old houses byways of the village rising behind, the craggy coast filled with Jurassic fossils and rolling grey waters, the beachcombing and strolling.' Speaking of beachcombing, Robin Hood's Bay is well known for its amazing rock pools which it seems a shame not to explore whilst you're at the beach. Simply grab yourself a bucket and net and get to it; hands wet is the best way as many species are often found by turning over rocks and seaweed! If you're lucky, you'll catch hermit crabs, winkles, and maybe even something more exotic!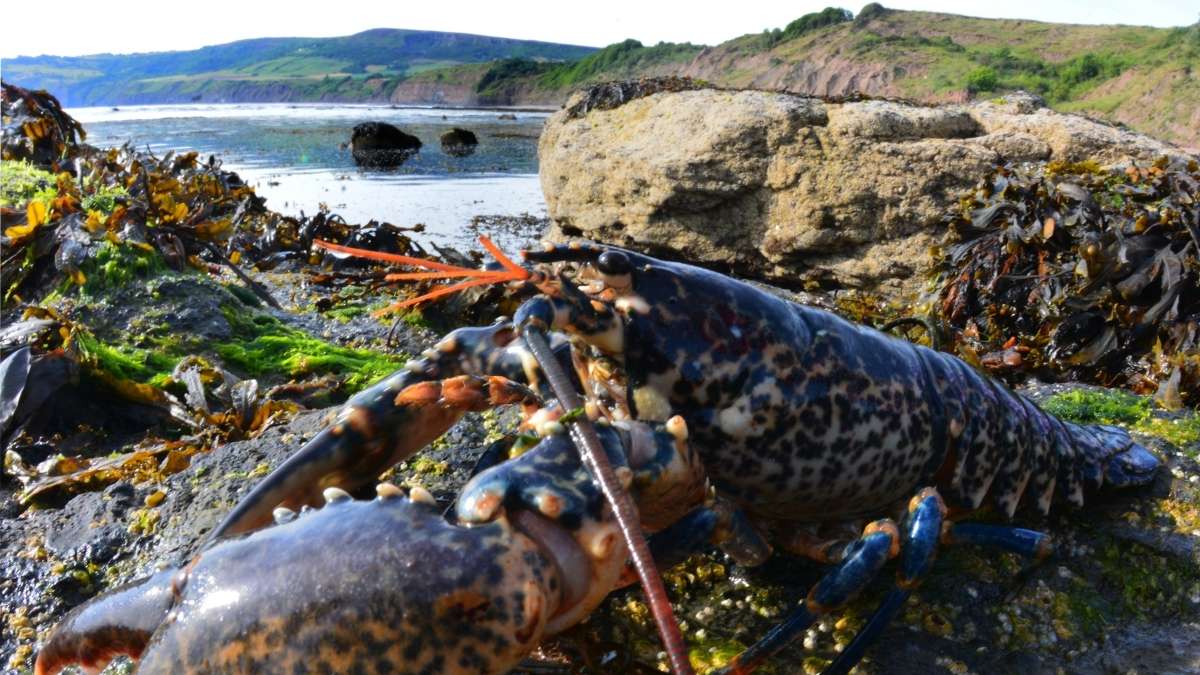 After spending your day at the beach there could be no better way to spend your evening than by eating fish and chips or something else tasty in the dock or quarterdeck area. There are plenty of takeaway restaurants in the area and the views you will have can't be beaten. Nearby there are also several charming pubs where you can wash down your tasty meal.
Day Five – Seal spotting
For those of you who love wildlife, the seal colony at Ravenscar can't be missed. If you fancy a walk also, you can get there in around an hour and a half using the Cleveland Way. If you prefer to drive, it will take you around twenty-five minutes. Once at the cliffs of Ravenscar it is a bit of a climb up to see the seals. It is, however, well worth the effort with over three hundred common and grey seals making their home there and lounging around on the beach.
It is advisable not to get too close to the seals and check the tide times before you go. Should you fancy the walk you could rejoin the Cleveland Way and walk right on to Scarborough. Be aware this will take you around three hours more but you can get a direct bus back to Robin Hood's Bay which will take around thirty-five minutes. We love to make a day of this!
Day Six – Wandering and shopping
Whilst in Robin Hood's Bay you should take the time to further explore its cute narrow cobbled streets and red-roofed former fishing cottages that spill right down to the edge of the sea. This is also the perfect opportunity to do a little shopping in the amazing variety of stores the village has to offer. There are bookstores, Jet jewellery shops, antique barns, and gift shops galore.
The Cove cafe bar is a must-visit, speciality coffee and artisan bakes are available here daily. The Cove also has a stunning sea view chapel for civil weddings and party hire.
After your hard day's shopping, you probably won't feel like cooking the evening meal. If this is the case Robin Hood's Bay has a fantastic range of restaurants for you to enjoy. Many of these serve only local produce including a great variety of fish. Examples of dishes available would be sea bream, seafood risotto, fresh rock oysters, prawns, mussels, and wonderfully tasty cod. There are also many other great non-seafood dishes available such as steaks and locally produced sausages as well as a good variety of children's meals. We recommend Smugglers Bistro and Bar for tasty homemade food and a cosy atmosphere.
Day Seven – Robin Hood's Bay Museum
Unfortunately, you are going to have to go home today, your vacation is over. However, you really should squeeze one more attraction in and that is the Robin Hood's Bay Museum. It is located just a few minutes away from Kings Street just off New Road. Situated in a building that used to belong to the coroner and be home to the mortuary this museum is full of fascinating collections and displays.
Entry is free and gains you access to three rooms that include displays of fishing, shipping, shipwrecks, rescues, and smuggling. Details of who was involved in this smuggling may surprise you, and you will be invited to explore a fisherwifes home! Can you find all the hidden contraband that she is hiding?
Do you love to visit Robin Hood's Bay? Let us know in the comments.