There are just so many things that you can experience and enjoy while you are visiting the beautiful and historic village of Sandsend near Whitby.
The Yorkshire Coastline is delightful. The northern boundary is industrial Teesside with the coastline stretching down to the equally built up Kingston upon Hull. In between, the settlements are of various sizes with many small villages great places for anything from a day trip to a delightful holiday. One such village is Sandsend just a short distance from the historic small town of Whitby. The North York Moors come down to the Coast and add to the beauty and attractiveness of the whole region. Sandsend is situated approximately 8 minutes from Whitby (approx 3.0 miles). Click here for directions.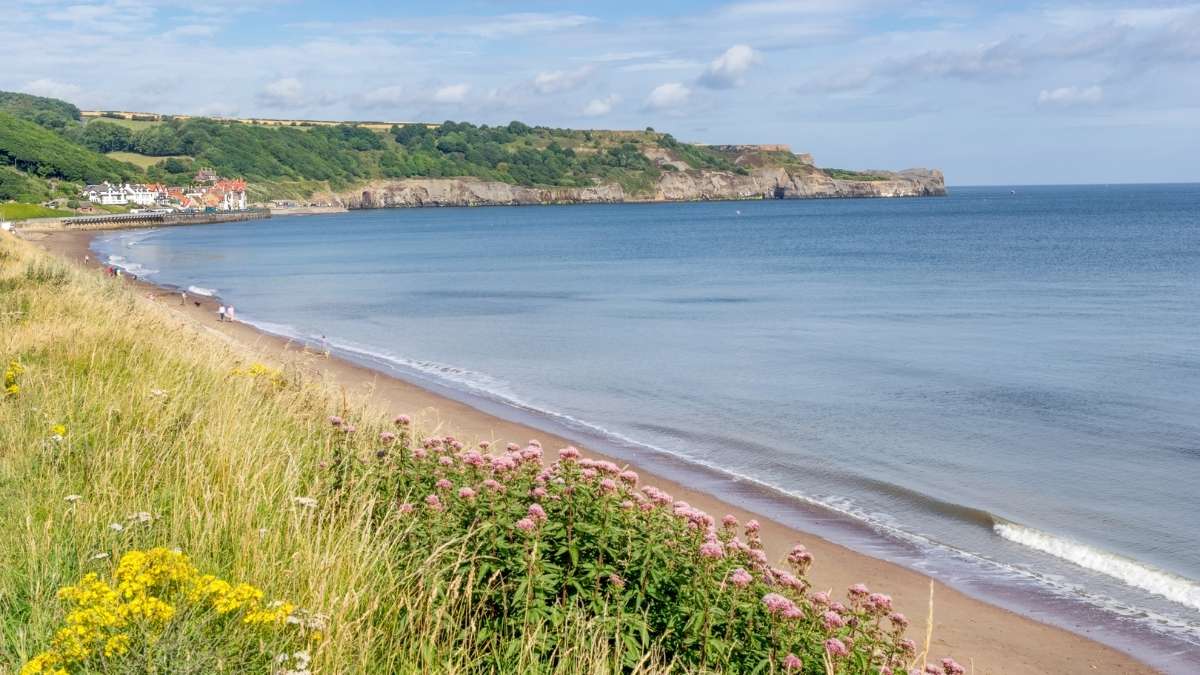 A brief history of Sandsend
The origins of Sandsend date back to the development of the alum industry. There was a railway line linking Whitby to Teesside; the railway station opened in 1883 and closed in 1958, a few years before Dr Beeching began stringent cuts on the whole national rail network.
Many years ago, Sandsend and East Row were separate villages that were later joined after additional cottages were created for the workers within the alum industry. The village was also supported primarily by tourism that is drawn to the Whitby, Redcar and Middlesbrough Union Railway year after year. Sandsend railway station was the local station that was opened in 1883 and closed 75 years later in 1958.
Things to do in Sandsend
Enjoy Sandsend Beach
One of the most popular places to go and experience while you are in Sandsend is of course the beach. By day, it is the beach that is really appealing. When the tide goes out, the kids will love exploring the rock pools for signs of life. Even at sunset and beyond, Sandsend beach is a lovely place for a stroll. View more Whitby beaches here.
Try Fossil Hunting
Fossils are regularly found at Sandsend beach and it is fun to guess what each fossil was as a living being. Sandsend beach and the surrounding area has been a regular haunt for archaeologists and palaeontologists from different parts of the world because of not only the fossils but also historical artefacts that have been found over the years.
Try a Walk or Trail in Sandsend
Nature has reclaimed an area that once experienced significant industrial activity; the abandoned alum quarries remain interesting. Walkers and hikers can combine their love of exercise and fresh air with a little exploration. The Sandsend Trail is just one of the possibilities.
Mulgrave Castle in Lythe is a place to check and is part of The Geocache Arts Trail which is explained in a booklet available in local stores. The Castle was built by the Normans after William the Conqueror's invasion. The Castle has a rich history though it was often neglected at times when it was not seen as having any strategic importance. The Castle ruins are located in a lovely valley; it is a private estate but visitors can get entry to this lovely wooded estate on Wednesdays and weekends in all but the month of May.
Places to eat and drink in Sandsend
The Hart Inn is the local pub and the little cafes are a great place to relax with refreshments at Sandsend Beach. In addition, there are two good quality restaurants that are definitely worth a try if you are in self-catering accommodation with the intention of eating out at night. Etsbek House is another great restaurant and both these establishments use locally produced ingredients where available, especially fish. A number of Sandsend Pubs also serve delicious homemade food.
Places to stay in Sandsend
Pebble Apartment
Find peace and tranquillity at this cosy romantic apartment in Sandsend. Boasting a fantastic view over the rooftops out to sea, Pebble Apartment has everything you need for a perfect holiday to the Yorkshire Coast. This one bedroom pet-friendly apartment has parking for one vehicle and comes with all the usual modern appliances needed to hide away for a long weekend. Alternatively, if you're looking for an adventure in the great outdoors you'll be perfectly placed to explore the best of the North York Moors, walk along to the beach to Whitby (check the tide times) or just potter around the charming locale of Sandsend. The local pubs are excellent as is the bistro.
Check availability & book online
The Woodlands Hotel
This small, comfortable hotel is close to Sandsend's lovely beach. It is suitable both for a romantic weekend for couples and a family holiday in self-catering accommodation, The School House. The Woodlands has 5 rooms, all en-suite with king-sized beds. One of the five is ideal for a family because of the additional twin beds. The School House is a 3-bedroom property ideal for up to 6 people. Two of the bedrooms have king-sized beds while the third is twin-bedded. There is ample parking, Sky TV and Wi-Fi and 2 bathrooms in this newly-refurbished accommodation. There is a public bar with guests able to enjoy breakfast and dinner in the restaurant.
Check availability & book online
Mulgrave Country Cottage
Mulgrave Cottage Guest House is a nineteenth-century grade II listed building set in its own secluded wooded grounds just moments from the beach at Sandsend. Mulgrave Country Cottage in Sandsend has recently been renovated; this delightful period building has been modernised to a very high standard to provide the best in luxury in Sandsend.
Check availability & book online
Related content