There are plenty of fossils to be found around the coast of Whitby. Affectionately known as the Dinosaur Coast, you can find a variety of Whitby fossils around the surrounding coastline.
Away from the bustling of the town centre, there are several free activities which you can enjoy during your visit to the Yorkshire Coast. One of our favourites is searching for Whitby fossils. The beaches to the north and south of Whitby yield prehistoric finds of many varieties. Ammonites, reptile remains and shells are easy to stumble upon whilst out walking. And, of course, Whitby is famous for Jet which is similarly easy to find if you know where to look. There are several places along the Whitby coast where you can find Whitby fossils – it's simply a case of local knowledge and a little bit of luck.
FREE Whitby Mini-Guide
"Get the best from your stay in Whitby."
Everything you need to know about Whitby into a free mini-guide!
What types of Fossils can be found in Whitby?
From the mouth of the River Tees to Flamborough Head the affectionately named Dinosaur Coast is a spectacular landscape. Several different fossils can be found along this stretch of coastline. Ammonites can be found they are now extinct marine animals. Their appearance is shell-like and they may be as much as 140 million years old. Certainly, it is thought they became extinct at the same time as the dinosaurs, 65 million years ago. Belemnites can also be found here, they were squid-like in appearance and are dated 135 million years ago. They get the nickname, ''bullet stone'' because of their appearance. Dinosaur/Reptile remains are most likely to be found just above the level of the beach in the cliff faces. Jet is compressed wood from the Araucaria or Monkey Puzzle tree. This organic gemstone is thought to be about 180 million years old and is commonly used to make jewellery.
Where can you find fossils in and around Whitby?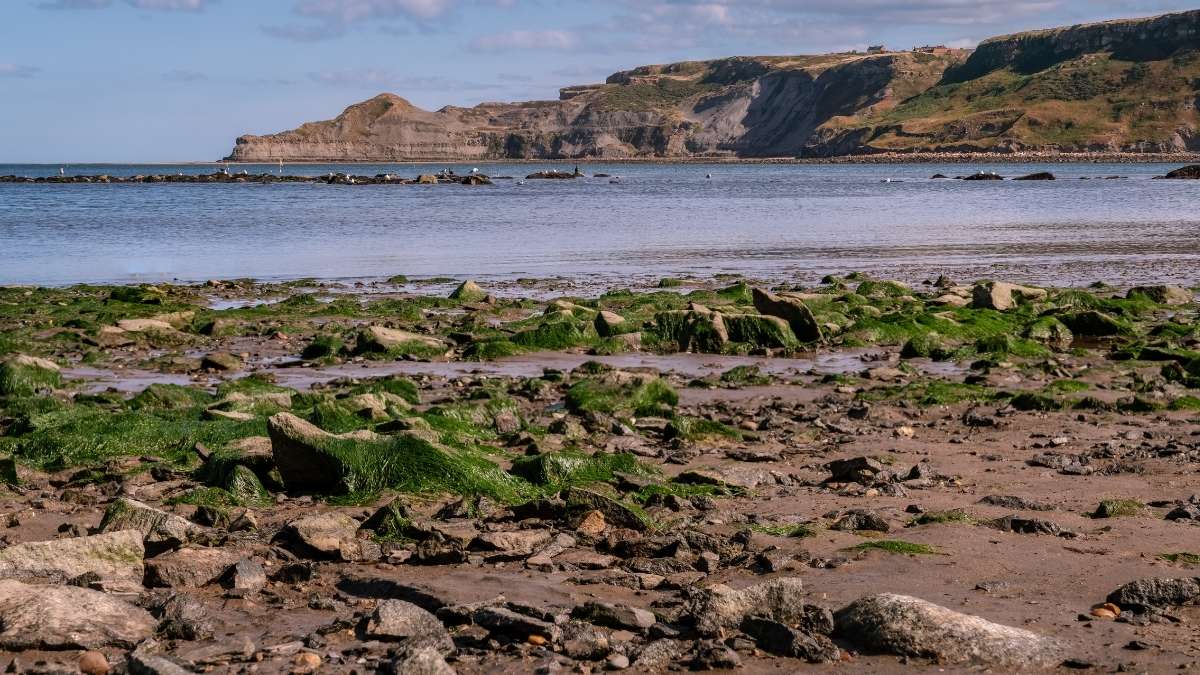 Whitby is surrounded by beaches, to the north and south. You will enjoy each of them, and there is a chance that you can find fossils during your time there. One of the region's nicknames is the Dinosaur Coast and palaeontologists and those interested in fossils in general head here from far and wide.
Video – Fossil hunting at Saltwick Bay
How to Hunt for Fossils Safely
Fossil hunting is so much fun and an exciting way to learn about the history of life on earth. It's important however to follow some guidelines so that we do not damage our natural heritage or disturb wildlife.
Look for fossils in already loose beach material.
Collect a small number of fossils.
Record your collections. (Time, place, what they are.)
Try not to disturb wildlife or habitats.
Check the local tide times.
Stay clear of any steep cliffs.
Wear appropriate clothing and footwear.
Important safety notice!
Be wary and careful collecting at all locations, knowledge of tide times is essential. It is very easy to get cut off at Whitby, the sea always hits the cliff. You should ensure you return before the tide turns. Also be aware of sticky areas at Whitby, on the slippages as it is easy to get stuck especially after rain.
Whitby Jet
For at least four thousand years people have treasured Jet, a unique black stone. The Jet discovered at Whitby is of the Jurassic age, approximately 182 million years in the making. Jet is a fossilised Araucaria tree and is the result of millions of years of compression of decomposed wood. A precursor to coal, it is found in the debris from fallen cliffs and across the moors. Whitby Jet is of the finest in the world and has a reputation as the 'gold standard' in Jet. Popular in Roman Britain for jewellery such as rings, hairpins, beads, bracelets, bangles, necklaces, and pendants thought to be produced in York. Beachcombing was the popular method of discovery of Jet during Roman times, just as it is today. You can find examples of Jet on display at The Museum of Whitby Jet.
Dinosaurs in Whitby
It's true! dinosaurs lived on the Yorkshire Coast in the middle of the Jurassic period. Dinosaur footprints were first discovered on the Yorkshire coast in Saltwick in 1895. During the Jurassic period, this coastal area was low-lying and warm. Over the millions of years that dinosaurs roamed this area the sea levels would rise and fall. Dinosaurs would leave their footprints in the silt and mud on the beaches and deltas. These prints act almost like casts as harder material would have been washed in them as the silt hardens. This infilling is resistant to erosion preserving the print. Some of these prints have been preserved for over 160 million years!
Sauropod discovery
This dinosaur backbone discovery dates back about 176m years to the Middle Jurassic period and was found on a beach at Whitby falling from a cliff face. Sauropods include some of the largest plant-eating dinosaurs that have existed and were a successful group for nearly 150m years. They were similar to a Brontosaurus; with their distinctive long necks and tails, very small heads, large body, and walked on all fours. Some species, such as the Argentinosaurus, grew up to 115ft (35 metres) long and possibly weighed as much as 80 tonnes. Professor Phil Manning and his team from the University of Manchester used x-ray tomography to study the fossil bone, which is now held in the collections at the Yorkshire Museum in York. Until more bones are discovered the team have nicknamed Britain's oldest sauropod Alan, after the finder of this prehistoric giant, Alan Gurr.
Teleosaurus Chapmani discovery
Teleosaurus Chapmani was discovered by Captain William Chapman and described by John Wooler in the Philosophical Transactions of the Royal Society of 1758. The specimen, later named Teleosaurus chapmani Konig, was given to the British Museum in 1781. This prehistoric crocodile is thought to be one of the oldest discoveries of its kind in the region.
These finds at Whitby sparked a great deal of interest in the geologic community and with entrepreneurial quarrymen who soon realised that there was money to be made in fossil hunting! Locals began to become upset and concerned that these fossils were being found locally however they were being lost to the rest of the world. To protect these rare and historic curiosities the Reverend George Young helped to establish the Whitby Literary and Philosophical Society to house these precious items. More commonly known as Whitby Museum, the display of local fossil finds is among the best in the world.
Fossils at Whitby Museum
One of the major early fossil attractions at Whitby Museum was another skeleton of the fossil crocodile Teleosaurus Chapmani it was purchased in 1824 for £7. Brown Marshall, a carpenter from Whitby spotted the snout sticking out of the cliff and excavated the skull and the bulk of the skeleton by hanging from the top of the cliff on ropes. Part of the tail was taken out 3 years later.
The collection today contains a wide range of fossil materials. It includes vertebrates, invertebrates, plants, and trace fossils. The ammonites, nautiloids, belemnites, marine reptiles, fish, and plants are of particular interest and international scientific importance with over 200 'primary' type specimens which include many holotypes a single specimen recognised worldwide as showing the main character of a particular species. The main specimens of scientific importance are to be found amongst the ammonites, nautiloids, belemnites, plants, and marine reptiles. Most of the specimens are from Lower and Middle Jurassic strata.
There is also a growing collection of dinosaur footprints varying from some a few centimetres in length up to one 40 centimetres long belonging to a herbivore. In addition, there is also a small but good representative collection of local rocks, building stones, erratics, and minerals. In recent years, a number of large and spectacular evaporate mineral specimens from the Zechstein Sea as found in Boulby Mine have been collected and displayed by Mr Peter Thornton.
A Whitby fossil hunting legend
Whitby's fossil hunting legacy involves a poem about St Hilda. Sir Walter Scott penned a verse in the poem Marmion, A Tale of Flodden Field:
"How of a thousand snakes, each one Was changed into a coil of stone, When holy Hilda prayed."
It is said in the ancient legend that St Hilda, in the search to find land for her monastery at Whitby, found a field that was infested with snakes. The legend goes that when she prayed the snakes coiled up into petrified stone and rolled off the cliff to the beach below. It is these 'coiled snakes' that are so sought after by fossil hunters today.
What to wear and tools to take with you when fossil hunting in Whitby
A sturdy pair of walking boots or even better, Wellington boots are recommended for Whitby fossil-finding expeditions.
A reliable waterproof and a warm pair of gloves are highly advised. The weather changes quickly on the coast and there's nothing worse than catching a cold on your fossil hunting adventure.
For more advanced enthusiasts we suggest taking a rucksack or backpack of some kind. This will help to store and take away all the amazing things that you find.
A small hammer may be helpful on the cliffs. Usually, a quick tap on a lump of rock reveals an imprint of a shell or belemnite. Something long and pointy like a screwdriver or a small pry bar is handy when rummaging around for fossils. A pry bar means that you can prize the rocks apart and chip away at stuck objects.
We never leave home on a Whitby fossil ferreting mission without a flask of hot sweet tea. You can thank us later when you've returned home with your stash of shells and rocks.
We find that a notebook and pencil are useful when recording the fossil finds, as is a camera for capturing the original and recording the process.
Buy a ready-made fossil hunting kit
If you're serious about finding Whitby fossils you need to be prepared. There are several tool kits available on Amazon which are great to use to find fossils along the North Yorkshire Coastline.
Unique Handmade Ammonite Whitby Soaps
Whitby fossils have become the inspiration for a local creative. Ruth Denison of Mount House has turned to the beauty of the ammonites found on the beach as inspiration for her range of artisan soaps. Handmade Whitby ammonite soaps take the design of several large fossil finds and turn them into delightfully stylish soaps for the home.
Learn more about these handmade Whitby ammonite soaps here, you can buy your very own ammonite soap in our online shop.