Whitby has a number of town centre hotels ranging from luxury establishments to budget-friendly options. Here are 6 of the best hotels in Whitby town centre.
If you're on the lookout for a hotel in the heart of Whitby then read on, we have selected 6 of the best hotels in Whitby town centre for you to consider.
FREE Whitby Mini-Guide
"Get the best from your stay in Whitby."
Everything you need to know about Whitby into a free mini-guide!
The Angel Hotel
With an excellent central location overlooking the harbour, The Angel Hotel is a popular hotel with tourists. Part of the national Wetherspoons chain, this hotel is also a busy pub and restaurant. This hotel is located bang in the middle of Whitby town centre, with popular attractions such as Whitby Abbey, the beaches, harbour and shopping streets just a short walk away.
Guests have the choice of enjoying a wide variety of dishes such as the all-day English breakfast, perfect for those who decide to sleep in, as well as traditional British pub staples. A children's menu is also available. The ideal location for anyone looking for a modern, wheelchair access accommodation in the centre of town.
Address: 1 New Quay Rd, Whitby YO21 1DH
Check Availability
The Pier Inn
Located on Pier Road in Whitby and overlooking the harbour, the Pier Inn enjoys a convenient location just a short stroll from the main attractions of the town. There are a small collection of rooms, all with en-suite bathrooms with shower facilities. Equipped with a flat-screen TV, tea and coffee facilities and free Wi-Fi, the rooms are clean, comfy and inviting.
Guests will enjoy a complimentary full English breakfast in the morning, while lunch and dinner are available at the downstairs pub and restaurant, where an excellent selection of ales and traditional pub food can be found. On warmer days, you can even enjoy your meal in the outdoor dining area overlooking the harbour.
Address: 4-6 Pier Rd, Whitby YO21 3PU
Check Availability
Address: 13 Normanby Terrace, Whitby YO21 3ES
The Resolution Hotel
Located on Skinner Street, the Resolution Hotel enjoys a central location just a stone's throw from Pannett Park. Housed in an Edwardian mansion dating back to 1776, the hotel sits in the heart of Whitby close to the many attractions and landmarks.
The establishment also boasts an on-site restaurant and a well-stocked bar with regular live music performances held on the weekends. If you are travelling by car, parking cards are available for purchase at the reception allowing guests to park their car in the designated zones.
Address: 1 Skinner St, Whitby YO21 3AH
Check Availability
The George Hotel
With a great central location close to Whitby's public transportation hubs (the bus stop and train station less than 5 minutes away), The George Hotel is a choice option for visitors looking for a simple, affordable and comfy hotel in the middle of town.
Here, you will find understated and comfortable rooms spread over four floors with en-suite or shared bathrooms. Rooms come with a TV and tea and coffee making facilities. Guests can enjoy a continental breakfast for free, served between 08.30 and 10:00.
If you are looking for evening entertainment then look no further. The George hosts several nights during the week, including open mic and karaoke nights as well as lively DJ's during the weekend. Football fans will also appreciate the on-site bar with Sky Sports and BT Sport displayed on large TV screens.
Address: 38 Baxtergate, Whitby YO21 1BN
Check Availability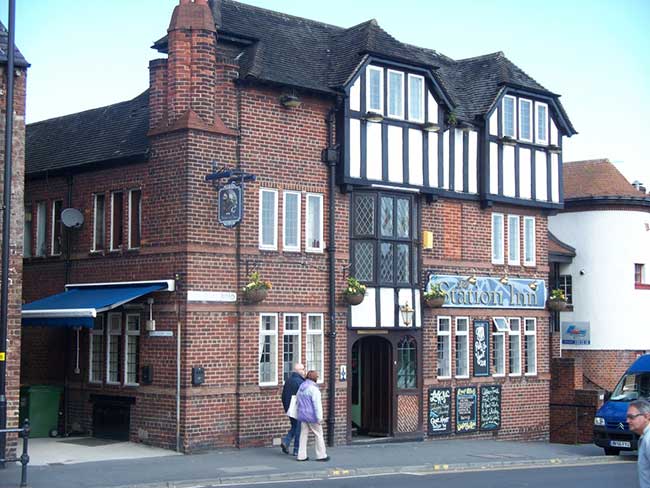 The Station Inn
Right across from Whitby railway station, The Station Inn hardly needs an introduction for locals. This award-winning pub is certainly a favourite. And since 2016, this lively pub also includes 3 comfortable and inviting rooms within the premises.
All coming with harbour views, the hotel rooms at the Station Inn feature all the modern necessities to ensure a welcoming stay, including king-size beds, tea and coffee-making facilities, free WiFi and private bathrooms with rainfall-style showers and free toiletries. Meals are served at the pub downstairs, where a wide selection of cask ales can be found.
Address: New Quay Rd, Whitby YO21 1DH
Check Availability
The Bagdale Hall Hotel & Annex
Travellers passionate about history will fall in love with Bagdale Hall, a stunning 16th-century manor house. Here you will feel like you've stepped into the rich past of Whitby. This town centre hotel features impressive Victorian-style rooms with antique furniture and features such as fireplaces, beamed ceilings and stone mullioned windows.
Address: 1 Bagdale, Whitby YO21 1QL
Check Availability