With a series of hotels ranging from luxury establishments to budget-friendly properties, Whitby doesn't lack in options when it comes to accommodation.
Indeed, staying in this quaint fishing town on the North Yorkshire coast is definitely possible to anyone, whether you are a family, a couple, a solo traveller or a group of friends. While some of the hotels available in Whitby town centre even date back to the early 1500s, other are brand-new properties offering the most modern amenities possible.
If you are on the lookout for a hotel in the heart of Whitby to stay close to the action, then read on, as we have selected the best hotels in Whitby located in the centre of town.
Free Whitby Mini Guide
"Get the best from your stay in Whitby"
We have compiled everything you need to know about Whitby into a
free mini-guide!
Download Now
The Angel Hotel
With an excellent location overlooking the river, the Angel Hotel is a tranquil, harbourside hotel in Whitby. Here, the main attractions of town are about a 10-minute walk from the hotel, including Whitby Abbey, the Whitby Museum and the beach, while the Whitby train station, the town centre and everything it has to offer are a very short walk away.
A place where children and guests with disabilities are welcomed, the Angel hotel includes clean rooms with comfy beds, free Wi-Fi, and flat-screen TVs. Furthermore, tea and coffee-making equipment as well as hair dryers are available. Don't miss the chance to request a room with harbour views and a balcony to enjoy the sunrise with a view.
The establishment also includes a bar and restaurant as well as outdoor seating. Guests have the choice of enjoying a wide variety of dishes such as the all-day English breakfast, perfect for those who decide to sleep in, as well as traditional British pub staples. A children's menu is also available.
The ideal location for anyone looking for a modern, wheelchair access accommodation in the centre of town.
Phone: +44 1947 824730
Booking: Click here to check availability and book online
Address: 1 New Quay Rd, Whitby YO21 1DH
The Pier Inn
Located on Pier Road in Whitby and overlooking the harbour, the Pier Inn enjoys a convenient location less than 5 minutes from the town centre. This picturesque establishment is a popular choice in Whitby, with its small collection of rooms, all with en suite bathrooms with shower. Equipped with flat-screen TVs, tea and coffee facilities and free Wi-Fi, the rooms are clean, comfy and inviting.
Being housed in a listed building, the rooms are accessible via a narrow spiral staircase, which may be a bit hard if you travel heavy.
Guests will enjoy a complimentary full English breakfast in the morning, while lunch and dinner are available at the downstairs pub and restaurant, where an excellent selection of ales and homey traditional pub food can be found. On warmer days, you can even enjoy your meal in the outdoor sitting area.
The Pier Inn is within a 10-minute walk from the Whitby Museum, Whitby Abbey, the local beach as well as the Captain Cook Memorial Museum.
Phone: +44 1947 605284
Booking: Click here to check availability and book online
Address: 4-6 Pier Rd, Whitby YO21 3PU
The Marine Hotel
Open since 2008, the Marine Hotel is a polish boutique hotel with elegant rooms with views over the river Esk. Each room are individually designed with stunning antique furniture and wood floors and equipped with TV and en suite bathrooms. You can even splurge and opt for the room with the free-standing bathtub for an added touch of luxury.
Guests enjoy a free breakfast served in the restaurant-bar, which is open all day and specialises in seafood. Live music is also available on Fridays and Saturdays and for special occasions. While the Marine Hotel doesn't have an on-site car parking, a parking permit is provided to guests to allow easy parking at the several parking sites nearby.
With several offer packages available, the Marine hotel is within walking distance from the Art Café Contemporary Gallery, the 199 Steps leading the Whitby Abbey, the beach and the Whalebone Arch.
Phone: +44 1947 605022
Booking: Click here to check availability and book online
Address: 13 Marine Parade, Whitby YO21 3PR
The Langley
Located on West Cliff, in a Victorian house from 1851, the Langley is a 5-stars bed & breakfast in Whitby. Located 3 minutes from the Whalebone Arch and the beach, this luxury property, though technically not right in the centre of town, is the perfect spot for those looking a lavish stay in Whitby.
Here, owners Andi & Kerry Jones created a tranquil haven where attention to details is obvious from the vast breakfast room offering panoramic views of the sea to the elegant Victorian rooms with ornate furniture.
Each room features an en suite bathroom with free toiletries and is equipped with a TV with DVD player, a minifridge and a safe as well as coffee and tea-making equipment. Go all out and ask for the room with the 4-poster bed to complete the experience. With free Wi-Fi available across the property and the rooms, the Langley also offers a complimentary full English breakfast. Free parking is available.
Phone: +44 1947 604250
Booking: Click here to check availability and book online
Address: Royal Crescent, Whitby YO21 3EJ
The Chiltern Guesthouse
Located near the beach yet very close to Whitby town centre, the Chiltern Guesthouse is housed in a Victorian-style townhouse. This humble, family-run bed-and-breakfast features simple en-suite accommodation with free WiFi, TVs and coffee- and tea-making equipment. A free full English breakfast is available but if you prefer the convenience of cooking and eating whenever you like, the Chiltern also has a holiday apartment that can sleep 2 persons available.
Local attractions within walking distance of the Chiltern include the Captain Cook Memorial Museum, the Whitby railway station and Pannett Park. The guesthouse is conveniently located near shops, restaurants and pubs.
Phone: +44 1947 604981
Booking: Click here to check availability and book online
Address: 13 Normanby Terrace, Whitby YO21 3ES
Bagshawe's Bed & Breakfast
Set in a grade II listed town house, Bagshawe's of Whitby, or Bagshawe's B&B is definitely a choice for those looking for an accommodation with character and charm.
Situated in the heart of Whitby, a short stroll away from pubs and shops as well as landmarks such as the Whitby Lighthouse and Whitby Museum, Bagshawes includes a collection of double rooms with en suite showers. They all come equipped with a mini-fridge, a safe and a flat-screen TV and WiFi. Guests need to be aware that given the age of the building, this B&B is unfortunately not recommended for guests in wheelchairs or have difficulty walking.
As far as breakfast is concerned, there is a wide range of choice from coffee, tea, juices and also cooked breakfast, all served in the breakfast room on the ground floor.
Phone: +44 1947 601772
Booking: Click here to check availability and book online
Address: 38 Flowergate, Whitby YO21 3BB
The Resolution Hotel
Located on Skinner Street, the Resolution hotel offers stunning views of the famed Whitby Abbey, and is conveniently situated near the Whitby Harbour and lighthouse as well as the Pannett Park. Housed in an Edwardian mansion dating back to 1776, the hotel sits in the heart of Whitby town, close to the many local attractions and landmarks.
The property includes rooms offering the typical comfort one should expect from a hotel, such as rooms en suite bathrooms with flat-screen TVs and tea and coffee-making facilities. Some have town views, while others feature harbour views.
The establishment also boasts an on-site restaurant and a well-stocked bar with regular live music performances held on the weekends. If you are travelling by car, parking cards are available for purchase at the reception allowing guests to park their car at the designated W-zones.
Phone: +44 1947 602085
Booking: Click here to check availability and book online
Address: 1 Skinner St, Whitby YO21 3AH
The George Hotel
With a strategic location near public transportation hubs (the bus stop and train station less than 5 minutes away), the George Hotel is a choice option for visitors looking for a simple, affordable and comfy hotel in town. The hotel is within less than 5 minutes from the Captain Cook Memorial Museum and near the many shops and pubs downtown. Furthermore, staying at the George Hotel ensures that you are within 10 minutes from the Whitby Abbey, the Whalebones Arch as well as the lovely beach.
Here, you will find understated and comfortable rooms spread over four floors with en suite or shared bathrooms. Rooms come with a TV, and tea and coffeemaking facilities. And guests can enjoy a continental breakfast for free, served between 08.30 and 10:00.
If you are looking for an entertaining night, look no further. The George hosts several nights, including open mics on Thursdays, karaoke nights on Wednesdays and Sundays as well as DJ nights during the weekend. Football fans will also appreciate the on-site bars with Sky Sports and BT Sport displayed on large TV screens.
Phone: +44 1947 602565
Booking: Click here to check availability and book online
Address: 38 Baxtergate, Whitby YO21 1BN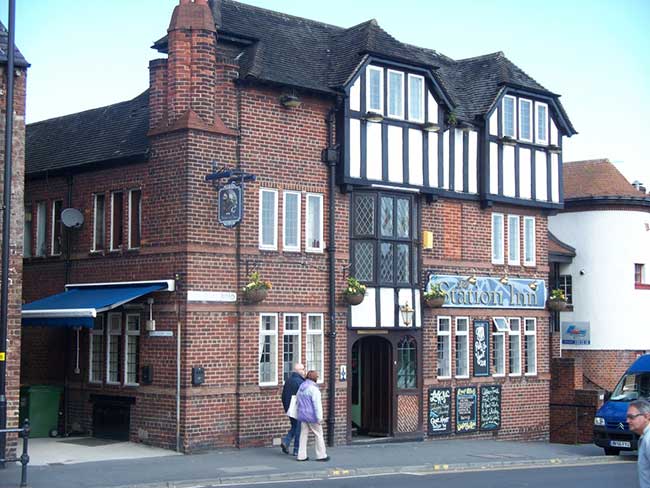 The Station Inn
Right across from Whitby railway station, the Station Inn hardly needs an introduction for locals. This award-winning pub is certainly a favourite. And since 2016, this lively pub also includes 3 comfortable and inviting rooms within the premises.
All coming with harbour views, the rooms at the Station Inn feature all the modern necessities to ensure a welcoming stay at the inn, including king-size beds, tea and coffee-making facilities, free WiFi and private bathrooms with rainfall-style showers and free toiletries. All this at decent prices. Meals are served at the pub downstairs, where a wide selection of cask ales can be found.
The Station Inn also have a lively schedule with live music in several nights of the week, making it a top pick for its entertainment value. Add to this a convenient location by the harbour, the beach, the Whitby Pavillon and the town's main museums and you will get why the Station Inn is definitely an excellent choice if you want a hotel in Whitby town centre.
Phone: +44 1947 603937
Booking: Click here to check availability and book online
Address: New Quay Rd, Whitby YO21 1DH
The Leeway
If you are on the lookout for a lodging in the centre of town where you will feel like a guest at your best friend's holiday house, then the Leeway is right for you. This quality B&B puts the emphasis of making guests feel at home with a complimentary slice of cake and tea or coffee served upon their arrival.
Then you are led to your quarters, which include a comfortable bed and a private bathroom with luxury toiletries. Furthermore, each room features a flat-screen TV with DVD player and an iPod dock, as well as everything you need for your morning tea or coffee.
In the morning, breakfast is served in the quaint breakfast room and includes options such as a full English, a continental breakfast or the fish option (pre-ordering necessary), as well as vegetarian and gluten-free meals. With attention put to every detail, the Leeway prides itself of relying on locally sourced ingredients, meaning you may even drop by the providers if you fell in love with the delicious bread for your morning toast.
As far as location is concerned, the Leeway is a mere walk from Whitby train station and close to the main landmarks and sights.
Phone: +44 1947 602604
Booking: Click here to check availability and book online
Address: 1 Havelock Pl, Whitby YO21 3ER
The Bagdale Hall Hotel & Annex
Travellers passionate by history will fall in love with Bagdale Hall, a stunning complex consisting of a 16th-century manor and 1 townhouse from the Georgian era, right next to the train station, the Whitby Museum and the Whitby Lighthouse. Here, you will feel like you've stepped into the rich past of Whitby. The hotel features impressive, Victorian-style rooms with antique furniture and fitted with unique features such as fireplaces, beamed ceilings and stone mullioned windows. Of course, all amenities for a comfortable stay are also included in the room.
Whether you stay at Bagdale Hall or in the townhouse a few meters away, a complimentary breakfast, known for offering a wide choice for all tastes and diets, is served in the imposing dining room of Bagdal Hall, while the hotel's location and on-site parking lot, make it a favourite for visitors.
If you can't be bothered to dine at the surrounding restaurants and bars, the Bagdale hall also include an upscale restaurant on its premises.
Phone: +44 1947 602958
Booking: Click here to check availability and book online
Address: 1 Bagdale, Whitby YO21 1QL