With its connections to Dracula, its iconic Abbey and ghost stories galore. Halloween in Whitby is a must for fun, games and spooky shenanigans!
Yeah, we said it: Halloween is approaching! Where better to celebrate than Whitby? As the sun sets, it is a town of numerous ghost stories, shipwrecks, and legends and home to chapters of the Dracula story. Due to these spooky attributes, Whitby is a town people flock to worldwide to celebrate Halloween. So, if you choose to spend Halloween in Whitby, there is no doubt that you will find an activity that will give you a spooky thrill or two. Here are 9 things to do at Halloween in Whitby.
---
1. Visit Illuminated Abbey
Sun 22nd – Tue 31st October 2023 | Suitable for all ages
FREE Whitby Mini-Guide
"Get the best from your stay in Whitby."
Everything you need to know about Whitby into a free mini-guide!
Is there anywhere spookier to visit at Halloween than Bram Stoker's inspiration itself in a new light? Witnessing Whitby Abbey bathed in dramatic illuminations is a sight we never want to forget. So remember to take your camera as you wander around the gothic ruins lit up with all the colours of the rainbow. See the story of Dracula brought to life beneath the soaring illuminated remains of Whitby Abbey; this is an evening suitable for the entire family.
Find more information and get your tickets here.
---
2. Pop along to the Halloween Half Term event at Whitby Abbey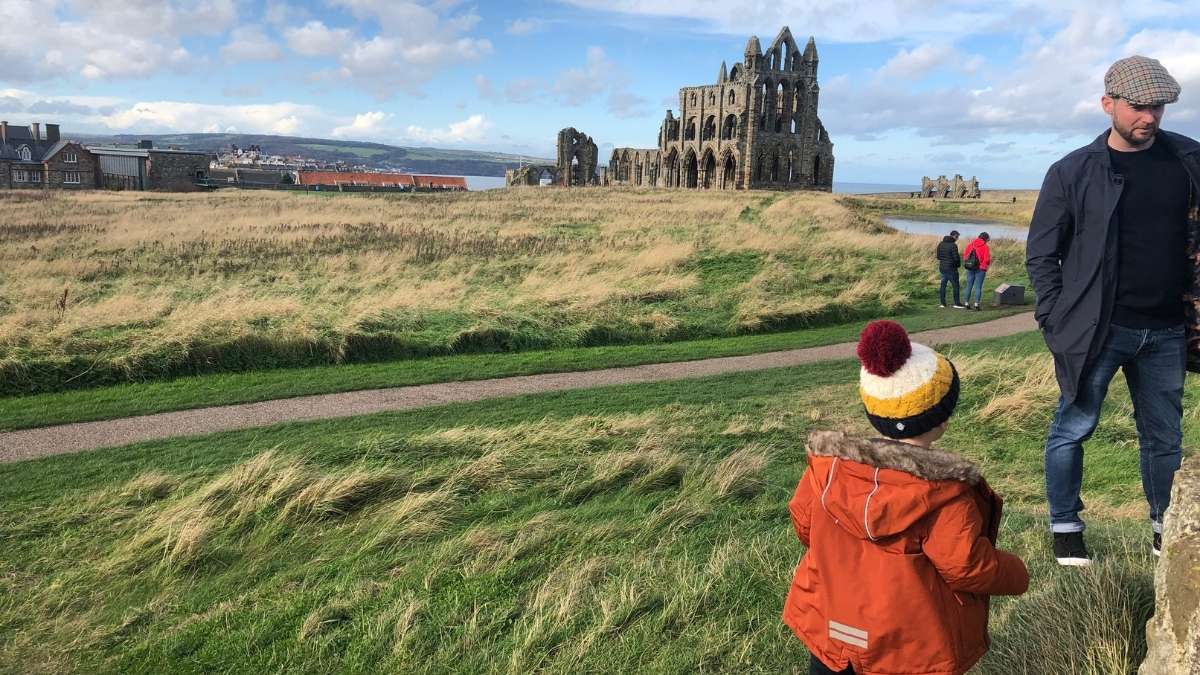 Sat 21st October – Sun 5th November 2023 | Suitable for children
Head to Whitby Abbey with your little monsters for a day full of Halloween fun! Jump on your broomsticks and get ready for a bewitchingly brilliant day out. Solve creepy clues in their Halloween Quest. Then, there will be costumed performers to tell you tales of the silly to the supernatural. This is a great day out and a way to celebrate Halloween with the family. Feel free to dress up, too!
Find more information and get your tickets here.
---
3. Visit for Whitby Goth Weekend
Fri 27th – Sun 29th October 2023
On the last weekend of October, an annual gathering of music-loving goths descend on Whitby and participate in its bi-annual Whitby Goth Weekend. Started in 1994 by a group of just 40 pen pals who had met through the music magazine NME, people from all over the world now attend this annual gathering. It has also evolved into a festival for anyone and everyone and celebrates all alternative lifestyles. Over the weekend, there are dances, boat trips, picnics, plenty of live music and a Bizarre Bazaar market. For those attending and not attending the weekend festivities, it is also a chance to see some of the best fancy dresses and costumes you will ever see.
---
4. Jump on the NYMR for their Light Spectacular
Fri 27th October – 5th November & 10th – 12th Nov 2023 | Suitable for all ages
Jump on board and enjoy the NYMR covered with thousands of lights. The decorated heritage carriage departs from Pickering Station, taking you on an hour-long round trip to Levisham Station. It takes you on a fun journey with a DJ mix of music. Each passenger gets their own LED wristband that is synchronised to the music. This is an excellent option for families looking for something fun and a little less spooky this Halloween.
Find more information and get your tickets here.
---
5. Go on a Ghost Tour
We have to mention ghost walks for Halloween in Whitby! You have a few options;
We cannot recommend Gill at Red Hat Ghost Walk enough! Gill has been writing her stories for years and took the time to remember and rehearse them. They are local stories she grew with and adapted into an engaging style. The walk was well-planned, lighthearted, and fun. It was a lovely way to meet people whilst visiting Whitby. One significant point is that this walking route is also wheelchair friendly.
To learn more about this walk, you can visit the website and keep updated on the days and times her walks run. You can also follow Red Hat Ghost Walk on Instagram. Or contact Gill directly via her mobile: 07474 689 244.
More ghost walks;
Contact Rose Ryland, The Whitby Storyteller, for a particular Halloween ghost walk! You can join Rose for private ghost tours around St Mary's Church Graveyard and the old parts of East Whitby. There's also a Halloween Ghost Walk in Robin Hood's Bay.
Do you dare to take the Whitby Ghost Walk? Led and hosted by Dr Crank, the Whitby Ghost Walk is a 75-minute paranormal experience that informs you of all the murder, mystery and suspense within the town of Whitby. It includes delights like the Dutchman's house, a headless horseman, a barghest hound, a haunted lighthouse, Dracula's bench and the hand of glory.
---
6. Enjoy Tomorrows Ghosts Gothic Festival
Fri 27th – Sat 29th October 2023
Established in 2018, Tomorrow's Ghosts Festival is held at The Pavilion in Whitby. It celebrates all things Gothic whilst embracing a wide range of alternative cultures. The festival aims to host established and up-and-coming bands to reflect the diversity of the goth and alternative music scene. This celebration of everything gothic, not unlike the Whitby Goth Weekend, is a jam-packed event full of music, film, art and the spoken word. They also have their bazaar known as the Dark Days Alternative Market.
They are committed to supporting charities through the event and other events across the town, contributing to the experience of visiting Whitby for the Biannual Goth Festival. Previous festivals have hosted acts including New Model Army, Paradise Lost, Fields of the Nephilim; Pop Will Eat Itself, Wayne Hussey, Chameleons Vox and Clan of Xymox.
---
7. Go on Halloween Pub Crawl
After all, not everyone wants to do Halloween types of things, but no doubt you will want to see all the sights and spectacles of those dressed up who are! To do this, a pub crawl is ideal.
The Eastside of Whitby pub crawl runs along the East side of the River Esk in the heart of Whitby town. It starts and finishes at the East side of the swing bridge, where you will find The Dolphin, famous for its outside seating and views overlooking the river. Continuing from the Dolphin, you will find The Green Dragon, The Fleece and The Middle Earth Tavern before you turn back on yourselves and return to the swing bridge. This time, however, you will walk on the opposite side of the road, where you will find The Endeavour, The White Horse and Griffin, Black Horse, Board Inn and Duke Of York. Turning off Church Street now, you will go down a steep alley where you will find the Whitby Friendship Rowing Club. This pub has a marvellous view across the harbour and is accessed down a small flight of stairs. Continuing down that same road, you will also find the Abbey Wharf before returning to your starting point of The Dolphin.
Click here to view our Whitby Pubs guide.
---
8. Follow in the Footsteps of Dracula
The Dracula Walk is a 4.5-mile circular walk that will take you past all the landmarks and 'walks by the sea' Bram Stoker's novel Dracula mentions. It follows sections of the cliff-top path before looping back inland on quiet rural lanes that lead back into the town.
Starting at the Abbey, you will walk the cliff-top path where the Demeter would have been visible as it headed for the shore. The Whitby skyline, which Stoker loved and often mentioned in his novel, is breathtaking.
Further, you can sit on the Dracula memorial bench erected in 1980 to commemorate Bram Stoker. From this spot, Mina saw Lucy in the churchyard on the opposite cliff. You will also visit the street on which Lucy's house stood: East Crescent.
Finally, you will climb the 199 Steps to the Churchyard of St Mary following the footsteps, or should I say Paw steps of Dracula himself in the shape of the red-eyed hound! On reaching St Mary's Churchyard, you will see Tate Hill Pier, where the Demeter came to rest.
---
9. Pumpkin Picking at Piglets Adventure Farm
Dates and more information coming soon | Suitable for all ages
Piglets Adventure Farm is just 15 minutes from the centre of York. Ticket prices vary depending on the time of year and the event. Here, you can pick your perfect pumpkin at the pumpkin patch, navigate the mysterious maize maze, take in the magic at the mad hatter show, and so much more.
Find more information and get your tickets here.
---
Why do you love Halloween in Whitby? Let us know in the comments below.