The Magpie Cafe's Ian Robson and Head Chef Paul Gilroy speak with Lindsey Ebbs about the history of this iconic Whitby business.
"The Magpie" is probably the most recognised and well-known eatery in Whitby. A destination restaurant for locals and visitors alike. Yet, how much do we know about the workings and the thoughts going on at the back end of this business?
So, I was delighted when Head Chef Paul Gilroy and owner Ian Robson, accepted my request to ask some questions about the Magpie, allowing us all an insight into this amazing business.
FREE Whitby Mini-Guide
"Get the best from your stay in Whitby."
Everything you need to know about Whitby into a free mini-guide!
How long have you been at the Magpie, Paul?
This year is my 34th year at the Magpie, I started when I was 12 years old.
My first job here was buttering bread, digging out the dripping from the pans to clean them, rumbling potatoes and being a general dogsbody being sent out on errands such as shopping for an extra sack of spuds or two!
Is the Magpie still a family-run business and how many people do you actually employ?
Yes, the Magpie is very much a family-run business and has been since 1954. Ian Robson and Alison Slater are the current owners.
It was Alison's Grandparents, Clifford and Gladys Barker, who set the ball rolling in the fifties before handing over to Alison's parents Ian and Sheila McKenzie and then to Ian and Alison who continue to run the business as directors of the company, their son, Duncan, is the front of house manager.
I am the Head Chef and I am married to Ian's wife Elaine's daughter Lindsay who is the company accountant.
Queen of puddings
Lindsay's sister, Louise, is my right hand woman in the kitchen (sous chef), Elaine is Queen of the puddings and sees to the majority of the baking.
Staff wise, in the earlier days we probably had a maximum of around 30 employees but as the business grew and expanded we now employ in total across all arms of the business around 85 people.
Probably around 50% of these have been with the company for more than 20 years a handful have been with us around 30 years and we also have the odd one that has been with the company for between 40 and 50 years.
I won't name them as you never reveal a lady's age.
What is the most asked for dish in the restaurant and what is your personal favourite?
The most popular dish in the restaurant is Fish and Chips, after all this is what the Magpie built its reputation on.
However, in the early days, The Magpie was very much the traditional seasonal seaside café with roast dinners and mixed grills being the mainstays of the limited menu, fish and chips were only sold at tea time.
After The Magpie was 'discovered' by the restaurant critic Egon Ronay in the late seventies the demand for fish and chips soared and are now of course (in normal times) served all day 364 days a year.
As for my favourite dish, well you really cannot beat fish and chips with mushy peas and bread and butter.
The problem is, is which fish to have as I really do like lots of different types from the staples of Cod or Haddock to Monkfish, Hake, Halibut, Skate Wing, Squid, Lemon Sole or even King Scallops (yes deep fried and then a squeeze of lemon juice over, wow).
Over the years though we have evolved the menu to cater for the ever-increasing seafood lovers and I do love lots of other fish and seafood dishes, fish pie, seafood medley (salmon, halibut, scallops, and prawns on sauté potatoes with pancetta and samphire with a garlic cream), mussels, scallops, sea bass and octopus to name but a few.
I was lucky enough to become involved in a different arm of the business when we acquired The Whitby Catch (fishmongers) which in turn led me on to the fish markets to dabble in the fish auctions on both Whitby and Scarborough markets.
So at times, it led me to different fish that I would not otherwise have thought of using because it was either too expensive to buy through wholesalers or they were just not often offered through wholesalers.
Squid was one thing that made a regular visit onto my menu, then the odd local Tunny (Tuna) and John Dory.
Unfortunately, now there is little to no fish coming through the local markets now, I do get some codlings off a couple of local potting boats and occasionally they will throw a net off and try and catch a few Dover Soles, Brill, and Turbots but that is sadly few and far between as Crab and Lobsters are their priority.
So to be able to offer a variety of fish and shellfish I now make the trip up to North Shields Fish Market once or twice a week to buy from auction.
This, in turn, is giving me a more regular supply of good size Langoustines (which simply pan-fried are divine) and other things like Spider crab (deliciously sweet white meat, one to add to your must-try list). So, this alone is adding to a list of more favourite fish and shellfish.
The Magpie is almost as famous for its queue as for its great food, so how did you manage a socially distanced queue in the summer?
Who knew at the start of 2020 what we were going to go through?
Back in March, the speed at which everything changed was mind-blowing and into National lockdown we went, not knowing how or when we would come out of it.
As time went on and the easing of lockdown began, we started to wonder how we would be able to open and trade viably.
We had already opened the takeaway but with a socially distanced Queue which stretched across the front of the restaurant, even with extra staff on taking orders from the takeaway Queue to limit wait time we found it very challenging to keep it at a respectful length.
So we couldn't open the restaurant and have the same scenario after all our priority was the safety of our Staff and Customers.
Introducing the callback service
After a lot of meetings and deliberations, we decided to trial increased bookings and call back service at the restaurant.
We had seen this type of service being used to some extent in our trips to America albeit they use pagers to hand out and have space for people to sit. So we began this new norm.
We would stand a member of the front of house team waiting at the bottom of the steps to take details of the customers and contact number and then advise on roughly a length of time the call back would be.
This would then allow time for people to at least wander down the extensions or try and win a soft toy in the amusements or cross the water to the East Side and Church street etc.
A virtual queue
Once their table became available we would ring their mobile and ask them to return to come and eat with us. This seemed to work but unfortunately does have its drawbacks.
Unlike a conventional Queue where once a table has been cleaned and reset you can then get the next customers seated, we found that tables were sat ready waiting for customers to return, as we could not phone the customers until the table was ready for them to sit.
So this did cause a delay in turnaround, which with the added loss of about 30% of covers because of social distancing within the restaurant, has had an impact financially on the business.
Is it a viable way to run a business, probably not long term but in the short term for everyone's safety, then hopefully ….yes.
Are you still offering that amazing `cook at home magpie food` that was so successful in the first lockdown?
During the first lockdown around May time, we re-opened the Whitby Catch fishmongers as there started to be a little bit more fresh fish available.
So we started to offer deliveries of fresh fish to the local community within a 20-mile radius. We also started a meal deal offer of a choice of starter, a choice of a main and choice of dessert with a bottle of house wine or some bottled bears for two for (what we think) an amazing value of £30.
To say it was popular is an understatement as we were blown away with how these sold.
The Magpie's Whitby Catch Cook at Home Kit
So blown away we decided to keep offering these even as restrictions were lifted as we thought that there will still be people that are shielding or are too nervous to venture out and are pleased to say that they have kept their popularity.
We do tweak the menu occasionally and are delighted with the response that we receive.
So if you through this lockdown or through the winter months fancy something different or do not want to venture out then you can view the menu on the Magpie's Whitby Catch Facebook page and send us an order or ring the Magpie's Whitby Catch on 01947 601313.
Deliveries are made contactless where you pay by phoning the shop (or we can phone you once the order has been put together) or cash on delivery, whichever suits you.
You have had a lot of celebrity chefs visit the restaurant over the years…..which was your favourite and why?
Such a difficult question to answer as we have some fantastic Chefs through our doors, most recently James Martin, Brian Turner, Phil Vickery to name a few.
But we have also had the likes of Rick Stien, Ainsley Harriott, and in my early years Ken Hom.
All of which are great chefs in their own rights but (sitting on the fence) I will say that I am humbled that these and others have frequented our doors.
These chefs have inspired me throughout my career and that all these names are chefs, that, like me, prefer proper no messing food that is cooked well; wholesome, comforting and being a Yorkshire man 'value'.
They all bring something that is close to my heart so I cannot choose one as they all play an important role for me.
That said we are particularly grateful for the support given by, in particular, James Martin and Brian Turner in the wake of the fire we suffered in 2017.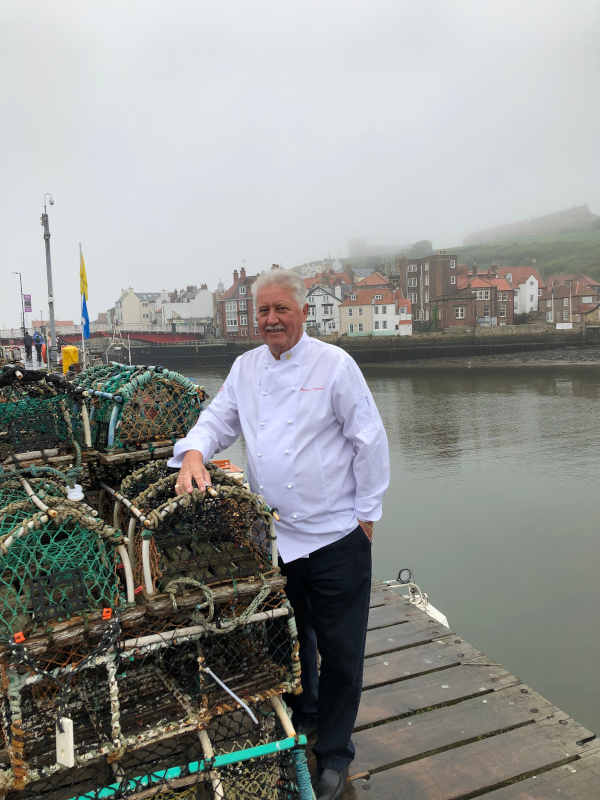 Going forward into a Covid free future, what business strategies that you had to implement during Covid-19, would you keep?
We will definitely keep the "Cook at Home" menu, we were blown away by the response, I suppose it adds another dining experience for locals and visitors alike that either struggle to get in or just like to stay at home or in self-catering and eat.
Although the virtual queue has been useful in some ways it slows the turnover of tables and also gives a negative response to potential customers passing by.
Bringing back the queue
I have heard people saying "oh they haven't got a queue anymore, but they do down the road". I know, maybe in time, customers would understand, but short/medium term, how much that would damage the business
We will, as we have had to, adapt to what is thrown in front of us, at the end of the day we like most others are trying to survive, no doubt we may be challenged with difficult decisions as we move forward but as always, safety for our customers and staff will be paramount.
The Magpie Cafe looks forward to welcoming customers back this summer.
About the interviewer, Linsey Ebbs
Footcheck.co.uk are an award-winning podiatrist in Whitby. Book your appointment with Lindsey today.