Experience the excitement of whale watching and see these marvellous deep sea creatures in their natural habitat. Why not join Whitby Whale Watching on a trip to discover Yorkshire's best-kept secret!
If you haven't been on one of Whitby Coastal Cruises' boats on a Whitby Whale Watching trip you definitely need to add it to your bucket list.
Whitby has a long maritime history with whales. The town built much of its fame and fortune on the back of the whaling industry. The Whalebone Arch stand as a testament to those heady days.
FREE Whitby Mini-Guide
"Get the best from your stay in Whitby."
Everything you need to know about Whitby into a free mini-guide!
Thankfully, whales play a more benign role in the current culture of the town. Whale watching in Whitby is something that must be seen to be believed.
Whitby Whale Watching
The North Sea just off from Whitby is rich in a variety of sea life. Every year late in summer whales arrive off the coast of Whitby to feast on the migrating herring which come to the Yorkshire coast to spawn.
This also attracts cetaceans, sharks, birds and seals to feed. Over the years there have been numerous sightings of Minke whales, Sei, Fin and Humpback whales.
Additionally, throughout the year there have been many sightings of White-Beaked and Bottlenose dolphins and porpoise just off the coast of Whitby as well as other creatures such as Sunfish, jellyfish, sharks, Razorbills, Puffins, Fulmar, Kittiwake, Herring Gull, Cormorant, Skuas, and Terns.
Late autumn brings many migratory birds such as Shearwaters, Raptors, different species of geese, ducks, wading birds and many small birds like warblers, robins, finches and chiffchaff on their way to land.
If you would like to get up close and personal with these amazing creatures then we suggest booking a trip with Whitby whale watching.
Their trips offer the chance to see not just whales and dolphins up close but also seals and many species of birds.
Whitby Whale Watching Trips
The whale watching trips can last from 4 to 8 hours depending on conditions and may go many miles offshore. Minke whales, with their distinctive pointed heads and curved back fin, are quite often seen and they can be up to 10m long. So they're an impressive sight to see!
Remember there are no guarantees that whales or any other creatures will appear when you're out at sea. The knowledgeable crew will however do their best to find them for you. Please remember that the North Sea can be a very cold place so if you're planning a trip be prepared and make sure you have plenty of layers, waterproof/windproof coats, trousers, hats and gloves.
They do not allow children under 12 years old, because of the length and nature of the trips. Weather is a key consideration for a seafaring adventure. Trips can be cancelled at very short notice. Your safety is paramount.
Whitby Coastal Cruises offer several trips on the Yellow Boats including coastal cruises from Saltburn in the North to Robin Hoods Bay in the south.
Trips to the Seal Colony at Ravenscar, Staithes boat trips, river cruises along the Esk to Ruswarp and the perennially popular short trips around the bay. Along with the Sunset and Twilight cruises, Whitby Whale Watching is one of the Yellow Boats most popular excursions.
Find out more information about their trips here.
The Whale Whisperer
Since 2006 Whitby Coastal Cruises have offered Twilight and Sunset cruises along the Yorkshire Coast. During these sailings on the iconic Yellow boats, sightings of whales became a regular occurrence.
Whitby Whale Watching is the offspring of these initial trips. During these coastal excursions local skipper, Bryan Clarkson, honed his whale seeking skills to such an extent that he is now known locally as 'The Whale Whisperer'. There is no man alive better at sniffing out a whale. If you're looking to see a whale in Whitby, The Whale Whisperer will see you right.
The Boats
Summer Queen, Esk Belle III and Dash are the three big Yellow Boats that sail the North Sea in search of whales. Most of the Whale Watching is done on the Summer Queen.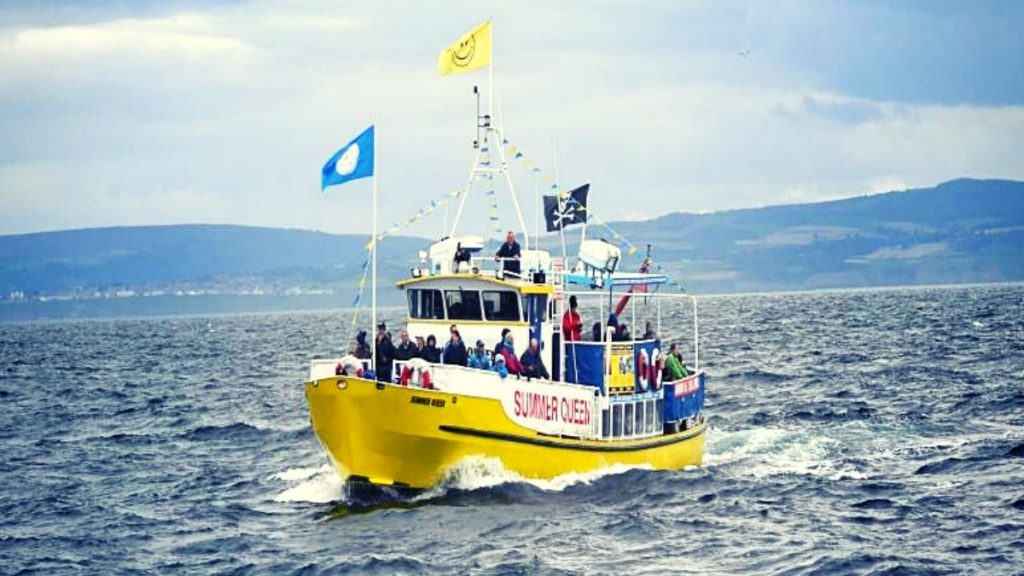 She is fully kitted out with an indoor viewing saloon, platforms and a covered upper deck. There is a bar for refreshments including hot drinks and there are ample seating, tables and toilets onboard.
Sharp jets of water being shot into the air from their blow holes and experience the smell of fish on their breath – before they breach and disappear again to the murky depths below!
Will you spot a whale?
June to October is the best time of year to spot a whale at Whitby. The peak moment of the whale watching season is between August and September. Minke whales are the most likely sighting on these trips plus there is plenty of potential to see dolphins and a host of marine wildlife. Following the shoals is the surest way to see a whale off the coast of Whitby.
Booking information
For more information please visit – www.whitbywhalewatching.net
They are easily located on Whitby's famous harbourside.
All trips depart from the Brewery Steps (The Brewery Steps, Lower Harbour, Whitby, YO21 3PR). Just look for the yellow boats of their sister company Whitby Coastal Cruises.
Have you ever been whale watching in Whitby? Let us know in the comments, what did you spot?