If you have visited Whitby time after time or you're staying in Whitby for longer than a weekend then check out these day trips you can enjoy when visiting Whitby.
Located in North Yorkshire, Whitby is a charming and fascinating seaside town. Steeped in legend and filled with attractions, it is a destination that attracts many tourists every year. Although there are plenty of things to do in Whitby itself, there are also plenty of day trips you can enjoy if your stopping in Whitby for more than a few days. Here is a selection of day trips that are located within an hour's drive of Whitby.
York | 1.25 hours drive from Whitby
Free Whitby Mini Guide
"Get the best from your stay in Whitby"
We have compiled everything you need to know about Whitby into a
free mini-guide!
Download Now
York is full of sights and attractions and magic that you will want to seek out if you have the time. York is really one of the best day trips you can take if you are staying in Whitby.
Things to do in York:
Eden Camp Museum | 45 minute drive from Whitby
For a fun and educational family day, a day trip to the Eden Camp Museum is a great idea. This is an award-winning attraction that enables you to learn about British social and military history from the onset of the First World War. There are many different 'huts' you can visit at Eden Camp, each of which offers a slice of fascinating history such as the rise of Hitler and how Britain prepared for the war. They host a selection of events throughout the year so check their website for more details.
If you're interested in the local history, check these other Whitby Museums.
Staithes | 20 minute drive from Whitby
Staithes is an alluring little fishing village located on the Yorkshire Coast, just a short drive from Whitby. Although Staithes is a small fishing village, there are plenty of things to keep you entertained for a few hours, even if it is just walking around and soaking up its idyllic beauty.
Things to do in Staithes:
If the weather is good, head to Staithes and enjoy a few hours on the beach before relaxing in the Cod & Lobster pub in the harbour. Spend hours watching the world pass you by or enjoy some freshly cooked local food.
Real Staithes Day Tours will give you the opportunity to learn a lot about the area and see some truly beautiful scenery.
Captain Cook & Staithes Heritage Center is a small museum where you can see some interesting artifacts related to Captain Cook, who was born in Staithes.
Robin Hoods Bay | 15 minute drive from Whitby
We love to visit Robin Hood's Bay, fossil hunt, and enjoy tasty fish and chips after the climb back up the hill to our car. The charming fishing village of Robin Hood's Bay makes for a wonderful day trip. Part of the Dinosaur Coast, it is filled with attractions, beautiful beaches, fossils, rich history, and much more.
Things to do in Robin Hoods Bay:
Take a ride on the North York Moors Railway | 18 minute drive from Whitby
If you want a fun day out for the whole family, take a ride on the North York Moors Railway. This heritage railway runs through the North Yorkshire Moors National Park. You can enjoy taking in some stunning scenery as you relax during your ride. The kids will love hopping aboard a steam or diesel train, you can look forward to mile upon mile of great scenery.
Goathland | 20 minute drive from Whitby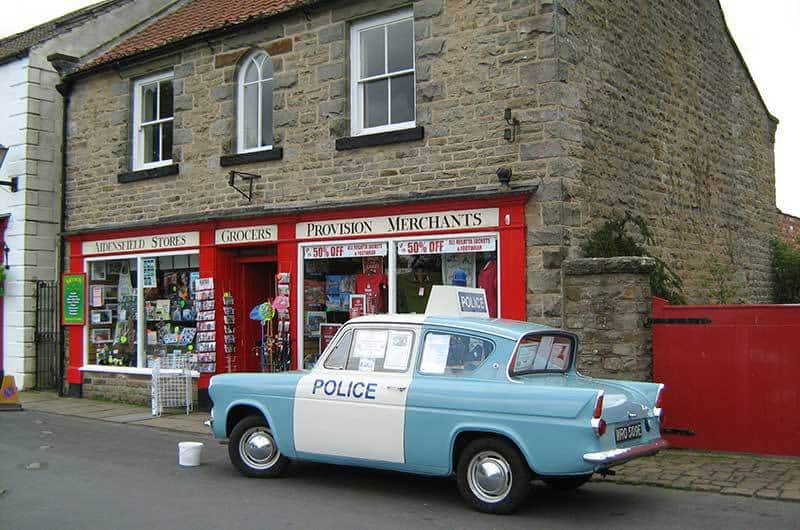 The charming village of Goathland is fun for kids and adults alike. Fans of the TV series Heartbeat will know it as 'Aidensfield', as it was used in the popular series. It also features in the Harry Potter movies, so the kids will love spending time there too. The heritage station in the village was used as 'Hogsmeade' station in the movies. In addition to this, there are some great walks and hikes to enjoy in this area.
Flamingo Land | 40 minute drive from Whitby
You will find plenty of exciting family fun waiting for you at Flamingo Land. This is a great way to spend the day as a family, with plenty to see and do. You can enjoy the thrill of the rides in the theme park, explore nature and wildlife at the zoo and conservation centre, and even look forward to educational experiences for the kids.
Scarborough | 45 minute drive from Whitby
Whether you are looking for fun and attractions or exciting nightlife, Scarborough has plenty to offer. You can enjoy beautiful beaches, lots of events, and many attractions.
Things to do in Scarborough:
North York Moors | 10 minute drive from Whitby
For more than half a century, these moors have formed a National Park. The beauty of these moors is astounding, with a huge carpet of purple heather as far as the eye can see. If you love nature and the outdoors, you will love exploring these moors. There are many paths and tracks where you can enjoy hiking and cycling, making it a great choice for outdoor enthusiasts.
Bridlington | 1.15 hours drive from Whitby
The seaside town of Bridlington is a great place to spend the day. You can relax on stunning, family-friendly beaches, explore the fascinating Old Town, spend time in the historic harbour, and enjoy traditional seaside entertainment. You can take an open-top bus tour and enjoy the sites in comfort, visit Sewerby Hall and Gardens, or try out a number of adventure trails.
With the wide range of day trips that you can take when stopping in Whitby, you will never be short of things to keep you entertained. These trips offer a combination of fun, excitement, history, culture, and much more. By adding some of these day trips to your itinerary, you can make your visit to Whitby all the more memorable.
If you would like to add some more day trips to this list, please comment below.