Two North Yorkshire seaside towns, but which is better? Whitby or Scarborough. In this article, we compare the two and then leave it to you to decide.
Okay, I know we are 'The Whitby Guide', but we're not biased! Scarborough and Whitby are seaside towns we love to visit; both have unique charms. However, Scarborough is a much bigger resort than Whitby; with everything you would expect from a UK seaside resort, it's perfect for young children. Whitby is often described as the smaller and prettier location with steep climbs and cobbled streets. In this article, we compare Scarborough and Whitby so that you can decide which one is more suitable for you or which one is your favourite!
Whitby Beaches Vs Scarborough Beaches
Who doesn't love a day at the beach? North Yorkshire is certainly not short of beaches; Whitby and Scarborough boast beautiful beaches to enjoy.
FREE Whitby Mini-Guide
"Get the best from your stay in Whitby."
Everything you need to know about Whitby into a free mini-guide!
Whitby Beaches
Whitby has five main beaches, Whitby Tate Hill Beach, Whitby West Cliff Beach (Whitby Sands Beach), Upgang Whitby Beach, Saltwick Bay Beach and Sandsend Beach. We love that each offers something different.
On summer days, we love to set up for the day on the stretch of sand between Upgang Beach and West Pier, where many families are doing the same. In true Yorkshire style, a line of colourful beach huts makes for a beautiful photo backdrop.
For the fossil hunters, after a few treasures, head to Saltwick Bay Beach; this is not a spot for playing in the sand or swimming; however, it is a great place to search for fossils such as ammonites and belemnites. You can also find Jet amongst the rocks and shale at either end of the beach. It can be slippy getting down to here and a steep climb back up, so please take care. Look out for the wrecked ship of Admiral Von Tromp whilst you are there.
Please remember there is a seasonal dog ban between May and September; therefore, if you have your dog, they are welcome all year round on nearby Tate Hill Beach. You can find our complete guide to Whitby Beaches and specific information for each beach here.
Scarborough Beaches
Scarborough, like Whitby, has many beaches, South Bay Beach being the busiest at peak times. It is Sheltered from the north thanks to the castle, has soft golden sand and is easy to access from the town centre. It's perfect for families with small children. There are plenty of shops and entertainment nearby, and donkey rides on the beach.
North Beach is away from the road and features a chalet-lined promenade leading to the Sea Life Sanctuary. Although it's great to visit at low tide to explore rock pools, take caution and always check the tide times prior.
Cayton Beach is more peaceful and features ancient woodland and serene waters. Cornelian Bay Beach is what you need for even more isolation, nestled between South Bay and Cayton Bay. The beach hardly gets crowded here, even on a hot summer day.
Whitby History Vs Scarborough History
Both Scarborough and Whitby are rich in history with great Museums where you can learn more about how they are steeped in history. You can learn more about Whitby Museum here and Rotunda Museum features an interesting collection of artefacts covering the ancient history of Scarborough.

Whitby history
Whitby is just oozing with history, including its connections to Dracula, its whaling past and, of course, the explorer Captain Cook. When visiting this small coastal town, there is so much to learn; history makes it unique.
657 is the earliest record of a permanent settlement in Whitby, and it was then known as Streanæsheal, meaning fort bay or tower bay. It could also have meant Streonas settlement. The name Whitby comes from the Old Norse word Hwitebi, meaning 'white settlement'. The name Whitby began to be used in the 12th century. You can learn more about Whitby's history in detail here.
Visit Whitby Abbey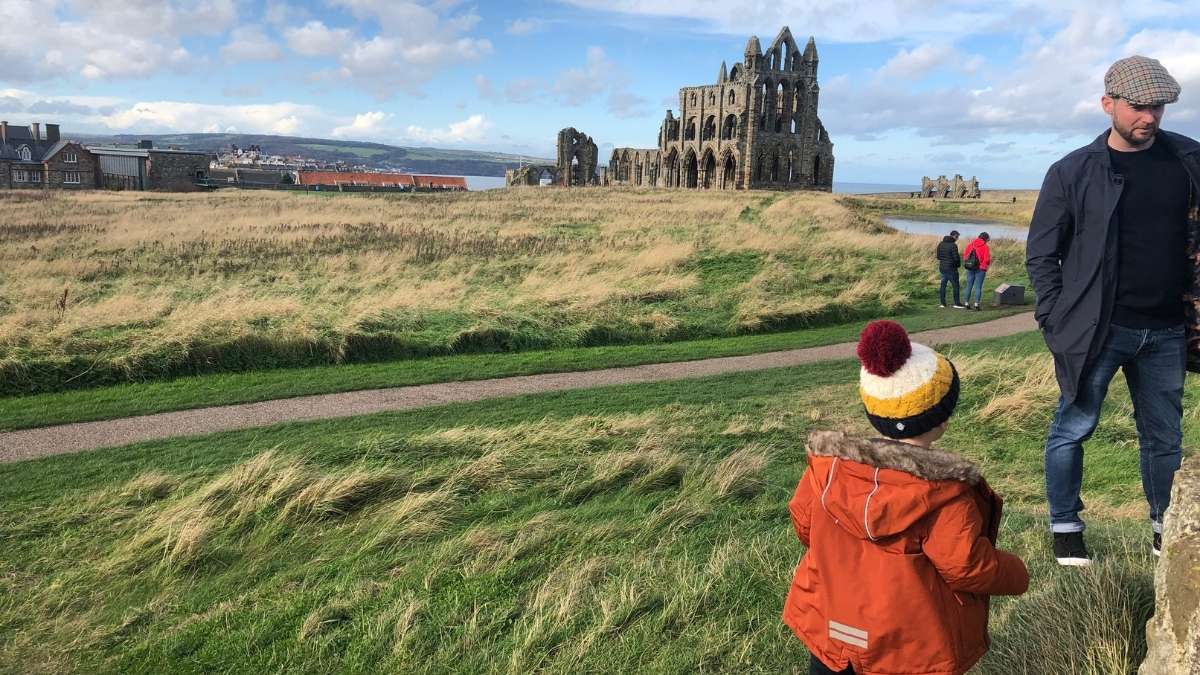 Whitby Abbey is one of the most outstanding examples of an abbey in North Yorkshire; you will be captivated when you visit. This historical landmark has inspired writers, artists and photographers with its stunning views and weathered stone arches. Today English Heritage takes care of the remains of Whitby Abbey. There is a visitor centre and museum on site with interesting exhibitions. Outdoors, the courtyard area is a great spot to enjoy a picnic or something delicious from the coffee shop. You can find more information and book here.
Scarborough history
Scarborough is one of the largest settlements throughout North Yorkshire, dating back to 966 AD. Scarborough is said to have been founded by a Viking raider named Thorgils Skathi. Archaeological studies have confirmed traces of the Stone Age along with Bronze Age settlements throughout Scarborough. King Henry II constructed a stone castle on the headland and then officially granted the town charters in 1155 and 1163. Those charters permitted a market to exist on the sands and established rules by the burgesses. Scarborough is a hardy seaside town that survived the Middle Ages and the First World War after the town was bombarded by German soldiers and warships that were part of the High Seas Fleet.
Visit Scarborough Castle
Scarborough Castle is located between the North and South Bay and is a 12th-century stone castle that overlooks the town. It managed to survive five sieges before it was left in ruins after the English Civil War. It still attracts visitors daily and boasts incredible views across the town. Fancy getting spooked? You can join in the ghost evening tour of Scarborough Castle, available on specific dates, including Halloween.
Whitby things to do Vs Scarborough things to do
One thing both Whitby and Scarborough have is an abundance of things to do!
A few of our favourite things to do in Whitby are to visit the Captain Cook Memorial Museum, which has a wide range of art exhibitions and shows regularly, so you're bound to see something new. Crabbing at Whitby Harbour is always fun, no matter how old we get! We love to visit the Dracula Experience for a few spooks and laughs, and we always love to catch a boat ride from the harbour. Click here for an extensive list of things to do in Whitby.
A few of our favourite things to do in Scarborough are to visit the Scarborough Sea Life Sanctuary; we love to wander around Peasholm Park, located in Scarborough's North Bay, where visitors can hire small rowing boats and pedalos to explore the area too. Most of all, we love re-creating our childhoods, playing in the arcades, and enjoying fish and chips on the beach. Click here for an extensive list of things to do in Scarborough.
Whitby pubs and restaurants Vs Scarborough pubs and restaurants
Now you're done with all that exploring; you are probably ready for some food and drinks.
There are so many pubs in Whitby to choose from, many retaining their traditional character whilst serving delicious food and great drinks. The Whitby pubs and inns located along the West Cliff and East Cliff are particularly popular with visitors and locals; many are child-friendly too. Our favourites must be The Station Inn for drinks and live music and the Duke of York for tasty pub food with harbour views. Find our ultimate Whitby pubs guide here.
Most restaurants in Whitby source all of their ingredients from the Yorkshire area so visitors can try genuinely local food. There are so many brilliant restaurants in Whitby that it is tough to name just a few. However, we can't not mention the Magpie Cafe for unbelievable seafood and fish and chips, Ditto for an intimate and unique dining experience and Moutreys for pizza cooked in a wood-fired oven.
Steeped in history, Scarborough's Old Town is nestled behind the harbour. The area is a maze of cobbled winding streets and alleys lined by a selection of charming houses, quaint shops and cafés and lovely pubs and inns. Of course, we love to visit Scholars Bar for that traditional pub atmosphere.
Like Whitby, Scarborough is well known for its seafood dishes and innovative menus. Whilst in Scarborough, we love to visit the independent and family-run Reflections Restaurant. They feature an a la carte menu and always use locally-sourced fresh ingredients to reflect the changing seasons. Another great place to dine in Scarborough is Clark's for an intimate and cosy dining experience.
Well, there you go! Which is your favourite, Whitby vs Scarborough? Let us know in the comments.