15 fun things to do in Runswick Bay. There are plenty of activities to do while visiting Runswick Bay, in this article, we explore some of the best things to do while visiting this picturesque seaside bolt-hole.
Though it may not first come to mind when one mentions the beautiful and scenic villages of the Yorkshire, Runswick Bay is as pretty and picturesque as its more popular neighbours.
But there is something about this little gem that seduces even the most demanding travellers. Sit back, relax and let us take you through the best things to do in Runswick Bay.
FREE Whitby Mini-Guide
"Get the best from your stay in Whitby."
Everything you need to know about Whitby into a free mini-guide!
1) Explore the town
With its red-roofed cottages, its winding streets, and its quaint and tranquil vibes, Runswick Bay is a pretty hamlet to explore.
Make your way to the winding alleys, admire the little houses and shops while getting a glimpse of the beach and the surrounding cliffs.
You may also try to find the two natural springs that are found in the village. Locals still drink from them and boast of the refreshing taste. Why don't you try it for yourself and let us know?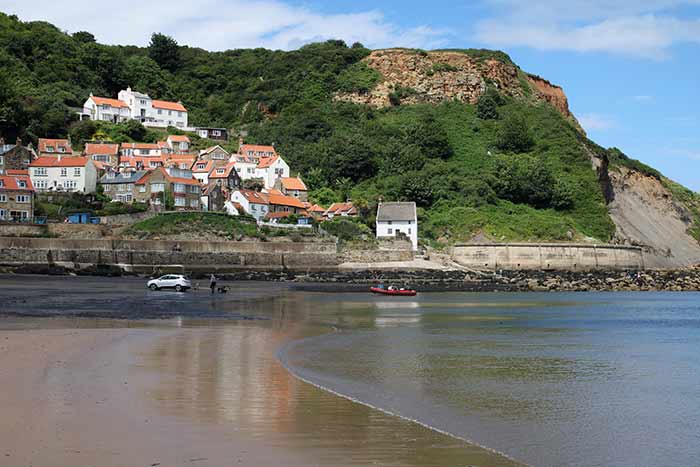 Staying in Runswick Bay
The Firs Guest House in Runswick Bay comes highly recommended. This superb family run bed and breakfast provides a proper Yorkshire hospitality in an enviable location.
There is ample private guest parking and a delicious home-cooked breakfast is guaranteed to start your day the right way.
The Firs is also per friendly so you can bring along your four-legged friend for a holiday to remember in this stunning coastal village.
Address: 26 Hinderwell Ln, Runswick Bay, Saltburn-by-the-Sea TS13 5HR, United Kingdom
Hours: Open 24 hours
Phone: +44 1947 840433
Website: https://www.the-firs.co.uk/
2) Have some beach fun
Runswick Bay boasts a peaceful sandy beach, which is sheltered from the northern winds thanks to Lingrow Knowle, the escarpment towering over the bay.
There are plenty of things to do there, including fossil hunting or exploring the nearby rockpools where you can discover the fascinating sea creatures living in them.
3) Do some beach cleaning
Since you are there, do something for the planet. Look for the #2minutebeachclean board located on the beach and simply follow the instructions.
This is your chance to do something for the community, and the earth by picking up the plastic waste you may find. If you are with your kids, why not even make it fun and entertaining?
This is a great opportunity to teach your kids something valuable while having fun. Plus, the beach will be cleaner and the locals will thank you for it.
4) Take the views in
To enjoy spectacular views, make your way up the steep coastal pathway all the way up to Kettleness, a headland which used to be the site of alum mining from 1727 until the late 1800s. From up there, you will enjoy unparalleled vistas of the sea and the surroundings.
Make a day out of your climb and order a takeaway picnic from Sandside café or make sure to pop by for a scone with cream and jam after your exploration
Phone: +44 1947 893916
Information: Click here to learn more
Address: E Row Bridge, Whitby YO21 3SU
5) Drop by the Runswick Bay Lifeboat Station
Did you know that Runswick Bay Lifeboat Station, which first opened in 1866 and closed in 1978, reopened in 1982 thanks to the efforts of the locals?
Indeed, given the popularity of Runswick in the summer, the residents decided to reopen it to have some cover in case of an emergency.
Managed entirely by volunteers, the lifeboat station is a great reason to venture out by the beach and enjoy the fresh, salty air. You can even support the initiative by dropping some change in the collection boxes you will find around the village.
6) Hike your way around
Hikers will certainly enjoy this coastal village as it is riddled with hiking paths!
Indeed, Runswick Bay is conveniently located on the Cleveland Way National Trail, and therefore, it is the perfect spot to enjoy coastal walks around the village and all the way to Whitby and further.
On your walks, don't forget to take your camera as you will be rewarded with fantastic views over the coast and the sea.
7) Sleep while listening to the waves
For those who love camping, you will be happy to know that Runswick Bay is home to a caravan and camping park, conveniently located from the village's shops and cafés.
The Runswick Bay Caravan and Camping Park is dog-friendly, which is great news for those with four-legged friends. There are 32 pitches with electric hook-up and is a great option in the summer when the surrounding hotels and guesthouses are filled with visitors.
Phone: +44 1947 840997
Information: Click here to learn more
Address: Hinderwell Ln, Runswick Bay, Saltburn-by-the-Sea TS13 5HR
8) Do some water sports
If the weather is nice, why don't you take a few hours to enjoy some water fun? With its calm waters, SUP and kayaking are definitely a great way to explore the coast and venture out.
And don't worry if you haven't packed your equipment, hire some from Barefoot Kayak and spend some memorable moments on the water.
Information: Click here to learn more
For those of you who own their own kayaking gear, you might want t to consider a trolling motor due to the currents around Runswick Bay, you can see a good selection of motors here – https://www.globosurfer.com/best-trolling-motors-for-kayak/
9) Dine at the Royal Hotel Pub
Do you know what you should do after a little hike or a sea kayak session? Have a hearty meal at the Royal Hotel pub. This dog-friendly, family-run pub is the perfect spot to feast on the sunny terrace comes summer, enjoy delicious ales or snuggle in front of the log burner with a delicious meal in the winter.
Phone: +44 1947 840215
Address: Runswick Bay, Runswick TS13 5HT England
10) Enjoy some art in Staithes
Art lovers won't be disappointed. Runswick Bay is a short walk (or drive) from Staithes, another coastal town nearby, which is known for being an art colony in the 19th century.
From this, the town was even home to the Staithes School (also known as the Staithes Group), which included several well-known painters who were inspired by French Impressionists like Renoir ou Cézanne.
Today, the town is still home to several talented painters who regularly exhibit their works in the local galleries. Make sure to drop by for a visit.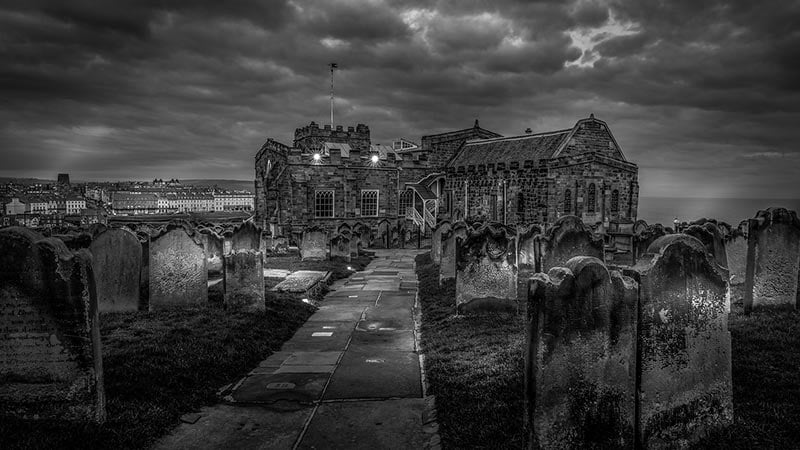 11) Dive into the life of Dracula
If you are fascinated by Count Dracula and want to know more, make your way to Whitby, 9 miles away from Runswick Bay, and take part in the Dracula Experience, an immersive tour through the Dracula story and its connection to the town of Whitby.
With animated scenes, special effects and live actors, this experience is quite faithful to the original story, bringing the fascinating literary work to life. A word of caution, the experience may not be suitable for younger children.
Phone: +44 1947 601923
Information: Click here to learn more
Address: 9 Marine Parade, Whitby, North Yorkshire, YO21 3PR
12) Indulge in some self-care
While taking long walks by the beach is definitely good for your mind, we think you should also take care of your body and attain a level of relaxation with an amazing treatment offered at Amber Room Spa.
Located in the lovely village of Saltburn, the spa is an excellent spot to pamper yourself and get a mani-pedi or have a more in-depth treatment.
Located right beside the sea, the spa is also part of a hotel and restaurant where you can also enjoy a great afternoon tea and some delicious food after your therapy.
Phone: +44 1287 622544
Information: Click here to learn more
Address: The Spa Hotel, Saltburn Bank, Saltburn-by-the-Sea TS12 1HH
13) Do some cooking
Want to get your hands dirty and discover the fantastic array of local produce and food? Then, you are in luck.
Located in the Grinkle Park Farm, near Whitby, the Arches Cookery School is managed by Sarah Muir, a local chef who returned home after exploring the world and cooking for famous artists and bands and started this unique cooking school where guests can cook with the best produce, grown by Muir's own mother.
A great way to spend an afternoon cooking and learning.
Phone: +44 1287 644 231
Information: Click here to learn more
Address: Grinkle Park Farm, Loftus, Saltburn-by-the-Sea TS13 4UD
14) Stay at Cliffemount Hotel
If you really prefer to sleep in a brick and mortar room while visiting Runswick Bay, the Cliffemount Hotel is an excellent option.
This 3-star little hotel will be your home away from home. With a welcoming staff, clean and bright rooms, and splendid views over the coast, the hotel also features dog-friendly rooms.
Want to explore the surrounding areas and don't know where to start? The staff will definitely help you and point out the best spots? Can't decide what to do, once again, the accommodating hotel staff is there to the rescue.
After all, we did say Cliffemount Hotel will be your home away from home…
Phone: +44 20 8089 8579
Information: Click here to learn more
Address: Bank Top Ln, Runswick Bay, Saltburn-by-the-Sea TS13 5JF
15) Have a delicious brunch with the help of Beech Grove Bakery
Anyone visiting Runswick Bay will quickly realise that the picturesque village is quite small. But one thing it shouldn't envy to the bigger touristy destinations nearby is the Beech Grove Bakery.
This homey bakery, which only opens on Saturday is your safest choice when it comes to enjoying delicious bread and baked goods. So if you happen to stay in a nearby cottage, drop by to stock up on yummy sourdough bread and cheese scones for your Saturday brunch. You won't regret it!
Love Whitby? Checkout our latest seaside products in our online shop.