Whilst in Whitby you might like to take a look at some locally made products or sample some of the great local produce on offer. Here we have listed some of Whitby's Artizan and Local Producers you must try on your next trip.
There are many great reasons and benefits for buying local products and produce. You are supporting small local businesses which are so important! As well as sourcing fresh, quality produce. It's good for the environment because you're cutting down the distance the produce has to travel cutting down on the carbon footprint.
FREE Whitby Mini-Guide
"Get the best from your stay in Whitby."
Everything you need to know about Whitby into a free mini-guide!
It also means that you get to try new things and you could even find specialist produce suiting your nutritional needs such as organic, vegan, and gluten-free tasty produce. Here we have listed some of Whitby's artizan and local producers you must try on your next trip.
Botham's of Whitby
We cant write this article without mentioning Botham's bakery which was established in 1865 by Elizabeth Botham. She started by selling bread and cakes from a basket on the local market before eventually buying the premises on Skinner Street. The business has grown from strength to strength and is now proudly run by the fifth generation of her family.
The bakery produces a vast range of Artisan bread, bracks, tea bread, biscuits, and cakes which you can either buy from the shop or sit down in the tea room and enjoy with one of their own blends of tea or coffee.
Opening hours:
Skinner Street Shop: Monday – Saturday 8.30am – 4.45pm
'Botham's of Upstairs' Tea Room: Wednesday – Saturday 10am – 4pm
Located on Whitby's West Cliff, you will find their original shop and tea rooms on the popular and characterful Skinner Street. Bookings are available for afternoon teas only (Tel: 01947 602823 option 7 Wed-Sat)
Can't get to Whitby? Don't worry…we sell a range of Whitby hampers in our online shop which make beautiful gifts and some include tasty items from Botham's.
View our range of Whitby hampers here.
Whitby Gin
Whitby Gin is hand distilled in small batches with everything all done by hand. They ensure the highest quality gin is produced in one pass of the still by following a single shot London Dry Gin distillation process.
Their hand-beaten copper still allows them to capture only the finest alcohol, offering a superior quality product. Because they choose not to chill to filter, the gin is full of flavourful botanicals oils. This is noticeable through the pearlescent glow when their gin is chilled. They use a mix of traditional ingredients such as sustainably foraged Heather tips from the North York Moors, Sugar Kelp from Robin Hood's Bay, and raw honey from a local Bee Keeper.
Buy online and find more information here.
We sell a range of Whitby hampers in our online shop including Whitby Gin hampers which make beautiful gifts.
Browse our Whitby Gin hampers here.
Justin Chocolatier
Justin's in Whitby has been making artisan chocolates and fudges since 1981. Wander along Church Street and you are sure to find this beautiful little shop. You'll smell the chocolate for sure!
The confectionery is lovingly made using high-quality and natural ingredients. Some ingredients are sourced locally such as Whitby sea salt. You can also find certain Vegan treats. As well as the traditional chocolates and fudges Justins is also known for its Whitby-themed novelty chocolates such as Captain Cook's Cannon Balls and Dracula's Coffins.
Opening hours:
Located at 129 Church St, Whitby YO22 4DE.
This Whitby hamper is perfect for those with a sweet tooth. Featuring chocolate from renowned chocolatier Justin's of Whitby and biscuits from the local bakers Botham's.
Fortunes
Fortunes are still in its original location on Henrietta Street since 1872 founded and were by William Fortune. Fortunes smokehouse produces Award Winning kippers, smoked salmon, and bacon. You'll smell it before you see it.
This family-run business has been passed down through the generations currently it is run by the fifth generation of the Fortune family. It is Whitby's only traditional smokehouse. They still use the same traditional methods to produce Whitby kippers to this day. No other ingredients are added, their distinct colour and flavour come purely from the smoking process.
Opening hours:
They are open from 9 am to 3 pm Monday to Saturday and 10 am to when they have sold out on Sunday.
Located at 22 Henrietta Street, Whitby YO22 4DW.
Whitby Brewery
Whitby Brewery started up its microbrewery back in 2013, they made it their mission to bring local, craft brewing back to Whitby. They had been brewing some pretty fantastic beers at home for quite a while and thought it would be a good idea to share their creations with the whole town. They rolled up our sleeves and, together with local craftsmen, built their brewery.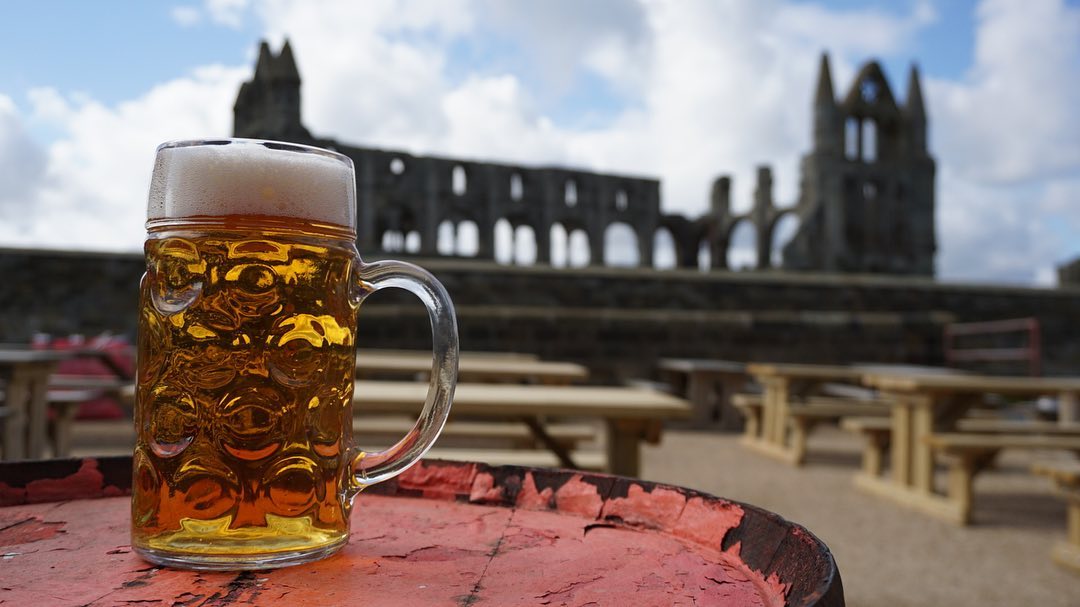 Their delicious range of real ales can now be found around Whitby town and further afield at pubs and festivals around the region. Look out for their beer in the pubs of Whitby and the surrounding villages. Bottles, glassware, and gift packs are available throughout Whitby too, they make ideal presents. They also attend various festivals and events around the country, so check out the events section on their website to see where they will be over the coming months.
Brewery tours
Why not take a 45-minute tour of the Brewery. You'll find out about their brewing process, the ingredients, tools, and technology they use as well as their history and their plans for the future. Afterward, you'll be welcome to sample 3 of their ales in the bar. Tickets cost £10 and include 3 1/3 pint tasters. Children are free as part of a family group, but schools or other groups should call us to arrange a private tour.
Located at East Cliff, Whitby YO22 4JR.
Find more information and buy online here.
The Magpies Whitby Catch
The Whitby Catch offers a large selection of fresh fish and seafood here you can buy different fish products available daily it's a seafood connoisseur's dream!
The catch comes straight in from the sea and into the auction market. Once selected, the fish just has to cross the road to the shop ready to be prepared before your eyes to your own requirements in their custom-built preparation area. You really can't get fresher than that.
You can shop online too, for more information visit here.
Opening hours:
The shop is open from 9 am until 4 pm, 7 days a week.
Located at 1 Pier Road, Whitby, North Yorkshire, YO21 3PT.
Whitby Sea Salt
Enhance your meal and enjoy a taste of Whitby at home or on the beach with Whitby Sea Salt and Whitby 'Proper' Vinegar. Whitby Sea Salt is a small family-run business. They produce Whitby Sea Salt using the most environmentally friendly methods available.
Whilst in Whitby try and spot their recently rescued and refurbished traditional local Fishing Coble that was built in 1963. 'SeaSalt' regularly leaves Whitby Harbour to harvest the sea salt which in turn will help to preserve this valuable, traditional wooden fishing boat for generations to come.
We now stock their products in our online shop and you need to grab yourself some, they are perfect for Friday fish and chip nights! Buy them here.
Whitby Ammonite Soaps
Mount House, the stylish Georgian B&B in the heart of Whitby, is the beautiful home of Ruth Denison, creator of a range of stunning handmade ammonite soaps. The soaps are handmade from moulds of original Whitby ammonites found locally on the beach at well-known fossil sites along the Jurassic Coast.
The moulds themselves are handmade by Ruth from silicone impressions of the ammonites. A fascinating process that was inspired by Ruth's work as a translator. These unique handmade ammonite soaps come in three distinct designs; dactylioceras, hildoceras and ichthyosaur.
These delightful ammonite soaps are handmade at Mount House from natural ingredients. The finest essential oils are used in the preparation of these wonderful artisan cosmetics.
We stock these beautiful soaps in our online shop, you can buy them here.
Let us know if you have tried any of these products in the comments.