Goathland Pubs; Our Guide To The Best Pubs In and Around Goathland
In this piece we're taking a look at Goathland Pubs. There are a selection of fine pubs in Goathland to enjoy a refreshing pint or a delicious meal after a walk across the moors. Here's our handy guide to Goathland Pubs, including the world famous 'Aidensfield Arms'.
Goathland is a picturesque village within the boundaries of the North York Moors National Park. It is situated just 9 miles south of Whitby and has a population of just 438. Whilst most famous for being the village setting for the TV series Heartbeat, Goathland also is noted for its rich history.
Free Whitby Mini Guide
"Get the best from your stay in Whitby"
We have compiled everything you need to know about Whitby into a
free mini-guide!
Download Now
Extending back to Viking times Goathland, possibly meaning, the good land became a spa town in the 19th century. It is now home to one of the railway stations at which the North York Moors steam train stops. Also nearby is the stunning Mallyan Spout waterfall which can be seen on many woodland walks.
"Goathland, possibly meaning, the good land"
Accommodation wise, for a small village, Goathland has many hotels, guesthouses and cottages. It also has several public houses, some of which also offer a place to stay, nearby or within a few miles. One of these is fantastically famous for being 'The Aidensfield Arms' in Heartbeat, and it is there we shall start our Goathland pubs journey.
The Goathland Hotel & Pub
The Goathland Hotel is a family run public house and hotel that was established in 1860. It has 7 en-suite rooms, a self-catering cottage, a lounge, 2 family rooms and a fabulous beer garden.
This Goathland Pub serves various hand pull ales, wines, spirits, soft drinks and over 16 malt whiskeys. A very good selection when you come to choose your nightcap. Dogs on leads are welcome and children are permitted in the family rooms. Opening hours for the pub are 11 am until 3 pm and 7 pm until 11 pm daily.
The 7 en-suite rooms available all come with magnificent views, TV's, hospitality trays and toiletries. They have double, twin and family rooms available. The self-catering cottage is located just next door.
Food at the Goathland Hotel is available every day between 12 noon and 2 pm for lunch and 7 pm and 8 pm for evening meals. The menu is varied including bread from local artisan bakeries and meats from the local butchers. Selections include soups, filled Yorkshire puddings, steak and kidney pies, deep fried Whitby scampi, and burgers for your main meal. Desserts such as treacle tart, ice cream sundaes and cheese and biscuits are available too. You may also want to check out the specials boards which change on a regular basis.
Fans of TV's Heartbeat will also discover souvenirs available such as Heartbeat mugs and other delights. Should you wish to visit another Heartbeat regularly featured pub there is also the Postgate Inn at Egton.
Address: The Green, Goathland, YO22 5LY
Phone: +44 1947 896 203
Want to stay here? Check availability and book your room
"Heartbeat fans will love the Aidensfield Arms"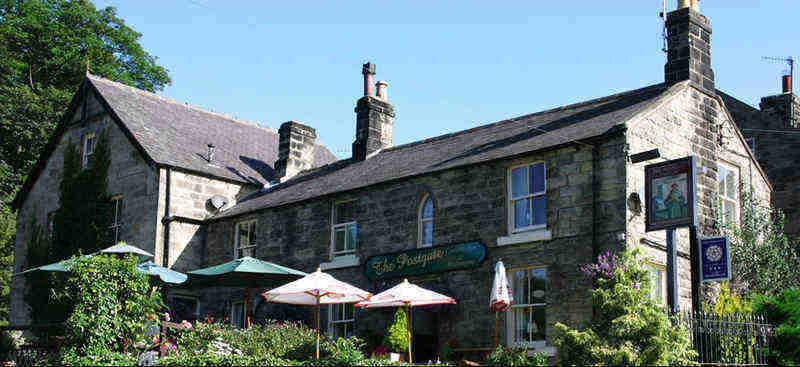 The Postgate Inn
The Postgate Inn which also featured in the TV show Heartbeat as 'The Black Dog' is located in the village of Egton just 5 miles from Goathland. It too offers bed and breakfast accommodation, great food and a splendid beer garden.
The accommodation consists of three en-suite rooms all with queen size beds, hospitality trays, and TVs. They are all pet and family friendly as is the pub itself.
The menu at The Postgate includes starters such as pate, surf clarez, and black pudding. Mains on offer are steak and Guinness pie, beef wellington, fish and game dishes. They also offer daily specials and change their menus on a seasonal basis.
Address: Egton Bridge, Whitby, YO21 1UX
Phone: +44 1947 895 241
Website: www.postgateinn.com
The Horseshoe Hotel
The Horseshoe Hotel is located at Egton Bridge just 5 miles from Goathland. It offers a homely bar, snug restaurant and fabulous bed and breakfast accommodation. It is set in the heart of the North York Moors on the banks of the river Esk.
Food at the Horseshoe Hotel is locally sourced and freshly made and can be enjoyed in their dining area, round the bar or outside. Please note, however, that the outside menu is different to that available inside the pub. Food service times are 12 noon to 2 pm and 6 pm to 8.30pm Monday to Saturday and 12 noon to 7 pm Sundays.
Accommodation available is either double or twin en-suite with TV and free wifi. Single rooms are available at a supplement. Breakfast is served between 8 am and 9 am.
Address: Egton Bridge, Whitby, YO21 1XE
Phone: +44 1947 895 245
Want to stay here? Check availability and book your room
The Black Bull
The Black Bull, Ugthorpe features in the CAMRA Good Beer Guide for 2017 which is an excellent indication of them serving great real ales. As standard, they stock John Smiths Smooth and Theakstons plus a regular guest ale on a rotational basis. Details of their current guest and those to come can be found on their website.
Interestingly, and differently, The Black Bull also offers an 'ale to go' service where you can the ale of your choice decanted into a bottle for you to take away. Bottles are rented for a couple of pounds which is refunded when you return the bottle.
Other drinks on offer include Stella, Carling, Strongbow, Guinness, various wines, and spirits. The pubs opening hours are 6 pm to 11 pm Monday and Tuesday, 12 noon to 2 pm and 6 pm to 11 pm Wednesday to Sunday.
The Black Bull also offers a food menu that has something for everyone. Starters include classics such as the prawn cocktail and garlic mushrooms and more inventive dishes such as chilli and ginger chicken goujons and baked brie in serrano ham. Traditional grills and steak and ale pies are offered for mains alongside chicken and pineapple curry and melting middle fishcakes. For vegetarians, there are dishes such as butternut squash and sweet potato lasagne.
Address: Postgate Way, Ugthorpe, Whitby, YO21 2BQ
Phone: +44 1947 840 286
Website: www.blackbullwhitby.co.uk
"Take away your favourite real ales"
The Board Inn
Situated in the village of Lealholm The Board Inn dates back to 1742 and is full of charm and character. It too features in the CAMRA Good Beer Guide with its three real ales served in either the lounge or bar. The Board Inn also serves 7 real ciders and over 60 malt whiskeys making it definitely the place of choice in this Goathland pubs guide if you like a tot!
Food wise everything they serve is homemade and sourced locally. In fact, the beef and lamb are sourced right on their doorstep as this pub has its own herds. They also home cure all their bacon and hams. Vegan, lactose intolerant and gluten-free options are available.
Outside the pub is a lovely terrace which can be used for fishing on the river Esk. They also hold BBQ's and live music events here with dogs and children most welcome. Should you stay a little too late, accommodation is available.
The Board Inn has 6 rooms within the pub and four holiday cottages in the village. All rooms are en-suite with TVs and hospitality trays. Children and dogs are again welcome. If you're looking for something a little bit special, why not take advantage of one of this Goathland pubs deluxe packages which include fruit, flowers or chocolates on arrival.
Address: Lealholm Ln, Whitby, YO21 2AJ
Phone: +44 1947 897 279
Website: www.theboardinn.com
The Coach House Inn
Located at Rosedale Abbey the Coach House Inn is a member of CAMRA and serves all real ales from Yorkshire. The breweries they have chosen for this are Theakstons, York Brewery and Helmsley Brewing Company. If ale isn't your thing they also offer coffee mornings on the 1st Saturday of every month.
Food is available every day and is all locally sourced and freshly prepared. They also offer a takeaway service which includes burgers, pizzas, fish and chicken dishes. Food is served weekdays from 12 noon to 2 pm and weekends 12 noon to 2.30 pm and 6 pm to 8 pm.
The menu here is varied with choices such as steak pies, Thai prawns, butter chicken, sandwiches, burgers, cheesecakes, and possets. They also have a small children's menu with some dishes being available off the main menu as a smaller portion too.
Address: Rosedale Abbey, Pickering, YO18 8SD
Phone: +44 1751 417 208
Website: www.coachhouseinn.co.uk
"Real ales from Yorkshire are served here"
The Wheatsheaf Inn
The Wheatsheaf Inn is a 19th-century pub situated just 6 miles from Goathland. It has three double rooms, a child's bunk room and a holiday cottage for those looking for accommodation nearby. The bar is open from 5.30pm daily with food being served Tuesday to Saturday 12 noon to 2 pm and 6 pm to 8.30pm. On Sundays, food is served from 12 noon to 2 pm only.
Two separate menus are offered here, one for lunch and one in the evening. Lunchtime offers choices such as sandwiches, soups, souffles, risottos, and burgers. The evening menu includes belly pork, fish stews, steak and mulled wine pie, lambs kidneys and brazil nut and cranberry roast.
Address: High St, Egton, Whitby, YO21 1TZ
Phone: +44 1947 895 271
Website: www.wheatsheafegton.com
The Arncliffe Arms
Located in Glaisdale just 7 miles from Goathland, The Arncliffe Arms is a traditional village pub first established in 1865. Located on the doorstep of the coast to coast walk, this pub is also just minutes from the famous beggar's bridge where lovers Tom Ferres and Agnes Richardson were rumoured to have met.
As a free house this pub offers a large range of hand pulled ales, draft beers, spirits, and wines. The bar is open from 12 noon every day. Food service varies with a 12 noon to 8 pm service on a Sunday and two sittings Monday to Friday. These are 12 noon to 2.30pm for lunch and 6 pm to 8.30pm for evening meals. Saturdays food runs from 12 noon to 9 pm.
The menu here includes soups, pates, pork dishes, lasagne, curries, chicken and fish dishes, grills, sandwiches, burgers, and pies. There are two separate menus for lunch and evening service. All food is locally sourced and freshly prepared.
You can also stay at the Arncliffe Arms with 6 en-suite rooms being available. Each room comes with TV/DVD and hospitality tray. There is one double room, 2 twins, 2 singles, and 1 triple room.
Address: Arncliffe Terrace, Glaisdale, Whitby, YO21 2QL
Phone: +44 1947 897 555
Want to stay here? Check availability and book your room
The Inn On The Moor
The Inn On The Moor is a dog friendly pub with rooms featuring an iconic custom made motorcycle at the centre of it's bar. This striking focal point is a tribute and memorial to a local friend of the bar. Enjoy a hot meal in the restaurant or a cool beverage in the bar.
The menu provides home cooked food using fresh seasonal ingredients and in the bar there is a selection of beers from breweries near and far, including wines and spirits from around the world.
Address: The Mill Green Way, Goathland, Whitby, YO22 5LZ
Phone: +44 1947 896 296
Mallyan Spout Hotel
Mallyan Spout Hotel takes its name from the nearby waterfall, just a stones throw from the grounds and one of the main attractions to see during your stay in Goathland. The bar and restaurant are open to the public, so you need not stay at the hotel to enjoy these facilities. Famed for its Sunday roast, Mallyan Spout is a great place to relax after a long days walking across the stunning North York Moors.
Mallyan Spout Hotel offers room service and champagne on arrival for those seeking to impress their companion can be provided on request.
Address: Goathland, North Yorkshire, YO22 5AN
Phone: +44 1947 896 486
Want to stay here? Check availability and book a room online
Birch Hall Inn
The final pub in this Goathland pubs guide is the Birch Hall Inn at Beck Hole, situated just one mile from the village. It features not for its huge food menu or its wide drinks selection for it offers neither, but for itself! Birch Hall Inn is quite possibly the tiniest pub you will have ever seen!
Here in these tiny surroundings, you can partake in a variety of real ales, hot drinks, butties, and pies. They are also famous for their homemade scones and beer cake.
Address: Beck Hole Rd, Whitby, YO22 5LE
Phone: +44 1947 896 245
Website: www.beckhole.info
Goathland related content