Looking for a luxury break in Yorkshire? Our selection of luxury accommodation in Whitby is a fine place to start.
Whitby is a town located in the borough of Scarborough on the coast of North Yorkshire. Predominantly it is a fishing port and tourist destination that has grown in popularity since Georgian times. It is also home to the legendary Dracula, the 199 Steps and a Benedictine Abbey. There is a wide selection of luxury accommodation in Whitby if your looking for something a little extra special. In this article we take a look at the top choices.
With other local places of interest such as Sandsend, Scarborough, Staithes, Runswick Bay, Filey and the gorgeous North York Moors it is a fabulous place to make your holiday base. Many types of holiday can be taken in Whitby including leisurely luxurious ones.
Free Whitby Mini Guide
"Get the best from your stay in Whitby"
We have compiled everything you need to know about Whitby into a
free mini-guide!
Download Now
Luxury accommodation in Whitby
Every now and then everyone deserves a little bit of luxury, and where better to seek a luxury break than in Whitby?
We take a look at some of the top luxury accommodation options in Whitby.
The Leeway B&B – Luxury Accommodation in Whitby
The Leeway quality boutique bed and breakfast in Whitby consistently scores highly for luxury and quality. Top reviews on TripAdvisor have earned The Leeway the enviable reputation they enjoy as one of the Top 5 bed and breakfasts in Whitby. With so many B&Bs in Whitby, this is a sure sign that standards are high at this luxury accommodation in Whitby.
Luxuries include:
Individually Styled Rooms
Luxury Finish
Green Award Winners
Gilchrest and Soames BeeKind toiletries
Delicious Local Produce Breakfast
Homemade Cake On Arrival
Website: www.theleewayqualityboutiquebandbwhitby.co.uk
Phone: +44 1947 602 604
Address: 1 Havelock Place, Whitby, North Yorkshire, YO21 3ER
More info: Learn more about The Leeway here
Dillons of Whitby – a taste of real luxury in the heart of Whitby
Overlooking the stunning Pannett Park is the multi award winning Dillons of Whitby. This luxury boutique bed and breakfast benefits from on site parking for most guests, provides complimentary cosmetics for all guests and serves one of the best breakfasts in town made with locally sourced ingredients.
At Dillons you can enjoy:
Fine Egyptian cotton
Locally sourced ingredients
Onsite parking
Tastefully themed rooms
Ensuite bedrooms
Complimentary toiletries
Views of Pannett Park
Website: www.dillonsofwhitby.co.uk
Phone: +44 1947 600 290
Address: 14 Chubb Hill Road, Whitby, North Yorkshire, YO21 1JU
More info: Learn more about Dillons of Whitby here
Coal Merchants House – luxury adult accommodation close to Whitby
Enjoy a relaxing stay in this charming luxury bed and breakfast in the beautiful semi rural setting of Ruswarp, just a mile from Whitby. Perfect for cyclists and walkers seeking comfortable accommodation with simple luxury touches. Feast on a full vegetarian, vegan or Yorkshire breakfast ahead of a busy day out on the glorious North York Moors.
Off Street Parking
Free Wi-Fi
Hearty Breakfast with Vegetarian & Vegan Option
Cycle Storage
Complimentary Bottled Water
Hospitality Trays with Proper Coffee, Botham's Biscuits and Fresh Milk
Fairtrade Toiletries
Smart TVs with Netflix
Luxurious bed linen
Website: www.coalmerchantshousewhitby.co.uk
Phone: +44 1947 821 421
Address: 34 Ruswarp Ln, Whitby, YO21 1ND
Palmers Cottage – The Ultimate In Luxury Accommodation In Whitby
If you're looking for the ultimate in luxury accommodation in Whitby, then this stunning holiday cottage is for you. Palmers Cottage is sleeps 8 – 10 people, has three bathrooms, and has a luxury high-end finish throughout. There is a large family kitchen, perfect for those special get togethers and celebration meals.
The walled garden offers peace of mind and a secure place for children and pets to play. The patio area has super comfy sun loungers, chairs and BBQ. There is ample private parking.
Luxuries include:
High End Spec Throughout
Freestanding Copper Bath
Walk In Shower
Secure Walled Garden
Ample Parking
BBQ and Patio Area
Book directly to receive a luxury hamper of local produce upon arrival of your stay at Palmers Cottage. A unique gift for your perfect Whitby holiday.
Booking: Click here to learn more about Palmers Cottage
Nutshell Apartment
Situated only two minutes from all the local amenities Nutshell Apartment is housed in a stunning converted Victorian property. It has been decorated with a nautical theme running throughout and compromises of a sitting/dining room,kitchen, bathroom and bedroom over two floors. It is the ideal retreat for any luxury seeking couple. Access is gained through an ornate iron gate and up sixteen external steps. Once inside all rooms are to be found on the ground floor of the apartment other than the mezzanine bedroom. The kitchen is of a bespoke galley style with slate flooring, ceramic sink and a good range of appliances. The entire apartment is centrally heated with additional underfloor heating in the wet room.
Amenities include:
Oven with hob
Microwave and fridge
Freeview TV with DVD
Radio
Books, games and DVD's
Linen/towels
Parking permit
No pets/smoking
Booking: Click here to book your stay at Nutshell Apartment
Rockcliffe Boutique Apartment
Located 0.7 miles from Whitby Abbey and 18 minutes walk from the beach Rockcliffe Boutique Apartment is a little bit of heaven. Stripped floors, a fabulously comfortable wrought iron bed and a range of contemporary furniture make it an ideal haven of relaxation for any couple or family. All the units have modern kitchens, spacious bathrooms and living rooms with comfortable couches and all the mod cons. They are also fitted with central heating and wifi. The second bedrooms contain galley style wooden bunk beds.
Amenities include:
Fully equipped kitchen
Flat screen TV and DVD player
Private on-site parking
Dishwasher available
Booking: Click here to book Rockcliffe Boutique Apartment
The Post House
Just a few short miles along the coast from Whitby is the delightful and stunning Robin Hoods Bay. The beach is world class, the views breathtaking and the accommodation luxurious. The Post House, situated in Upper Bay, is a four bedroom property that sleeps up to eight adults, in spacious and comfortable surroundings. There is private parking for two cars, two large bathrooms, two lounges and an enclosed garden to the rear. Choose this property for family get togethers, celebrations and peace and quiet. The Post House is one of the best choices for luxury accommodation in Whitby.
Amenities include:
Private parking for two cars
Two spacious lounges
Two bathrooms
Enclosed rear garden
WiFi
Music centre
Sky TV and DVD player
Booking: Click here to book The Post House
Phone: +44 1947 821 803
The Firs Guesthouse
A few miles in the opposite direction from Robin Hoods Bay is the charming and equally beautiful Runswick Bay. Nestled among the trees on the hillside this traditional fishing village is both picturesque and pretty. On a hot and sunny day, its easy to feel like you're on the Mediterranean Coast. To ensure a wonderful stay in this fabulous area we would highly recommend The Firs Guest House. Situated at the top on the cove on Hinderwell Lane, this spacious family run bed ad breakfast offers the true Yorkshire experience for those seeking a bit of variety on their Whitby trip. The North Yorkshire Moors are on your doorstep, Whitby just twenty minutes drive and the beach at Runswick will leave your spellbound.
Amenties include:
Off road parking
Room only on request
Delicious Yorkshire breakfast
Close to the beach
Beautiful location
Phone: +44 1947 840 433
Booking: Click here to learn more about The Firs Guesthouse
Address: 26 Hinderwell Lane, Runswick Bay, Nr Whitby, North Yorkshire, TS13 5HR
The Old Byre
Sandsend is a hop, skip and a jump along the beach to Whitby, so if you're looking for luxury accommodation in Whitby without the hustle and bustle of the town, The Old Byre in Sandsend offers top quality family accommodation with the peace, quiet and natural beauty of Sandsend Bay. The property has three bedrooms, sleeping five, split over two storeys of a superbly renovated cottage. Packed with original features including wood beams and an old cow byre, The Old Byre enjoys sea views towards Whitby. For those cosy nights in there's underfloor heating throughout. A stay in this cottage has the best of everything.
Amenities include:
Bath and Walk In Shower
Patio with Seaviews
Original features
Off road parking
King size bed
No smoking
No pets
Booking: Click here to book The Old Byre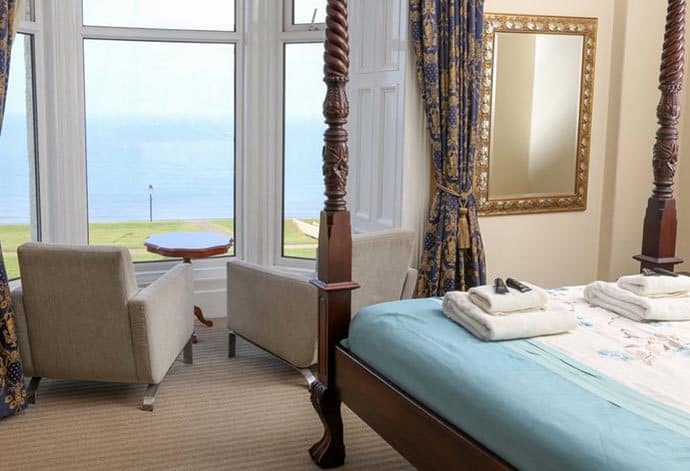 Riviera Guest House
Looking for luxury accommodation in Whitby with a sea view? You'll find it here at the Riviera Guest House. Decked out with four poster beds, sea views and a scrumptious breakfast each morning, you'll never want to leave this oasis of calm and beauty. All the rooms at the Riviera are sea facing and come with fluffy towels, en-suite facilities and include the delicious breakfast. Situated on the peaceful West Cliff of Whitby, all the local attractions are within easy walking distance; the beach, Whitby Pavilion and the famous Whale Bone Arch are just minutes away.
Amenties include:
Stunning Sea Views
West Cliff location
Four Poster Beds
Ensuite Facilities
Excellent Breakfast
Website: www.rivierawhitby.com
Phone: +44 1947 602 533
Address: 4 Crescent Terrace, Whitby, North Yorkshire, YO21 3EL
More info: Learn more about The Riviera Guest House here
Heathfield Bed and Breakfast
A warm welcome awaits at the Heathfield bed and breakfast. This luxury accommodation in Whitby boasts all the trappings of a quality guest house; off road private parking (so rare in Whitby that this is a real bonus), locally sourced produce for the delicious breakfast, en-suite bathrooms for all rooms and free WiFi throughout the property. Your hosts, Linda and John are on hand to help you with any local information and to ensure that your stay is as comfortable and enjoyable as possible. Relax at the Heathfield during your trip to Whitby.
Private parking
Open all year round
Centrally located
Free WIFI
Booking: Click here to check availability and book online
Address: 22 Prospect Hill, Whitby, North Yorkshire, YO21 1QD
Wren Cottage
Located just four miles from Whitby in the lovely village of Iburndale, Wren Cottage is a top choice for luxury accommodation in Whitby. This pet friendly property with an enclosed garden is perfect for your four legged friend. The CAMRA rated Plough Inn is just a half mile walk for essential liquid refreshment as is the local shop for last minute supplies. Choose Wren Cottage for pet friendly convenience and cosy traditional breaks that feel like home from home.
Amenties include:
Pet friendly
Close to pub
WiFi
Peaceful setting
Enclosed garden
Booking: Click here to book Wren Cottage
Phone: +44 1924 824 428
Ellies Guest House
Rest assured of a very warm Yorkshire welcome at Ellies Guest House. With en-suite facilities, Freeview TV and a high standard of furnishings and decoration, this luxury accommodation in Whitby is a firm favourite with visitors seeking a pleasant and enjoyable stay on the West Cliff of Whitby. Boasting a conveniently central location, Ellies Guest House is close to all the major attractions and is within easy walking distance of the bars and restaurants on Pier Road and Baxtergate. Your hosts, Val and Pete Vardy, are on hand to attend to your needs as they arise.
Amenties include:
Central West Cliff location
Ensuite facilitlies
Delicious cooked breakfast
Hospitality tray
Phone: +44 1947 600 022
Website: www.elliesguesthouse.co.uk
Address: 4 Langdale Terrace, Whitby, North Yorkshire, YO21 3EE
Highgate House Bed and Breakfast
Highgate House is an immaculately presented bed and breakfast that offers the height of luxury within its walls. On entering you are greeted by a light and airy hallway with a staircase leading up to its sumptuous bedrooms. Each bedroom contains ornate features such as four-poster beds, intricate wallpaper designs and even freestanding baths of the highest quality. The house itself is set in a lovely garden with some rooms having a garden view. Both full English and Irish breakfast is available on a daily basis. Once you have had your breakfast you will find yourself only 650 yards from Whitby Abbey and 350 yards from the lighthouse. Highgate is an adult only B&B making it perfect for those couples who want a quiet break.
Amenities include:
Flat screen TV
Kettle
Daily maid service
Heating Wifi
No smoking
Booking: Click here to book Highgate House
Cottages at the Raithwaite Estate
The cottages at the Raithwaite Estate are located on the edge of the North York Moors National Park, 2.3 miles from Whitby. Seated within 100 acres of the countryside they also come with the added luxury of spa treatments, swimming pool, valet parking, concierge services, a high-class restaurant and a comfortable bar serving drinks and cocktails. The cottages themselves are modern with stylish spacious interiors, fully fitted kitchens and french doors leading onto private patios. You can choose from two bedrooms, sleeping four or three bedrooms sleeping six.
Amenities include:
Wifi
TV
Parking
Pets allowed
Non-smoking rooms
Restaurant
Indoor pool
Booking: Click here to book Cottages At Raithwaite Estate
Airy Hill Old Farmhouse
The old farmhouse is an ideal option for larger parties wanting a luxury feel to their vacation. Sleeping eight between four bedrooms this farmhouse is spacious and designed for open plan holidaying. They are also light and airy with floor to ceiling windows that allow sight of the glorious views and let plenty of light in. Decorated and furnished in a contemporary fashion Airy Hill has travertine floors, leather sofas and cosy wood burners for those chilly evenings. There are also several cottages at this property that have all been designed slightly differently to ensure that there is the accommodation to suit everyone's needs. For those of an energetic nature, there is a public footpath next to the accommodation that leads to the Esk Valley Walk. The centre of Whitby itself is only a half mile away too.
Amenities include:
Fully equipped kitchen
TV with Freeview and DVD player
Open fire Garden/patio
Washing machine and dishwasher
Cot/highchair available
DVD's and books
Off road parking for four cars
No smoking
Two well-behaved dogs welcome
Booking: Click here to book Airy Hill Old Farmhouse
Mariners Rest
The Mariners Rest is a semi-detached property overlooking the railway and harbour with easy access to the North York Moors. It is also situated no more than ten minutes from the beach and five minutes from the local amenities. Spread over three floors Mariners Rest can sleep up to eight people with four bedrooms and three bathrooms. The second-floor bedroom not only has an ensuite bathroom but also french doors leading onto its own private balcony. The decor and furnishings at Mariners Rest are contemporary, bright and airy. Each room is individually styled with great attention to detail. There is underfloor heating throughout the downstairs and an electric living flame fire. Leading off the living room through french doors there is a patio where you can watch four steam trains a day pass by in summer.
Amenities include:
Bed linen/towels
Off road parking
Travel cot/highchair
Well equipped kitchen
Central heating
Two TV's with Freesat and DVD player
Wifi Games, books and DVD's
Bath and shower
No smoking
One dog welcome
Booking: Click here to book Mariners Rest
Mermaid Cottage
Situated only five minutes from the beach Mermaid Cottage is a modern and bright cosy apartment just right for two. It is also in the ideal location for visiting all of Whitby's many tourist attractions. Accessed through internal stairs that lead to its own private entrance this converted fishermans cottage comprises of a modern well equipped kitchen, large sitting room, double bedroom with king size bed and bathroom with both shower and bath.
Amenities include:
Central heating
Oven/hob
Washer/dryer
2 x TV's both with Freeview and DVD
Ipod dock Books, games and DVD's
No pets/smoking
Booking: Click here to book Mermaid Cottage
Bagshawes
Bagshawes consists of three stunning apartments all of which have been decorated and furnished to the very highest of standards. They are located only a one minute walk from the beach and a three minute walk from the Captain Cook Museum. Quill – The first of the three apartments is truly sumptuous and covers 50% of the second floor. It comprises of a luxury sleeping area with dedicated seating area. Deed – The smallest of the three apartments is located on the first floor and great for people watching in the street below. This gorgeous room has all the facilities of the others but its sitting room is located across the hall.
Parchment – This suite comprises of two adjoining rooms making it ideal for those who would like to keep sleeping and relaxing in the sitting room completely separate.
Amenities include:
Central heating
Daily maid service
Free parking
Wifi
Mini fridge
TV's with satellite channels
Courtesy tray
Electronic safe
Booking: Click here to book Bagshawes
Gipsy Cabin at Middlewood Farm
Is luxury camping an oxymoron? We don't think so. Middlewood Farm offers a selection of excellent 'Glamping' options for your luxury accommodation in Whitby. If you love camping but get a bit nesh at the thought of a night under the canvas, these custom built 'Gipsy Caravan' camping pods may be just the thing for that unique glamping experience. Impress your friends with your outdoor adventures with a stay in these superb wood cabins on a fantastic campsite.
Amenties include:
Sheeps wool insulation
Comfy beds
Picnic table and family dining area
Hot showers and laundry
Stunning location
Unique Glamping Experience
Booking: Click here to learn more about Middlewood Farm
Other Places Of Interest And Day Trips
Other places of interest when visiting Whitby on your luxury holiday include Scarborough where you can:
Explore the North Yorkshire Moors National Park where you can:
Walk the Cleveland Way
Hike the Lyke Wake
Walk
Go gliding
Cycle or mountain bike
Go horse riding
Visit the two visitor centres at Sutton Bank and Danby