Many people head to Whitby for hen or stag weekends. With plenty of places to stay, eat and drink it makes the perfect place to celebrate before your big day.
If you are planning a stag or hen weekend but you are stuck on where to go, there are many reasons to choose Whitby. Aside from the great beaches, exciting attractions, and a vibrant atmosphere, you will also find plenty of great places to eat, drink, and stay.
Places to eat, drink and stay…
With great nightlife and plenty of great places to eat and drink, Whitby is the ideal place for a fun-filled weekend for the bride/groom and their friends. You will find no shortage of places to enjoy great music, cocktails, great food, and a comfortable place to stay.
Free Whitby Mini Guide
"Get the best from your stay in Whitby"
We have compiled everything you need to know about Whitby into a
free mini-guide!
Download Now
Quayside Lounge Bar
At Quayside Lounge Bar you can enjoy an eclectic mix of great music and entertainment, an abundance of drink choices, and a vibrant atmosphere. This is a popular place amongst those on stag and hen weekends. It is also centrally located, which is great if you want to visit a selection of other places as well. You can look forward to the latest sounds and enjoy the electric vibe when you visit this venue.
Harry's Bar
Another great option is Harry's Bar. Whether you are looking for a wide selection of drinks, a relaxing yet fun atmosphere, or great food, you will find it all at Harry's Bar. At the bar, you can choose from a variety of sumptuous cocktails as well as wines, beers, and spirits. If you want a bite to eat, you can choose from a wide variety of delicious meals at very reasonable prices. The great choice of dishes means that there will be something for everyone at your party. Looking for a place to stay? That won't be a problem either, as there are a number of beautifully decorated and individually themed rooms to choose from.
Marine
If you're looking for a relaxed atmosphere, great food, and comfortable accommodation for your weekend, the Marine in Whitby is a great choice. You can look forward to a varied menu with delicious food to suit a wide range of tastes. When it comes to entertainment, the venue often has live music including live piano music and singers. You can also choose from a wide range of drinks, which includes some great cocktail options. There are four individually styled rooms to choose from here, so you can also look forward to a comfortable place to stay during your time in Whitby.
Abbey Wharf
One of the top seafood restaurants in the town, Abbey Wharf is the ideal place for a relaxing meal with your group as well as a fun time in the bar with plenty of drinks and great entertainment. The restaurant serves up a huge variety of dishes, including signature seafood dishes, steaks, salads, and vegetarian options. In the bar, you can look forward to an excellent selection of beers from around the world, as well as wines, spirits, and champagne. The venue also offers the top mezzanine level for event hire, which boasts incredible views over the harbour and provides you with exclusive use of that area.
The Moon and Sixpence
Situated right by the harbour in the heart of the town, the Moon and Sixpence is a great place to relax, enjoy a few drinks, and have some delicious food with your group. In addition to relaxing and enjoying the atmosphere, you can also take in the wonderful views at the same time. The drinks menu at the bar is varied with something to suit everyone. In addition, there is plenty of choice on the food menu, and the cost of the dishes is very reasonable. There are also several rooms you can choose from if you wish to stay here, each of which is stylishly decorated and well-appointed.
The Angel Hotel
The Angel Hotel is a Wetherspoon's pub/hotel and is located at the harbour-side, which means that you get to enjoy great views as you relax with your friends. Wetherspoon's is known for offering great value on food and drinks, so you can look forward to an extensive food menu without worrying about spending too much. In addition, there is a huge choice of drinks including cocktail jugs. The renovated hotel also offers 34 rooms, so you and your group can all enjoy the convenience of staying in the same place over the weekend.
The Dolphin
The Dolphin Hotel combines the best harbour views in Whitby along with delicious food and great drinks. Being located in the centre of town, they offer the best access to all the local tourist attractions such as the Whitby Abbey, Dracula Experience, Captain Cook Museum and much more. They pride themselves on having a great selection of local cask & craft ales, ciders and a great wine range. You won't be disappointed!
Resolution Whitby
The Resolution Hotel sits above Whitby's charming town centre with spectacular views of the world-famous Abbey, Harbour and Pannett Park. It's a perfect central location with comfortable accommodation, lounge bar and traditional restaurant. Whether it's a relaxing break or an entertaining weekend away there are friendly staff always available to assist here.
The George Hotel
If you want something more lively, The George Hotel is a great place to visit. This is a fun, lively bar & hotel that shows live sports, offers access to a wide selection of drinks, and serves up snack foods at inexpensive prices. You can take in the latest live sports as you enjoy a few drinks with your group and just soak up the relaxing ambience before you hit the rest of the town for a night out.
Raw Nightclub
Conveniently, you will find Raw Nightclub right around the corner from The George Hotel. RAW is a very popular choice. With great music, an exciting atmosphere, modern design, and plenty of drinks flowing, this is the ideal way to celebrate your stag or hen night. There are various rooms and bars you can head to while you are here, including the Main Room and the Upper Bar.
Macy Brown's
The newest little cocktail bar in the heart of Whitby is perfect for a night out. Serving up delicious cocktails, breakfast, brunch and tapas. We loved the atmosphere in the quirky bar. Find more information here.
Perfect Hen or Stag activities…
Fancy a few drinks and something a little more fun?
Eskape Whitby
These escape rooms are situated just a short distance from the Abbey and the town itself. Here you a chance to use your puzzle solving skills to work with your friends and solve themed mystery rooms. Each room has it's own theme while incorporating snippets of local history, myths and legends. You will have 60 minutes. So why not add and Eskape Whitby experience to your list of things to do in?
The Fisherman's Shack
Not only is this a great bar to visit for a drink with a glorious view. The cocktail masterclasses here start at £25pp for 3 cocktails and £35 for 5. You learn a little about the cocktails and the techniques and of course, you get to drink them all too! These are great fun for hen parties, birthday parties or occasions. Find our full review here.
Whitby Brewery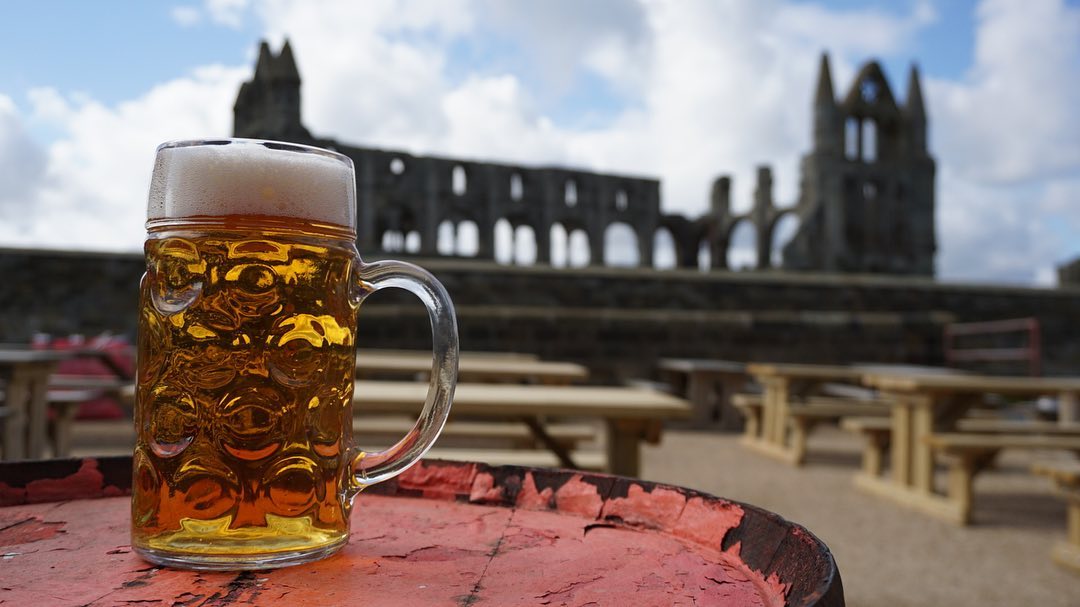 Whitby Brewery offers brewery tours. Join them for a 45-minute tour of the Brewery. You'll find out about the brewing process, the ingredients, tools and technology they use as well as their history and our plans for the future. Afterwards, get to sample 3 of the ales in the bar. Tickets cost £10 and include 3 1/3 pint tasters.
Great places to stay that allow bigger groups…
Cyana Cottages Abbey Field
Cyana cottages Abbey Field is 1.5 mi from Sandsend Beach and only 450 yards from Whitby Abbey. This holiday home features a garden, barbecue facilities, free WiFi and free private parking. The holiday home is fitted with 3 bedrooms, 3 bathrooms, bed linen, towels, a flat-screen TV with satellite channels, a dining area, a fully equipped kitchen, and a terrace with river views. Find more information and book here.
Willow Tree
Only 1.3 mi from Sandsend Beach, 900 yards from Whitby Abbey and 350 yards from Whitby Museum, Willow Tree is dog friendly too! It's spacious and central, it offers accommodation with a patio and free WiFi. The holiday home, housed in a building dating from the 19th century, is 1 mi from the Sneaton Castle. The holiday home has 3 bedrooms, a flat-screen TV, an equipped kitchen with a dishwasher and a microwave, a washing machine, and 1 bathroom with a shower. Towels and bed linen are offered too. A great option for a small group! Find more information and book here.
The Whitby Family Home
The Whitby Family Home is located in Whitby, 1 mi from Sandsend Beach, and features a patio, garden, and free WiFi. The property is 2.2 mi from Whitby Abbey and 0.7 mi from Whitby Lighthouse. The holiday home has 6 bedrooms, a flat-screen TV with cable channels, an equipped kitchen with a dishwasher and a microwave, a washing machine, and 3 bathrooms with a shower. Towels and bed linen are available. A terrace is available for guests at the holiday home to use. Find more information and book here.
YHA Whitby
You can't get a more stunning location. This historic building offers beautiful views of the coast. YHA Whitby offers gorgeous gardens, 24-hour access, and a restaurant. YHA Whitby is situated on Whitby's headland, and the cobbled quayside can be reached at the bottom of the nearby steps. Whitby's centre and rail station are 15 minutes' walk away. Sandy beaches can be reached in a short, 5-minute walk.
The majority of rooms at this YHA hostel contain bunk beds. Guests can relax in the TV lounge or the separate games room and there is a nearby tea room operated by YHA Whitby next to the abbey. There is also luggage storage for guests. Find more information and book here.
As you can see, there are many great places you can add to your list of venues when you come to Whitby for your stag or hen weekend. If you would like to recommend a venue to add to this article, please comment below.